A woman's pregnancy is, at the same time, one of the most beautiful and complicated periods that she can face. During pregnancy (especially if it is the first) many doubts and questions may arise that are not easy to resolve. Luckily, in the app stores we have several of these that will serve us perfectly to make pregnancy much easier to carry, and we bring you 5 of the most outstanding.
With these applications we will be able to keep a detailed record of the pregnancy, both in terms of symptoms and the development of the fetus . In addition, most of these apps also contain all kinds of functions that we can use both during pregnancy and just before delivery.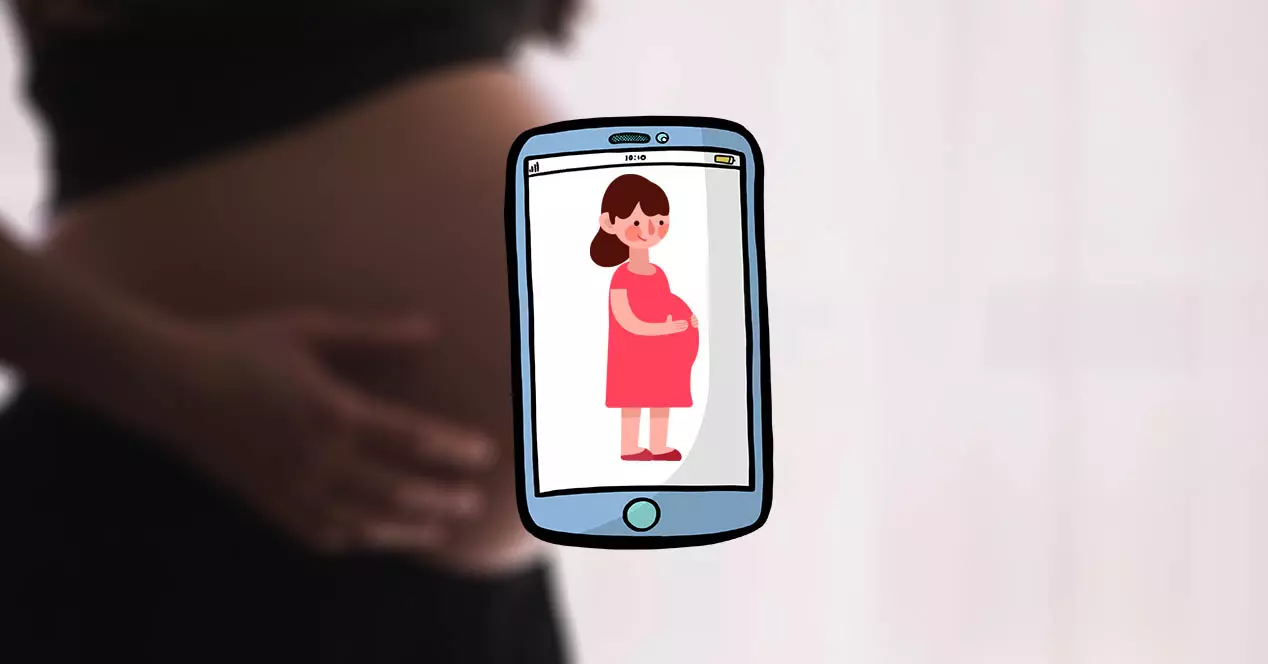 Pregnancy+
Embarazo+ is one of the best applications that we can find for pregnant women. The app has an average score of 4.8 in the Google Play Store, something that has a lot of merit if we take into account that the app has more than 10 million downloads .
With this app you will have it very easy to be able to follow the growth of your baby in the womb, and it also has a series of interactive 3D models that show the development of your baby, as well as a size viewer that will relate it to objects or animals so you can get an idea of what you measure at a certain point in your pregnancy. It also has a wide range of data to record, from a kick counter to the pregnancy weight record, just to give two examples.
My pregnancy and baby day by day
This app will serve us like the previous one to keep track of all the aspects of our pregnancy, but it will also give us advice and calendars so that pregnant women can have a much calmer pregnancy. This app also has more than 10 million downloads, which shows that it is also a very popular app among pregnant women.
The app also includes a long list of videos of all kinds that will be perfect for future moms. These videos will show us all kinds of information regarding pregnancy, as well as we will even be able to see the births of other women or we will also be able to learn to do yoga. It has a fairly large community with which to share ideas and ask questions.
---
iNatal
iNatal is another great app for pregnant women. Thanks to this we can create the pregnant profile, entering the date of the last period so that it automatically updates the information on the baby's development. It also allows weight control , both maternal and fetal.
This application also has a thematic encyclopedia so that pregnant women can find answers to the most common questions about pregnancy. The app also includes a section that is specially designed for childbirth, postpartum and breastfeeding , so in addition to helping you with pregnancy, it will also help you with the phases after the baby is born.
My pregnancy day by day, week by week
This free app is perfect for monitoring your pregnancy in detail. Every week the application will show us how the fetus is developing and what its status is , and includes a week calculator that will allow us to accurately calculate the current stage of the pregnancy.
With this application, pregnant women will be able to keep a diary of symptoms to communicate them during routine appointments with the doctor. Along with all this, it also has a contraction timer , very useful when the time of delivery is approaching. In addition, the app will create images so that we can share the state of the pregnancy with the rest of our loved ones.
my pregnancy by weeks
We close this list of apps for pregnant women with My pregnancy by weeks, another very good app that is full of different features. With it we can also follow the pregnancy daily, and in fact it has a diary where the mothers can write how the evolution of this is for them .
This app will also allow us to keep track of appointments with the doctor, as well as consult advice of all kinds related to food, for example. It also has recommended exercises for pregnancy, plus a list of over 2,700 different baby names for us to choose from .
---