Ensuring the safety of the little ones is very important if you have children and travel by car. Because if; Beyond correctly installed child restraint systems, which reduce injuries to minors by between 50% and 80%, it is also important that they travel comfortably and protected . But it does not mean that it is recommended that they use the tablet or other devices in the car.
Beyond a distraction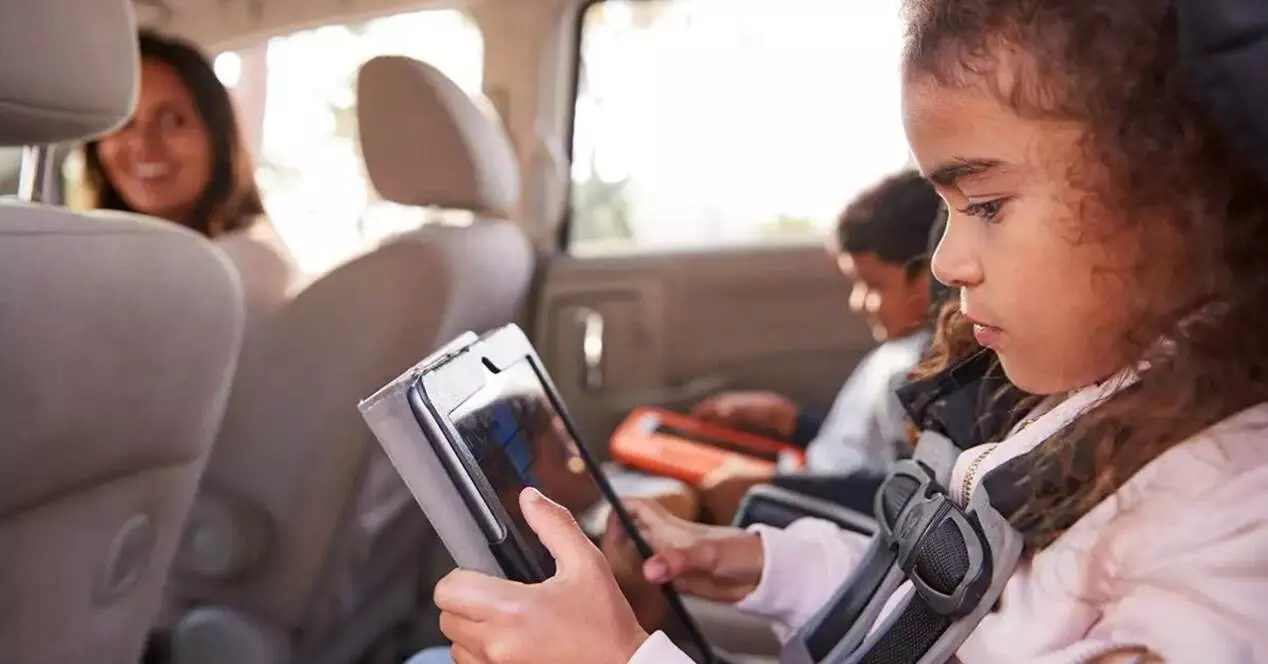 We all know; Of the safety of children in the car , much emphasis is placed on the main element, the seat. That it is the right size, that we rush as much as possible until we put them in the direction of travel, that they be placed in the right places for it…
But it is not the only important issue to consider. There is more: for example, the risks of children having objects not anchored around them in the car, including this tablet .
Thus, and according to data from the General Directorate of Traffic, 47% of drivers in Spain travel carrying loose objects inside their car and only one in three (29.6%) makes use of interior spaces and trays designed for this purpose. It is a worrying figure because beyond the fact that they make vision difficult or are a reason for distraction in the event of braking, they can also be an added danger if there is a collision, or even a strong braking. They are for adults, but also for children.
They can turn into a projectile
Because if; Sometimes we think that the fact that our children use smartphones or tablets frequently is normal, but we must take into account when they do it, how and the consequences that the use of mobile phones can have on children and adolescents.
It is recommended that we promote traditional games that promote the values of teamwork, instead of the individualistic use of new technologies. And that, on a trip, is not a good thing.
We do not say this for any other reason than because there are studies that show that children can be up to 12 times more distracting than mobile phones, but if it is done with a tablet in the car, even more so. And while driving, it's not very easy to keep control of the little ones without taking your eyes off the road.
It's more; The General Directorate of Traffic itself recalled how dangerous any object in the passenger compartment that is not properly secured can be. In the event of a crash or sudden braking, it can become a projectile that injures passengers . Any object that we carry on board should be housed in the glove compartment, in the drawers and receptacles of the car. And in no case should we let objects, such as a tablet, be in the hands of small children.
Badly anchored or without fastening are affected by inertia
In addition, another very important factor in terms of safety when traveling with children is the child restraint system. There is the so-called 'elephant effect', so named because in the event of an accident, if the restraint is not adequate, the child together with his child seat would project a weight greater than two tons forward .
For this reason, we always recommend that these safety elements must be well anchored to the car, and be suitable for the size and weight of the child. Otherwise, it could also become a projectile and not protect the child, causing it to hit one of the car seats or windows.
Logically, not all articles are equally dangerous, but absolutely all of them, poorly anchored or without fastening, as is the case with tablets, are affected by inertia, becoming a very dangerous object for the members of the vehicle. Therefore, the most advisable thing is that these can be secured by means of some type of security element .