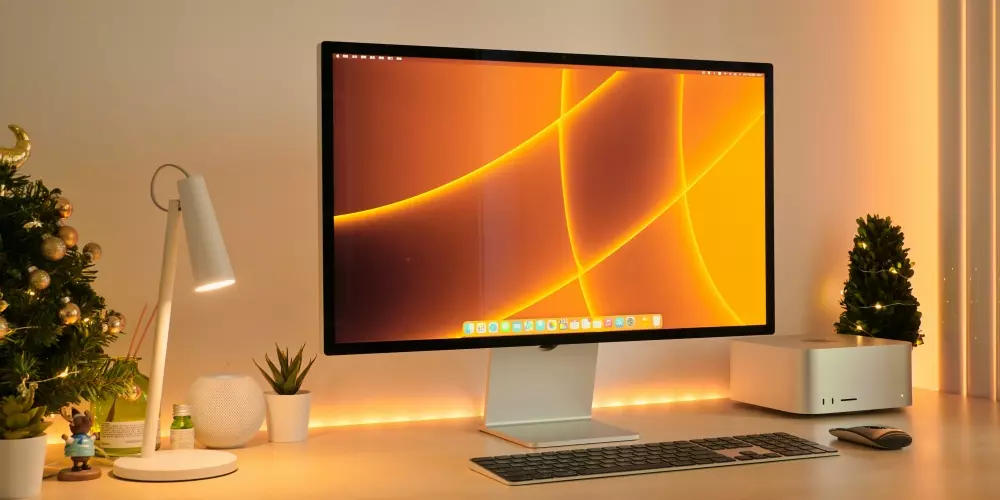 The Studio Display, designed as an affordable monitor to complement the Mac Studio, Mac mini, and MacBooks, entered the market with high hopes. However, it faced considerable criticism regarding its value proposition, particularly within the saturated and fiercely competitive monitor market. Consequently, in this article, we will delve into the reasons why purchasing the first-generation Studio Display may not be a worthwhile investment.
The price
The most evident drawback is the steep price tag of approximately 1,700 euros attached to the device. This price point proves to be quite high for the majority of users, especially when they explore the market and discover other monitors available at significantly lower prices. In fact, some alternatives offer the possibility of purchasing two monitors for the same price, a crucial factor for professionals like graphic designers or individuals who work with coding and require multiple monitors for their daily tasks.
For instance, there are currently highly affordable options in the market, such as the Samsung M8 and the Huawei Mateview. These two monitors provide compelling features while costing only half the price of the Studio Display. Personally, I have opted for the Samsung M8 monitor, considering its price and reluctantly accepting the absence of the Studio Display. After using it for several months, I have found the monitor to be incredibly satisfying, even surpassing my expectations. It provides me with precisely what I need, making it a superior choice compared to the Studio Display.
Limited ergonomic adjustments
A monitor at such a high price should ideally encompass all essential features without requiring additional costs. Specifically, the absence of a VESA mounting bracket or an Apple adjustable bracket, which are sold separately, presents a significant drawback. These additional purchases can push the overall cost of the monitor beyond 2,000 euros.
Comparatively, monitors from other brands offer stands with greater adjustability, enabling users to raise or lower the screen, swivel it from side to side, or even rotate it 90 degrees for a portrait display mode. Apple's omission of these features becomes a disadvantage for a considerable portion of its user base. Moreover, the exclusion of nanotextured glass, which demands an extra fee on top of the already exorbitant price, further compounds the issue.
A low-end camera
The Apple Studio Display features an integrated camera known as "Center Stage," which offers intriguing capabilities such as automatic tracking of individuals during video calls, adjusting the frame as they move.
However, the issue lies in the camera's limited capabilities, which are generally sufficient for video calls and basic usage. Yet, it lacks the professional-grade capacity found in cameras of similarly priced monitors or even lower-range models.
Apple does offer a solution by allowing users to connect their iPhones and utilize the camera on their Cupertino company smartphone. Nevertheless, it seems ironic that a device at such a high price necessitates an additional accessory for optimal camera performance.
No true HDR or brightness
The Studio Display incorporates HDR technology, which enables a broader color range and enhanced contrast between light and dark areas of an image. However, experts in the field have criticized its HDR capabilities, stating that it does not provide a "real" or "true" HDR experience. One of the reasons for this is that the monitor's maximum brightness, a crucial factor for achieving optimal HDR performance, is not as high as that of other HDR monitors.
Additionally, it's worth noting that the brightness levels of the Studio Display do not reach the highest standards available in the market. While it is capable of displaying HDR content, it falls short in terms of color intensity and contrast when compared to a genuine HDR monitor.