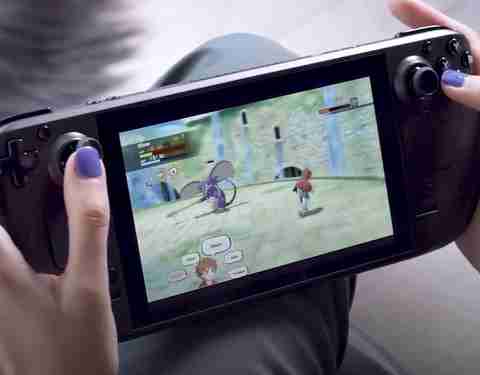 Valve surprised everyone yesterday afternoon with the announcement of the Steam Deck , which is basically a Nintendo Switch , but on which we can run PC games . The price is quite aggressive for what it offers, since it has more power than a Switch , and some elements that improve it. But is it worth it?
There are several Kickstarter projects that have tried to emulate the Nintendo Switch, but offering a Windows-based user experience. The idea of ​​being able to carry a computer with you in a compact size and in which to be able to play games is very attractive, and Valve is very serious about this console, since they say they want to "create" a new market segment in which they hope sell millions of units .
1.6 TFLOPS: almost like having a PS4 in your hands
The company tried it all with Steam Machines, computers with a form factor similar to that of consoles. The idea was a failure because its price was too high, and users preferred to assemble the computer themselves by parts. However, Valve does seem to have hit the mark with this console.
Inside has an APU AMD processor Zen 2 of 4 cores and 8 threads up to 3.5 GHz . It is accompanied by an AMD RDNA GPU with 1.6 TFLOPS , almost the same processing power as a PS4. We also have 16 GB of RAM, and three versions with different storage: 64, 256 and 512 GB , being the 64 GB eMMC memory, and the other two having SSD. We also have a microSD card slot, so we will have no problem storing games, but it is advisable to buy at least one version with SSD so that the games load fast.
The console has a multitude of buttons, with 4 even on the back, as well as capacitive touch trackpads that, according to Valve, work well, and not like the one on the Steam Controller. The screen is perhaps one of the weakest points, with a resolution of 1280 x 800 pixels in a 7-inch size and LCD panel. The brightness is 400 nits, and it reaches up to 60 Hz refresh rate.
The Steam Deck uses USB C , and integrates a 40 Wh battery that allows you to play between 2 and 8 hours depending on the game. We have a docking station similar to the one used by Nintendo Switch, with DisplayPort 1.4, HDMI 2.0 or Ethernet connectors.
It comes with SteamOS 3.0, but you can install Windows
The operating system it uses is SteamOS 3.0 based on Arch. To run Windows games, Valve uses the Proton conversion layer . But luckily, being basically a computer, we can install Windows and run our entire Steam library without problem, and use it even as if it were a laptop. In addition, we can handle everything comfortably with the Big Picture mode.
Valve's forays into the hardware world have always come at a high price. Therefore, the price that the company has put on the Steam Deck is surprising, with 419, 549 and 679 euros , respectively, for the 64, 256 and 512 GB versions. Being able to play your entire Steam library anywhere locally on the console is a hoot, as well as being able to use In-Home Streaming or Moonlight to remotely play Steam at home or away, so for 419 euros we have the option of enjoying the same experience of using our PC, but anywhere. In addition, it is also ideal for playing emulators, for example.
The Steam Deck will go on sale in December 2021, and it can be a real gift for this Christmas as an alternative to the Nintendo Switch. The only pity is that it was not available to wear it this summer and play anywhere. Therefore, if you like to use emulators or play anywhere in your Steam library (yes, including the bathroom), the Steam Deck is going to be an ideal option for you. If we install Windows, we can also play free games from Epic Games.