With the huge number of manufacturers and models available on the market, buying an SSD today is not something trivial and we will almost have to "study" the models that fall into our budget to see which is the best for us. To help you in that task, today we are going to show you a technical comparison between two of the best-selling SSDs on the market and one of the main manufacturers: the Samsung 970 EVO Plus versus the Samsung 980 PRO .
Being two top-selling SSD models , no one doubts that both are excellent choices, and yet as one is PCIe 3.0 and the other is PCIe 4.0, the differences can be quite substantial. However, we also found a significant price difference between the two, so choosing between one and the other may not be as easy as you think.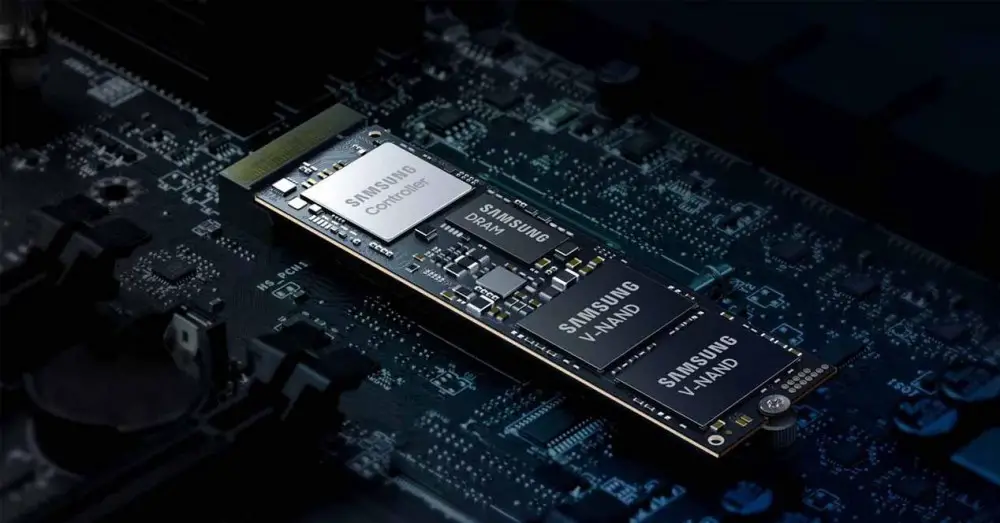 PCIe 3.0 and PCIe 4.0, the choice is not so clear
Being the Samsung 970 EVO Plus an SSD with a PCIe 3.0 interface and the Samsung 980 PRO an SSD with a PCIe 4.0 interface, the choice could be quite clear for many users, so if you have a PCIe 4.0 motherboard you should go for the SSD with said interface and if your motherboard does not support it, then go for the PCIe 3.0. However, seen the benchmarks and tests in real scenarios with both interfaces, the choice is not so clear, since although obviously PCIe 4.0 is superior and delivers a much higher performance, this performance improvement is not noticeable later in real scenarios .
In other words, even if you buy an SSD with 7,000 MB / s speed, in reality when using it it will only save you a few seconds or even less when you are using it compared to using an SSD with half the theoretical performance .
What is clear is that if your motherboard has a PCIe 3.0 interface and does not support the next version, it does not make much sense to buy a PCIe 4.0 SSD since you would be paying a much higher cost not to be able to take advantage of it (it will work, yes ). The other way around is something, therefore, that may make more sense, because although your motherboard supports PCIe 4.0, perhaps a PCIe 3.0 SSD will provide you with optimal performance for what you need and without spending that extra money.
Samsung 970 EVO Plus vs Samsung 980 PRO
Let's start by looking at a table comparing the technical specifications of both devices, so that we can compare their technical data side by side:
| | Samsung 970 EVO Plus | Samsung 980 PRO |
| --- | --- | --- |
| Form factor | M.2 | M.2 |
| Interface | PCIe 3.0 x4 | PCIe 4.0 x4 |
| NVMe protocol | 1.3 | 1.3c |
| Reading speed | 3,500 MB / s | 7,000 MB / s |
| Write speed | 3,300 MB / s | 5,000 MB / s |
| Heatsink | Not | Not |
| Durability | Up to 1200 TBW (2 TB) | Up to 1200 TBW (2 TB) |
| Warranty | 5 years | 5 years |
| PVPR | € 189.99 (1TB) | € 260.99 (1TB) |
We are facing two SSDs that are very similar in terms of technology, whose main difference is nothing more than the interface and its consequent performance in reality. The 980 PRO model has twice the reading speed of the 970 EVO Plus because of that, while in terms of writing speed, the difference is not so much and the 980 PRO only takes 1,700 MB / s of difference. to the 970 EVO Plus.
It is curious that Samsung clearly specifies the durability of the 970 EVO Plus on its website, while to find the durability information of the 980 PRO we have had to go to unofficial websites. Regarding the warranty period, both have 5 years from the manufacturer and in any case, in terms of durability both devices have the same amount of TBW so there is nothing to comment on.
Both SSDs use Samsung V-NAND 3-bit MLC NAND Flash memory chips , they have 1 GB DDR4 cache and what does change is the controller, because while the 980 PRO model uses a Samsung Elpis controller, the 970 EVO Plus model employs a Samsung Phoenix controller.
Also both SSD support TRIM, SMART, automatic garbage collection algorithm, Dev Sleep support and do not include WWN. A difference is found in the encryption, since the 980 PRO model is compatible with AES 256 bits while the 970 EVO Plus model is somewhat more advanced, since in addition to this it supports TCG / Opal IEEE1667 for full device encryption, something that it can be quite important for users who intend to use any of these devices on laptops.
Finally, it should be mentioned that both SSDs are compatible with Samsung Magician, the firm's software that allows you to unlock the full potential of the SSD with optimization and monitoring tools for the unit, as well as being able to update its firmware directly and easily.
Which of the two SSDs is it recommended to buy?
As we have seen, they are two very similar SSDs except for the fact that they use different interfaces and therefore provide a different level of performance. In the event that you have a motherboard that does not support PCIe 4.0, the choice is clear and you should go for the Samsung 970 EVO Plus, since you will be limited by the interface of the motherboard and therefore you will not take advantage of the extra performance provided by the 980 PRO.
Now, if you have a motherboard that does support PCIe 4.0 then that is when you will have doubts. It may be that having a modern motherboard that has this interface has the clear choice and you have decided in advance to go for a PCIe 4.0 SSD, but the reality is that the performance difference is not too noticeable in real scenarios, so If you are short on budget, do not hesitate and the 970 EVO Plus should be your favorite choice.
On the other hand, if your budget allows it and you are looking to squeeze every bit of performance out of your PC, of ​​course the 980 PRO is an excellent choice because it has a really very high performance, with a great durability and guarantee, so don't you're going to be wrong.
In any case, as always, the choice will be up to you, and the summary is that both are excellent SSDs, high performance and very durable. If your board is PCIe 3.0, buy the 970 EVO Plus, but if your board is PCIe 4.0 and your budget allows it, the 980 PRO should be your choice. If on the contrary you have a limited budget then you will not regret buying the 970 EVO Plus even on a PCIe 4.0 board, because the difference in performance will not be excessively noticeable either.