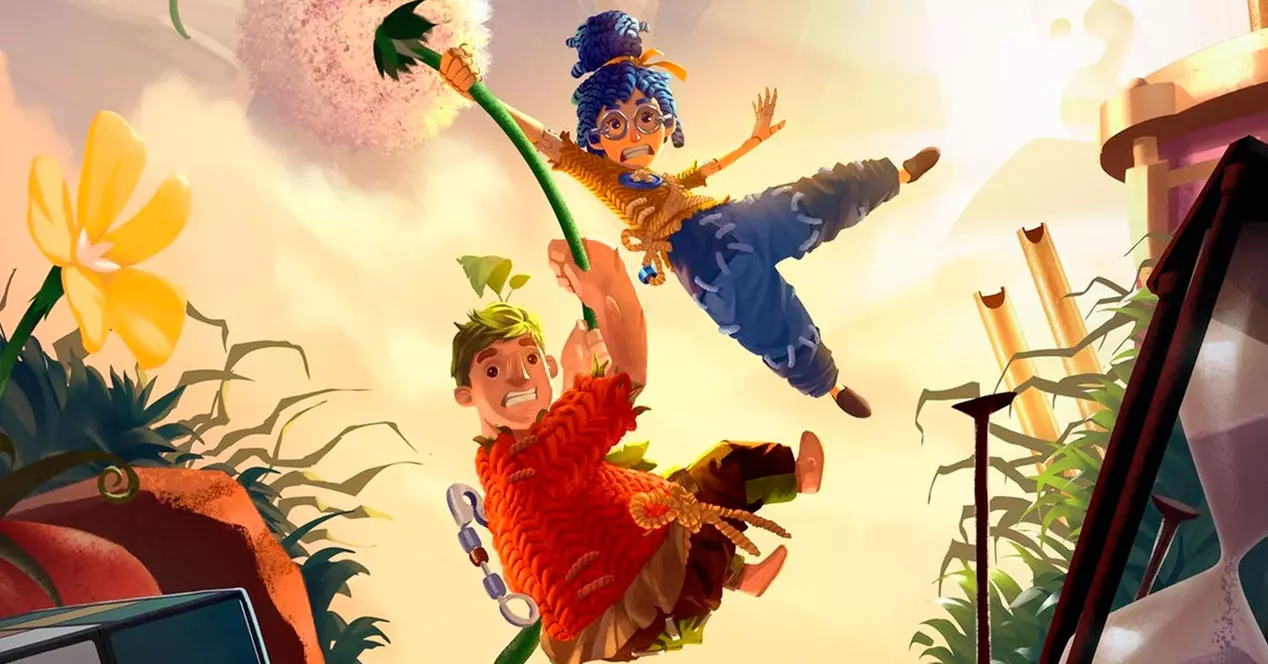 With the arrival of the internet and the possibility of playing remotely with friends, we have forgotten that there is a tradition in the world of video games, since its inception on the same consoles in the late 70s, of allowing us to play at the same time, not one, but two, three or even four friends on a single TV. And proof that this tradition has not died, is that last year's The Game Awards was won by a development that has burned into its DNA that possibility of enjoying a video game at the same time with a friend on the same screen : It TakesTwo .
The return of the old split screen
If you're old enough to already count 20-year time lapses, you probably remember an old term that was thrown around a lot in the '90s: split screen. That meant games could split the entire image they sent to the television into two or more portions to show the specific scene each player was watching. And that technical resource could be used for both competitive and collaborative video games, where the participants not only fight to see who is the best of all, but sometimes have to lend a hand to progress in the story.
And even if you think that it is an old resource, in disuse, nothing is further from the truth. You just have to take a look at the current scenario to understand that there are many companies that still trust in gathering a group of friends in a house to enjoy a fun experience, which is even more so when the itch for doing it comes into play. better than the one in front of us.
Here is a list of the best titles that you can enjoy on split screen right now on the platforms that are currently on the market. Both consoles and computers:
It Takes Two (2021)
The best game of the year at The Game Awards bases its entire concept on the cooperation between the two main characters, something that its creator, Josef Fares, has been obsessing with since his first developments. In addition, in this game there is the circumstance that it has a moving story where Rose, who attends her parents' divorce, tries to reverse that decision by resorting to two endearing rag dolls with whom she will try to revive love again. It Takes Two is original game mechanics, same screen collaboration and a whole array of technical resources that will really surprise you. If you haven't played with it, you're taking time to do so.
A Way Out (2018)
Josef Fares returned to the fray five years after Brothers: A Tale of Two Sons with this A Way Out that is simply brilliant: collaborative games between two players (yes or yes), at a distance or on the same console or PC, where They put themselves in the shoes of two convicts who want to escape from prison and, once forced, stay safe from those who want to capture them. Plot depth and collaborative mechanics that keep us glued to the screen until we achieve our goals. Don't stop trying it.
Street Fighter V (2016)
As a good fighting game, Street Fighter V (or Tekken 7 and even the latest Injustice or Mortal Kombat 11 ) will serve as the focus of entertainment at family reunions or parties with friends thanks to the possibility of going head-to-head against another player. It is, without a doubt, one of the genres that since the 1990s, the moment of its definitive explosion, has pushed the most to maintain the concept of the split screen , although it does not exist here as such. Also, in this case, remember that we have the new Street Fighter 6 on the way to celebrate the 35th anniversary of the franchise.
New Super Mario Bros U Deluxe (2019)
What can we say about one of the funniest games that we can find on Nintendo Switch. And that its catalog of multiplayer alternatives on the same screen is very varied. With this version , up to five players can have fun (in the cradle mode inside the base) at the same time: four jumping around the screen and a fifth that can mess things up by making things more complicated for the others. We will have up to 160 maps on hand to demonstrate our expertise by dodging enemies and reaching the right platform at the right time.
Super Smash Bros Ultimate (2018)
What to say about the Nintendo fighting saga. A game that you have available on Switch and in which you can compete against seven other players on the same television screen. Without a doubt, we are facing the largest repertoire of fighters available inspired by some of the most recognized playable universes, both from the company itself and from Konami with its Metal Gear Solid, SEGA and Sonic, Square with its Final Fantasy and even Megaman himself from Capcom. Without a doubt, you don't get to enjoy Super Smash Bros Ultimate until you try local multiplayer. do it!
Cuphead (2017)
The great game that initially came to Xbox One and PC is now available on more consoles and its difficulty can be shared with up to two players on the same screen. Although the appearance of this Cuphead could deceive you , it is one of the most complicated video games that exist, with wicked enemy dynamics and certain almost impossible maps. Of course, the quality of its staging, the graphics and the sound or the cartoon music are a delight for the senses that, these days, have just released an original series on Netflix. Don't you dare miss this game.
Super Mario Kart 8 (2017)
What to say about one of the veterans of the split screen, since his first cartridge for SNES in 1992. With this version of the original Wii U game, Nintendo Switch makes it possible for up to four players to compete on the same screen at the same time, this time yes, with a good split screen where it is possible to go in search of the other runners to beat the crap out of them. If you like driving games and you have a Nintendo handheld, it can't be missing from your library.
Mario Party Superstars (2021)
Although we bring you the most recent game in the saga, Mario Party Superstars is actually a kind of remastering of the five boards seen in the original Nintendo 64 cartridges . In total, four friends can participate on the same console, or connected in cradle mode to the base of the machine to project the image on television. Minigames, quick tests and lots of laughs is what this saga guarantees us, which on Nintendo Switch has another title that you can also try: Super Mario Party .
Streets of Rage 4 (2020)
In the spring of 2020, in the midst of a pandemic, Streets of Rage 4 arrived in digital format . A manual beat-em up , inspired by the classics for Mega Drive from the 90s and that includes a good part of its universe: characters, mechanics, settings, history, etc. In addition, it offers the possibility of playing in a collaborative format with four players at the same time, thanks to which we can lend a hand cleaning the screen of enemies. Although it also has a competitive side or are you going to let that chicken that can revive you be eaten by your colleague?
Fortnite Battle Royale (2018)
The popular phenomenon that catapulted Epic Games to the top was a mistake because the original game did not contemplate having a Battle Royale. And although Fortnite (purely) is on everyone's lips, few notice that it has a local game mode where two friends at the same time and on a split screen can get on the map and try to win. Everyone associates this title with its online multiplayer, but remember that you can have parties at home and compete side by side with your best friend if you have a console (not on PC) and two gamepads.
LEGO video game saga (2005 to 2022)
Surely there is no more fun video game franchise for one or two players on the same screen than any LEGO that has come out in the last 17 years inspired by some of the highest-grossing movies and franchises in history. From that LEGO Star Wars of 2005 to the next The Skywalker Saga that arrives in April, all these releases have the common denominator that they can be enjoyed in company , through a dynamic split screen that shows us what each of the characters sees : collecting tokens, eliminating enemies or solving puzzles are the basis of these wonders developed mostly by Traveller's Tales.
FIFA 22 (2021)
Leaving FIFA out would be a sacrilege because if there is a genre specially designed to play against a friend on the same console, or PC, that is sports developments. FIFA is surely the greatest exponent , but we have other alternatives such as NBA 2K or American football Madden. In all of them, the competitive part to play on the same screen is essential to revive a party with friends that is becoming a bit boring.