Windows 10 is currently the most used operating system around the world. This one stands out for its intuitive interface, high compatibility and also for enjoying better performance compared to its previous versions. However, it is common to find users unhappy with the speed at which they have access to the Internet. This is mostly because, depending on how we have configured our equipment, it will consume a large part of the resources destined to offer us a greater bandwidth.
If you are a Windows 10 user and lately you notice that your Internet connection is slow or simply fails, you have reached the right place. In today's article we will explain why this happens and we will show you several tricks to speed up the Internet on your Windows 10 computer. In this way you can recover a smooth navigation and without suffering annoying waits.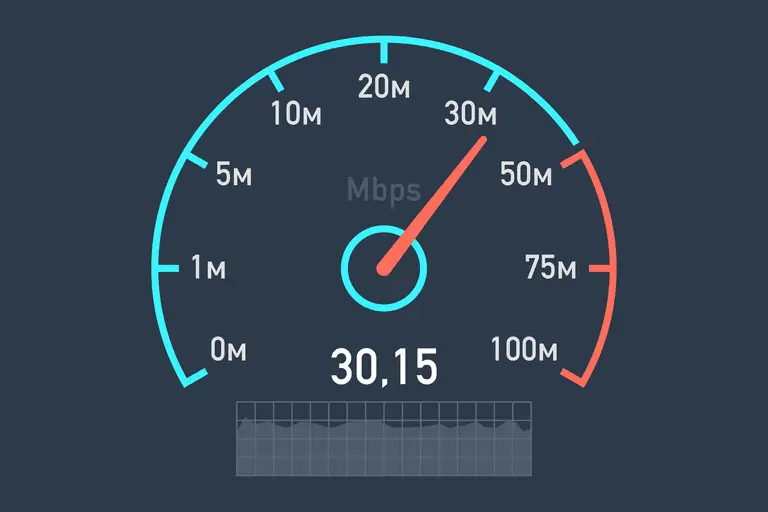 Why is my Internet connection slow since I use Windows 10?
If you are a former user of Windows 7 or Windows 8.1, it is likely that you have suffered a notable decrease in speed both when browsing the Internet and downloading through the network. You should not worry about it because it is normal.
This slowdown is mostly because Microsoft has added a wide range of tools and functions that, while increasing usability and improving Windows functions, also consume many operating system resources. This leads to a decrease in bandwidth that as a user you have available to surf the Internet.
Tricks to increase connection speed in Windows 10
Trick 1: Disable automatic updates of Windows 10
The first trick that we are going to show you in order to accelerate the Internet on your computer is to deactivate the automatic Windows 10 updates. As you may know, Windows is updated very often with new features, bug fixes as well as patches to solve security holes in your OS. By default, Windows will periodically check for these updates and download and install them on your computer without the need for you to do anything.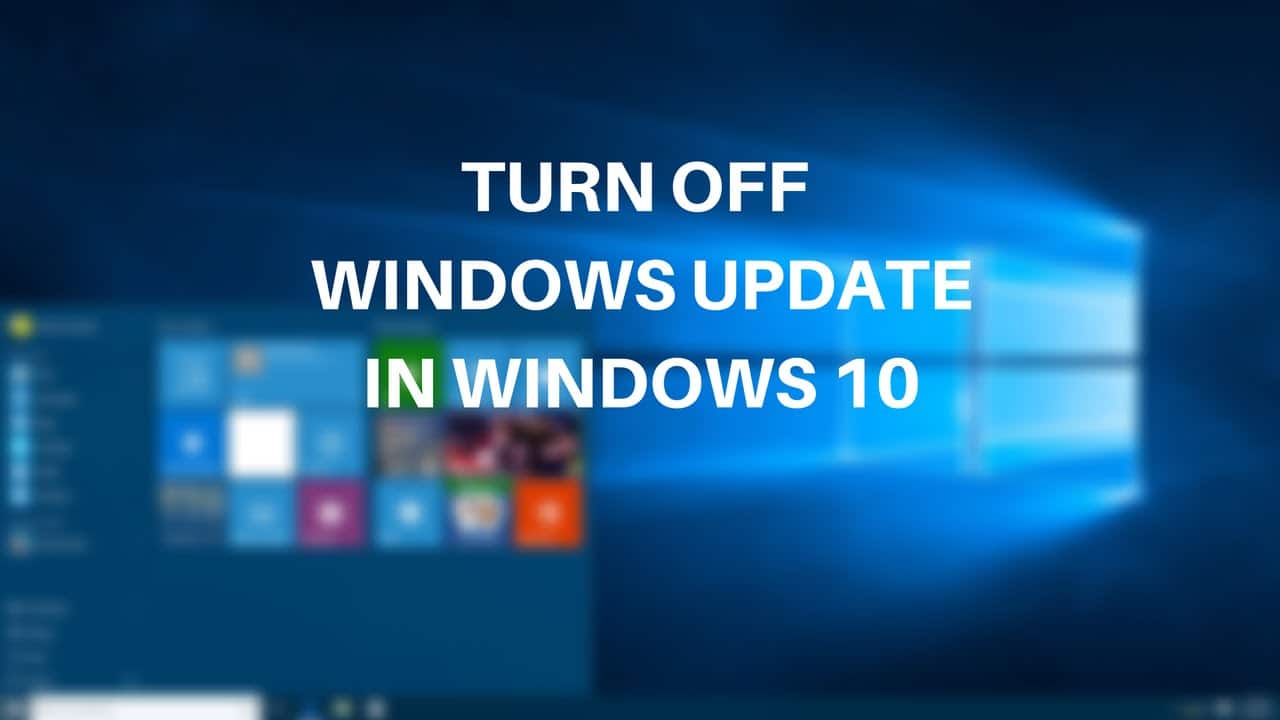 [adinserter block="1″]
Although this option is really comfortable, you have to keep in mind that it consumes a large part of your equipment bandwidth or when searching and downloading large files in the background. In addition, keep in mind that with the arrival of Windows 10, much of the updates are not only made between your computer and the Microsoft server, but also between the rest of the users' PCs through the P2P system (Peer -to-Peer). That is why without prior notice, your team can start sharing an update downloaded on your device with other users, thereby decreasing your Internet speed without your knowing it.
To disable automatic updates of Windows 10 first access the configuration menu of your computer. To do this, press the Start key (this is the icon with the Windows logo in the lower left corner of the screen) and then click on the gear icon. Alternatively, you can get to this menu by pressing the Windows key + I.
Once in this menu, click on the "Update and Security" option and click on "Windows Update", you will find this option in the left side menu of the screen. After that, click on "Advanced Options" to be able to change the configuration with which the updates reach your device.
First of all, you must deactivate all the switches within "Update options". This will mostly make Windows not download in the background without your consent. Then click on the "Delivery optimization" option.
Within this new window, disable the option "Allow downloads from other computers". This will allow your computer to only download Windows updates from the Microsoft server. To finish, click on "Advanced options" again.
From this new menu you will have access to all the settings that regulate the downloads and uploads of updates of Microsoft products. To increase Internet speed, reduce all this data to a minimum (5%).
[adinserter block="1"]
Trick 2: Disable background programs
In addition to the Windows 10 updates, there are many programs that consume Internet bandwidth without you hardly realizing it. If you deactivate them, you will not only be able to accelerate the Internet on your computer, but you will also improve the overall performance of your PC.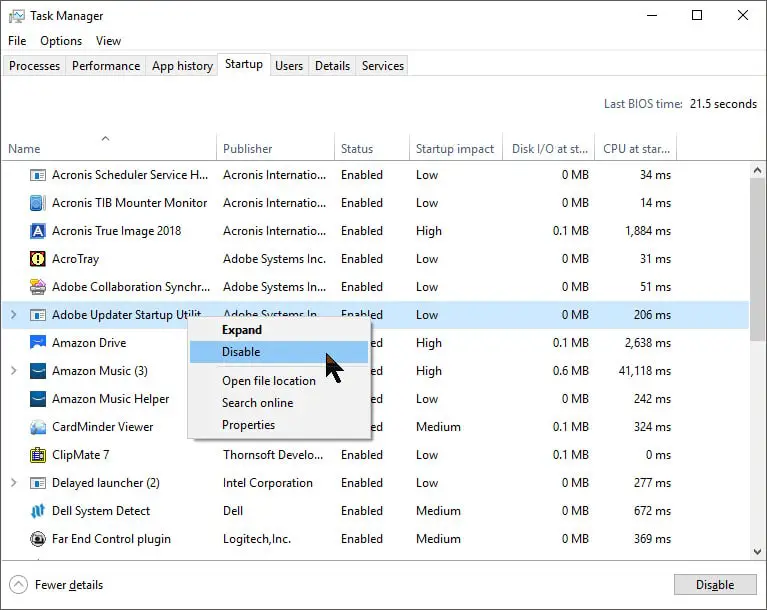 Programs that normally consume Internet bandwidth in the background are:
P2P programs as Torrent applications of all kinds.
Cloud storage systems such as Dropbox, OneDrive or Google Drive.
Graphics card applications such as NVidia GeForce Experience.
Platforms for playing video games such as Steam, Origin, GoG Galaxy, Epic Games Store, etc.
Obviously, your antivirus also consumes part of your bandwidth, but it is completely inadvisable to disable it. That is why we do not think it convenient to add it to the list, the rest we leave at your complete discretion.
To see which programs, consume the most bandwidth on your computer, right-click on the Windows toolbar and select "Task Manager. "
Once with the administrator on the screen, click on the "Performance" tab followed by "Open Resource Monitor". You will find this last option at the bottom of the window, right next to "Show less details".
With the Resource Monitor open, click on the "Network" tab to see the processes that are currently using Internet bandwidth. Disable all those who create accessories, always keeping in mind that some are completely necessary for the proper functioning of your equipment.
[adinserter block="1″]
Trick 3: Install the official drivers of your Wi-Fi controller
Windows 10 often installs generic drivers for the device's Wi-Fi drivers. Although these works, they can cause problems in the stability of your Internet connection and even incompatibilities that prevent it from functioning normally. That is why we recommend that if you have not already done so, download the latest version of the official drivers of your Wi-Fi controller from its manufacturer's website.
Trick 4: Disable Big Ship Discharge (LSO)
Windows 10 includes a new feature called Internet downloads " Large Send Overload. This has been designed to improve system performance when downloading and surfing the Internet, but also allows background applications to make use of it. This translates into a very high expense of your team's bandwidth in processes that you probably don't know or are happening. That is why it is advisable to disable this option.
To do this, first access the Windows 10 Device Manager. Once in it double click on your network adapter to enter its configuration window.
Click on the "Advanced options" tab and search the list for the "Download large v2 shipment" property. Now just click on the Value drop-down menu and select the option "Disabled".
[adinserter block="1″]
Trick 5: Configure the local group policy editor
Even if you don't know, Windows 10 reserves 20% of Internet bandwidth for its own use, leaving only 80% in the hands of the user. Another method to accelerate the Internet is, therefore, to change this option and thus increase the percentage of Internet that you can use. To do this simply follow these steps.
First of all, press the Windows key + R to open the "Run" window and, once done, type "gpedit.msc" and press enter. This will open the Windows 10 local group policy editor window.
Next, click on the "Computer configuration" option that appears in the left side menu of the screen and double click on the "Administrative templates" option.
After that, double click on the "Network" option followed by "QoS Package Scheduler".
To finish, double click on "Limit reserve bandwidth".
If you have followed all the steps, you will arrive at a new window where you must select the option "Enabled" from the left side menu and enter "0%" in the bandwidth limit of the options. After that press the "Accept" button so you have access to the total Internet bandwidth.
Trick 6: Keep your equipment clean and with enough free space
If your problems with the speed of the Internet have arisen gradually, it is probably time to do a general cleaning of your computer. Keep in mind that all searches you do on the Internet are stored in a temporary file folder, thus generating large amounts of junk files. It is recommended that for this type of situation you use a program to eliminate this type of files and thus improve the performance with which your computer is able to access the Internet.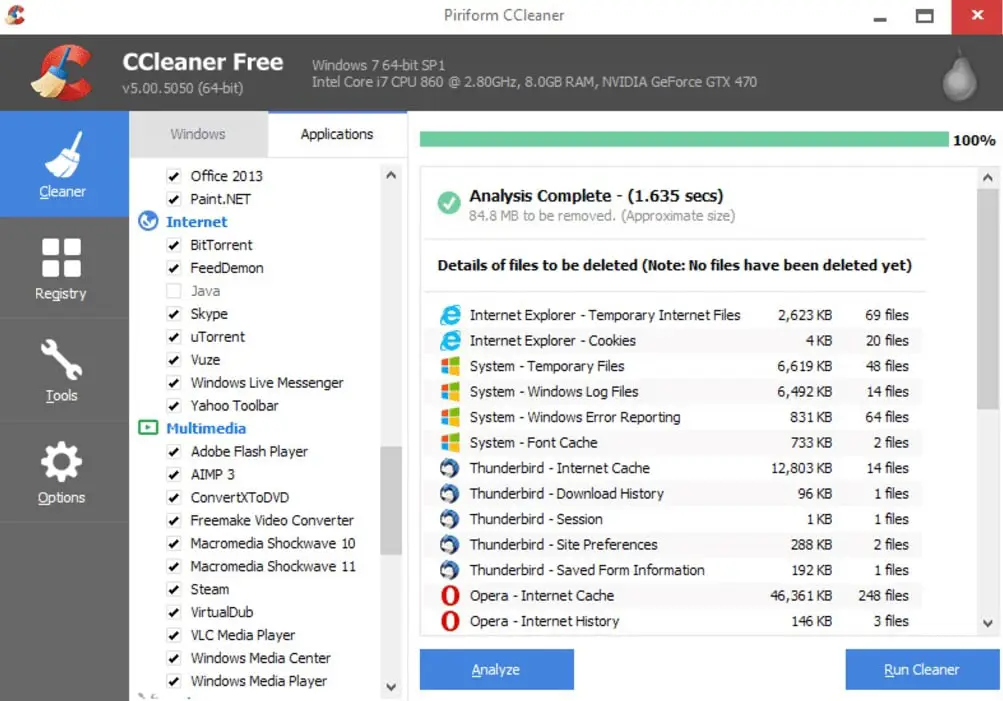 Among all the programs to clean your equipment, we recommend CCleaner. This is free and is already a legend among all PC users thanks to its reliability and its good results. You can download the program quickly and safely under these lines.
[adinserter block="1″]
Trick 7: Change browser
Another common reason why your Windows 10 computer may be suffering from some kind of slowdown is due to using a poorly optimized browser. Although many of us use browsers such as Edge inertia, we recommend making the switch to a better option that allows faster access and navigation through the Internet. We especially recommend Google Chrome, Mozilla Firefox and Brave browsers.
Trick 8: Close your browser tabs
Although it may seem obvious, having an Internet browser with many tabs open will exponentially reduce the speed of access to your computer's network. That is why, unless necessary, limit the number of tabs you keep open in your browser.
Trick 9: Limit your browser extensions
The vast majority of current browsers allow you to add extra functions and tools in the form of extensions. These can be really useful although an excess of them decreases the bandwidth that we can use to surf the Internet. Make sure you keep your browser clean and only have the extensions you need for your browser activated. If you don't know how to deactivate any of them, don't worry, you just need to follow the steps in the following tutorials.
Trick 10: Empty the DNS cache
Every time we visit a website, DNS resolutions are made that are stored on our computer to improve the loading time the next time we visit that website. However, sometimes this information can get corrupted and make the Internet run slower on your computer. That is why it is recommended that if your bandwidth is slow, update the DNS of your computer to eliminate all these incorrect entries.
To do this you must first access the Windows command prompt by opening the "Run" window (Windows key + R) and typing "cmd.exe". At the command prompt, type "ipconfig / flushdns" and press enter. If you have performed these steps correctly, your cache will be clean.
Trick 11: Make sure no neighbor is stealing your connection
While it is known that Windows 10 background resources decrease the bandwidth of your computer, it is possible that your connection problems are due to external factors. It is usual that in neighboring communities some exploited know or guess the password of your router and thus steal much of your bandwidth. If you suspect that this is the case but you have no means to prove it, follow the steps in the following article to easily locate the thief and recover your connection total.
We hope that all these tricks will help you speed up the Internet on your Windows 10 computer. Any questions that may arise on the subject, do not hesitate to send it to us through the comments section.