Mobile payments have become a good option to make it easier to checkout in stores without having to use cash. Until not long ago this could only be done with smartphones, but this has changed. Right now it is possible to achieve this with NFC-enabled smartwatches.
To be able to pay without having to carry our smartphone with us, we only have to have a smartwatch with NFC. Thanks to this, it will be as simple as sliding our wrist over the POS to make a payment. And you can even do many more things with this technology.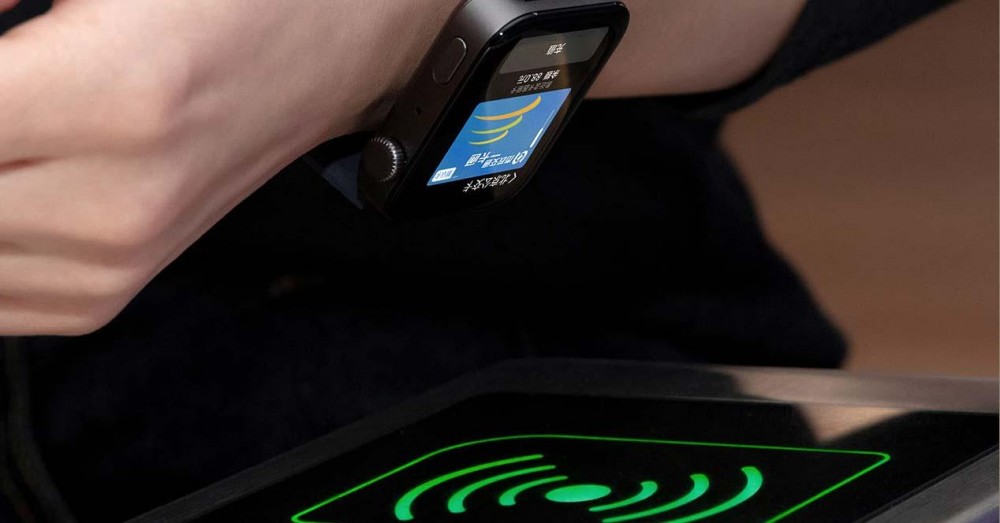 What is NFC and what can we do with it
This is a chip that has different functions. In the case of smartwatches with NFC, there are two that we can consider the main ones. The first one is to make mobile payments simply by bringing the device closer to the payment terminal. It is the best known function and one of the most sought after. But there is more! Because you will also be able to make the synchronization process as comfortable as possible. You will only have to do exactly the same thing between the smart watch and the smartphone, and the configuration process will be executed automatically.
With other products there are more options for use, such as being able to easily share multimedia content that is stored (such as photos). And it is even possible to automate actions when the chip detects the proximity of other devices. Therefore, it is a good complement.
In order to use the NFC of your watch, it is essential that you previously add the relevant card through the different applications. Don't forget to configure everything in advance before trying to pay, otherwise it will be impossible for you to do so. Once everything is set up correctly, you will be able to make payments even without your smartphone on you .
Is it safe to pay with NFC?
One of the doubts that usually arise in the face of this type of contactless payment is whether they are really safe, or if they could get hacked. You should know about this that NFC payments have certain security protocols , like any type of transaction. After all, it will be as safe as any payment you can make with your smartphone or card.
Don't worry about the chances of hacking that will appear, because they are the same as paying by phone. Ideally, you should put a password on your watch so that only you can access the payment.
Other features to review in smartwatches with NFC
The wearables that you will see in the list that we have chosen have to fulfill the rest of the functions that are expected in accessories of this type. Thus, for example, it is important to include a large color screen (minimum one inch) that allows, among other things, to view the actions that are carried out, such as the mobile payment itself. Also, it is not a bad idea to have a physical button that can be used as a security gateway in this action. However, there are devices that have a wheel instead of a button. The functionality ends up being the same.
Another thing that is important in a product of this type is that it offers ample autonomy . In the models that allow mobile payments, the minimum that should be required is one day . This is what certain models like the Apple Watch, for example, guarantee us. But the ideal is that it be one more so that the user experience is the best possible. Recharging is not a problem in any case, and it is normal that a magnetic adapter is included to carry out the process.
The operating system, physical activity and personalization
Along with the autonomy and the screen, another interesting point is to see what operating system the smartwatch brings with it . To have NFC it is necessary that they have an operating system that allows downloading applications . You will find many different ones on the market, and there are even brands that customize basic operating systems. Choosing which one is the best for you will depend more on your taste than on any other variable, so feel free in this regard. If they bring applications with them, you can also monitor your physical activity . For this, it is essential that you have a heart rate monitor and that you count the steps you take. However, these are basic parameters that any smart watch will meet, and many go further.
If the point of customization is important to you, you may have to check how many spheres you can access and, above all, if you can create a personal one. In addition to the dials, the straps are a key factor in the customization of the watch. Being able to change straps on a regular basis will make it fit better with all your outfits, and will make you feel much more comfortable with it, so it's always a positive point.
5 models of smartwatches with NFC at a good price
After knowing what we have to look for in smartwatches with NFC, we are going to see 5 models that are at a good price. If you do not want to make large investments, they are the best solution. Of course, remember that a smart watch with NFC will always be less affordable than one that does not have this technology.
Ticwatch C2: smartwatches with NFC at a great price
This is a very elegant model that uses Google Pay, so you can use it comfortably. One of its strengths is how little it weighs despite having a 1.3-inch screen .
It is available in different colors so you can choose the one that best suits you. In addition to having payment with NFC, it will control your heart rate and keep a record of the sports activity you do.
Fitbit Versa 3
This is one of the most complete and current models of all those that we have chosen, and which does not lack an NFC chip to make mobile payments. Compatible with iOS and Android, among the things that stand out about this smartwatch is that it includes GPS and a very good quality screen.
If one of your priorities is to keep fit , with this watch you will achieve it. It also offers you more than six days of uninterrupted battery life, and you can have Alexa at your fingertips.
Apple Watch SE: take it all on your wrist
The most affordable model within Apple watches is this Apple Watch SE . With it you will not only be able to pay, but also make a complete follow-up of all the activities that you carry out. Both your hours of sleep and physical activity will always be on your wrist.
As a strong point, it should be noted that the quality of the screen is incredible. Although one of its weak points is, without a doubt, that it has a very low autonomy . You will have to charge it every day, something that can become a long-term problem.
Samsung Galaxy Watch 4
Samsung is another of the great favorites in the world of technology , and for a reason! In this case, the test is the Samsung Galaxy Watch 4 . This is a simple, elegant and discreet smartwatch that, at the same time, allows you to do a large number of tasks. Among them pay with your wrist.
But, in addition, it is perfect to carry out any type of sports activity with it. Not only because it has a large number of exercises to choose from, but also because it offers you many complementary applications. As for autonomy, it is a bit short: just two days with a charge. As you will see throughout this article, smart watches that offer many features tend to have little autonomy. This is closely related to its small size, of course.
Armani Exchange: smartwatches with different NFC
This Armani watch is completely different from what we have seen so far, especially on an aesthetic level. It is much more careful and worked , since it comes from a brand dedicated precisely to this. But, in addition, you should know that it has the Google operating system.
You can pay with NFC and receive all kinds of notifications on your watch. It will be one more extension of your body and you will not know how to be without it. It will also help you stay in shape since it will keep track of all the activity you have done. It has a heart rate monitor and the clock face is fully customizable.
5 high-end NFC smartwatches
If you consider that the use you are going to make of your smart watch will be high enough to invest in it, we leave you with five other models . On this occasion, we have prioritized that they be as complete as possible, beyond having payment through NFC.
Fitbit Sense: the jewel of Fitbit
Within the Fitbit brand, right now there's one smartwatch that's hands down better than the rest: Fitbit Sense. In addition to having NFC payment, it also has Alexa integrated and a large number of tools to take care of your health.
The battery will leave nothing to be desired thanks to its more than six days of autonomy. It is compatible with both Android and other Apple smartwatches. Although where it really shines is in health care, since it has different specific sensors. Through these, you will be able to measure your stress, take an electrocardiogram and even see the oxygen saturation in your blood.
Fossil NFC Smartwatches with Wear OS
This is a model that offers excellent compatibility when it comes to synchronization with phones, since it can be used with both iOS and Android. By using Wear you will have no problems with mobile payments, and its design is really striking thanks to its black color.
It has an autonomy of more than a day with a single charge, and will also allow you to track your activity. By having the possibility of downloading Google applications, you will be able to have your calendar, your mail manager and dozens of other things at hand. Of course, the dial is fully customizable.
Samsung Galaxy Watch Active 2
Sport is not a problem for this NFC-enabled smartwatch , as it is perfectly prepared due to its water resistance. And it also has military-grade protection!
It has an elegant and worked design , which will allow you to wear it even if you are dressed up. It is available in different colors, you can easily change the strap and you will find a multitude of different spheres.
Huawei Watch GT3
One of the most striking watches of the moment is this one from Huawei, with an incredible screen that will conquer you from the first moment. There will be no place you don't want to take it with you. Of course, you can pay with it without having to take your mobile with you.
It has a totally renewed heart rate module. In addition, the rotating crown will make it much easier to access the different applications and dials. It has a large number of sports activities that you can do with it, and it is specifically designed to guide you through a healthy life.
Apple Watch Series 7: the latest from Apple
If you have an iPhone, you probably prefer to stay in the Apple ecosystem. In that case, the Apple Watch Series 7 is the best for you. As with the previous Apple model that we have mentioned, its weak point is the battery . However, it has a high-quality screen and is one of the most complete on the market.
It is perfect both for sports and to use it as if it were a mobile phone. There will be nothing that can resist you with this watch.
Our favourite: Apple Watch SE
If we could only pick one of the watches we've mentioned so far, it would be the Apple Watch SE . The reason is simple: it has a fully adapted ecosystem, it offers a large number of applications and it is one of the most complete when it comes to exercising. Taking into account that it could be easy for us to pay with any of these NFC-enabled smartwatches, we look for the differentiating factor! In addition, its price is not excessively high considering the rest of the list.