Technological advances allow us to take care of our health from home with a precision never seen before. Do you want to know if you are getting enough rest, or if your stress levels are too high? Well, with one of the smartbands that we bring today you will be able to know all this data and much more. And at a unique price!
Before you venture out to get a smart bracelet, there are a few things you should know about these devices. Because although it is true that with all of them you will be able to know more about your state of health, there are sensors that will help you to know even more. At Topes de Gama we have prepared the best smartband buying guide you can find, so you will never go wrong again!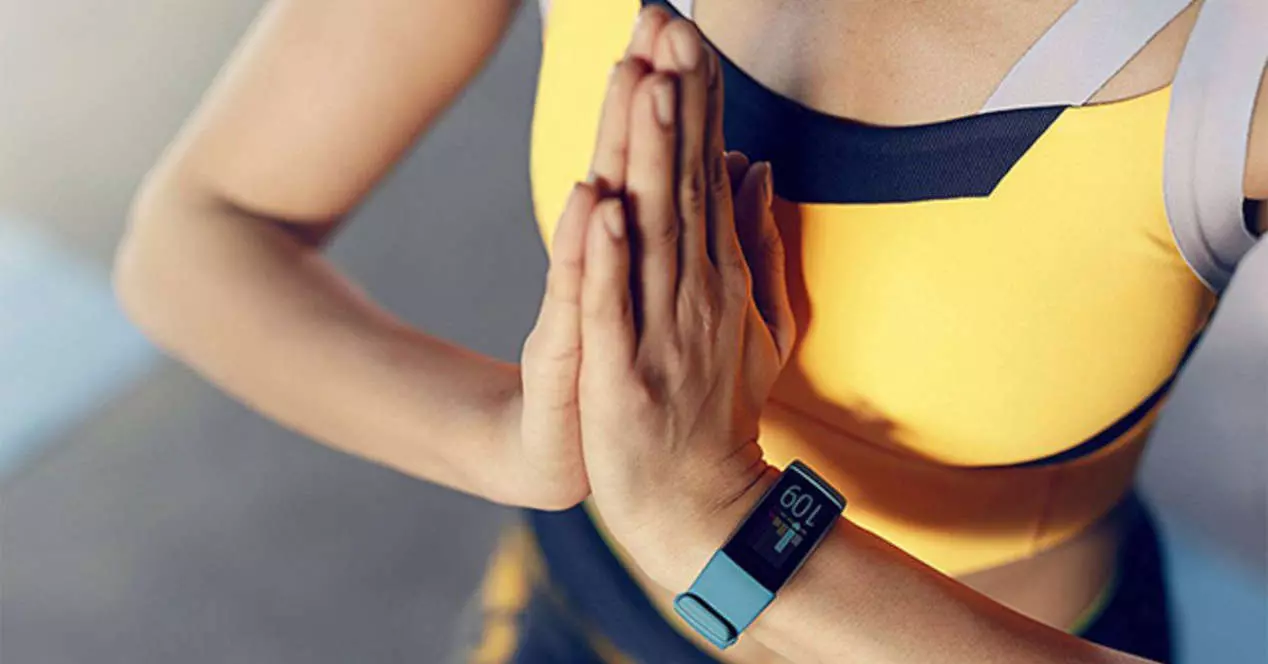 Fundamental parameters when choosing smartbands
Smart bracelets are one of the most famous wearables today. They are ideal for those looking for something more discreet than a watch, since their size is usually more compact. However, the specifications that they usually offer tend to be the same or very similar. This is precisely what you should analyze before making any type of purchase: what specific characteristics the smartband that you are going to acquire has.
From a health point of view, there are certain specifications that are more relevant than others. However, we are going to see the most general ones first so that you know exactly what can make a smart bracelet good.
The first thing you should see in a bracelet of this type is the screen . Contrary to what happens with watches, these are usually quite small. They'll usually be around an inch, maybe a little more, but you won't find big screens. Of course: make sure that the resolution matches what you need. In this way, you will be able to clearly see all your notifications. What is sought with such small screens is that they are very comfortable devices.
Sensors are one of the key factors in smartbands that focus on health. You have to distinguish between several:

Heart rate : it is the most basic sensor, and all the bracelets will be able to offer you a monitoring of your pulse . It is basic, especially to measure stress.
There are bracelets capable of performing even a complete electrocardiogram , highly recommended for those who suffer from heart disease. It is one of the best methods to control this parameter.
In recent years it has become fashionable to include a sensor capable of measuring oxygen in the blood . To achieve this, you must have an Sp02 sensor capable of detecting exactly how much oxygen you have in your blood.
Body temperature is also easy to detect with a smartband. However, it is not very useful, so perhaps it should not be a priority, as the previous sensors can be.
There are sensors capable of detecting when a person has fallen and even notify the emergency room. They are not common, and they are usually not very affordable, but it is a characteristic to take into account.

The autonomy of smartbands is usually much higher than that of smartwatches. This is one of its great strengths, because the average autonomy they offer is 5 days. What's more, you will find many that offer up to 14 days . At a minimum, look for 4 or 5 days so you don't have to live pending the charger.
Both physical activity and the steps you take each day will always be recorded on your activity bracelet. As with the heart rate monitor, it is something that is already present in all devices. It is interesting, yes, to see what types of sports it includes inside to see if it meets what you need.
Taking into account that a smartband is something that you will always carry with you, it is essential that it be resistant . Not only does the screen not break easily, but it also offers some sort of resistance to sweat and splashes . At a minimum, IPX6 protection should be required. But it is normal to find bracelets that are even submersible , so that will not be a problem.
Before deciding on a bracelet, it is important that you analyze if it is compatible with your smartphone . To do this, you must look at the specifications and see if it supports both Android and iOS, as well as the version of each.
Beyond the field of health , it is interesting that you look for smartbands that show you all the notifications you receive on your smartphone. In this way, you will always be connected without having to take the device with you.
In a more aesthetic section , it may be interesting to take into account the design of the bracelet. In addition, it is always a plus that you can change the strap or the dial . Thanks to this, your smartband can go with you everywhere without attracting too much attention.
The price is the last of the parameters that you should consider. This will fluctuate depending on the specifications you are looking for in a bracelet, since the more you demand, the more the cost will rise. Don't worry, because we have options for all pockets .
Sleep monitoring: how it works
One of the most important points when analyzing your health with a smart bracelet is sleep monitoring . The way we live today can mean that, at the end of the day, sleep does not want to reach us. And if our quality of sleep is not good, it is likely that our entire health will end up suffering.
To improve how we rest each night, there is nothing like monitoring our sleep. Smartbands can do it for us! How? It's very simple: through their sensors , especially the heart rate sensor, they are able to detect whether we are awake or not. In addition, they can also discern what stage of sleep we are in and how long we have been in each phase. The stages of sleep are as follows:
Stage 1 – lasts around 10 minutes, and is the pre-sleep stage. Smartbands do not usually detect it, and go directly to the second.
Stage 2 or Light Sleep – The chances of you waking up in this stage are very high. It gradually introduces you into the stage of deep sleep. Typically, more than half of your night will consist of light sleep.
Stage 3 : the so-called deep sleep begins. It lasts about 20 minutes, and normally there will be no way for you to wake up at this time.
Stage 4 – It is this stage where you can really enjoy deep sleep. Normally, smart bracelets usually combine stage 3 and 4 and speak of a single phase of deep sleep.
Stage 5 , also known as the REM phase. It is the moment when your brain is dreaming, and it usually occurs at specific times throughout the night.
Depending on the results obtained by the bracelet on your sleep, the time you are in each phase or how long it lasts, it will be able to make recommendations . In addition, you yourself will be aware of what is wrong at all times and you will be able to find a way to improve.
How keeping track of your stress can improve your life
Along with the quality of sleep , the stress you are subjected to in your day to day life affects your health . That is why many bracelets already have sensors so you can see if your stress levels are too high.
In order to detect stressful situations, they are usually based on the user's keystrokes at any given time. If these exceed what is considered stable or normal, they can even launch alerts. What's more: you'll find bracelets that will encourage you to breathe and do exercises to calm down. Although they may seem like a somewhat absurd help, the moment you start using them you will see how your life changes little by little.
Affordable smartbands: for all budgets!
After having seen what parameters must be taken into account to choose a bracelet in the best possible way, let's see models ! First of all, we are going to see very affordable smartbands that, despite everything, have interesting specifications . Because you don't always have to spend a lot to have a good quality product.
Amazfit Band 5: one of the most complete and affordable
Screen : 1.1 inches.
Battery : 15 days.
This smartband is owned by Amazon , and it is one of the most complete that you will find on the market. Not only because of the number of sensors it has, but also because it has a battery capable of offering up to 15 days of autonomy.
It has as one of its advantages that it has Alexa inside. In this way, you can use it without having to resort to touch controls, only through voice commands . Along with this, it should be noted that the screen is AMOLED in full color, with 1.1 inches in size. Also, the spheres are customizable!
Of course, you will be able to measure your blood oxygen , monitor your heart rate and know how is the quality of your sleep . Likewise, it will also take into account the naps that you can take daily. And it will even help you monitor your stress and control it when it gets out of what is considered normal.
As added data that you should know, it has 11 sports modes and is submersible. And it will even allow you to keep track of your menstrual cycle . All this for around €40, which is its usual cost. However, you should know that it is easy to find many offers on Amazon.
Xiaomi smartbands: good quality at low cost
Screen : 1.56 inches.
Battery : 19 days.
Within the affordable bracelets, we could not fail to mention the Xiaomi Mi Smart Band 6 . It has a 1.56-inch screen where you can clearly see all the notifications that come to you. Of course, you will be able to customize the spheres without this being a problem.
As for autonomy , it amounts to 19 days. It is one of the highest you will find, so it is a bracelet that should be taken into account if you are looking to be without a charger.
It will measure your health with great precision. First of all, it has 30 different sports modes so you can choose more precisely. It is capable of monitoring your sleep and even recording what phase you are in at any given moment. And also the quality of breathing during sleep! Of course, your heart monitoring will always be assured.
Its price is around €40, being one of the cheapest you can find with this quality. Don't forget that you can change the strap whenever you want, thus adapting it to your style.
Honor Band 5: a bracelet with IP68 protection
Screen : 0.95 inches.
Battery : 5 days.
We now turn to one of the most sought-after smartbands: the Honor Band 5 , available in different colors. The screen is somewhat lower than the ones we have seen before, remaining only at 0.95 inches. Of course, in return it allows you to have a much smaller and more comfortable device to take with you everywhere.
It has 10 sports modes that you can choose from. In turn, it will notify you of everything that happens on your smartphone so that you can always be up to date without having to check it.
Although its appearance is almost like a toy, you should know that it is a very complete device. It is not only capable of keeping track of your heart rate, but also of the oxygen saturation in your blood . In this way, you assess whether your body is adapting in a relevant way to the exercise you are doing.
In addition, it is capable of analyzing the quality of your sleep to help you improve it. Sleepless nights are over, now you'll know how to have better sleep hygiene. And all for €50!
Huawei Band 6: one of the best smartbands
Screen: 1.47 inches.
Battery : 14 days.
Huawei is one of those brands that does not disappoint, as is also the case with some of the ones we have seen. This is the case of this Band 6 , one of its most sought-after smartbands. It has a fairly large screen, 1.47 inches, so you will never have problems seeing your notifications on it.
It offers a large number of functions , among which is blood oxygen monitoring . It is able to carry out a constant control and warn you if it notices that something is wrong. In addition, it will completely control your sleep phases to help you improve. It can even identify the different stages of sleep, from deep to light, through REM sleep and even wakefulness.
As for the battery , you will have up to two weeks of freedom thanks to this bracelet. Its price is around €50, although you can find it even cheaper.
High-end smartbands
Next, we are going to look at the high-end smartbands . They are ideal for those looking for something more, and still not too expensive! We must not forget that activity bracelets are always cheaper than smart watches, and this is a plus.
Samsung Galaxy Fit 2
Screen : 1.1 inches.
Battery : 15 days.
This Samsung bracelet has such a minimalist style that it will go completely unnoticed with your style. Of course: it has a 1.1-inch full color screen with which you can see everything clearly. To this we must add that it is capable of being up to 15 days without charging, a real blast!
It is completely waterproof , so you can take a bath with it if you wish. You will also be able to sleep with it without fear of sweating, and thus it will carry out a complete monitoring of your sleep . It even has recommendations so that you proceed to relax before going to sleep and you can rest better.
The bracelet is capable of detecting stressful situations and reacting to them, recommending breathing exercises. And all this for €50, if you can't find an added offer!
Fitbit Inspire 2: very elegant smartbands
Screen : 0.72 inches.
Battery : 10 days.
If there is something that characterizes Fitbit , it is that it offers the best health products that you can find on the market, and with a great design . This Fitbit Inspire 2 is proof of that. Despite the apparent simplicity of this device, you will love it when you discover everything that is inside it!
It is able not only to record your daily activity , but also to keep track of how many minutes you are in the active zone. In addition, it has a large number of added tools so you can see your health in detail thanks to Fitbit premium.
It will not only monitor your heart rate and daily activity, but also your sleep and its quality. In addition, it is able to help you rest better with personalized and specific advice. It has stress control tools to help you get through tough times. Its price is around €100, but it offers great quality in return.
Fitbit Luxe: with stress management tools
Screen : 1.69 inches.
Battery : 5 days.
The Fitbit Luxe is the smartband superior to the model we have just seen. The screen is one of the great improvements, thus becoming a better decision for those looking for more or less large screens. However, the body remains slim so that it does not offer you any kind of problem in terms of comfort.
As you can see, the battery is lower than other lower-end devices. This is because it offers much more features in a lower body. In this sense, you should be the one to assess whether or not it is worth investing but having only 5 days of autonomy.
Of course, in exchange you will have one of the best smartbands on the market. It is capable of accurately monitoring your heart rate, and performs very specific health metrics . So much so that it claims to help you sleep better and be less stressed in your day to day life. It also allows you to track your menstruation . The price is around €150, so it is still not excessively expensive despite being high-end.
Fitbit Charge 5: with ECG and recovery level
Screen : 1 inch.
Battery : 7 days.
It's the top Fitbit bracelet right now. The screen is bigger; We would almost be talking about a hybrid between a smartband and a smartwatch due to its shape. Despite everything, it is still very compact.
In addition to measuring your sleep and stress , it also takes care of your cardiovascular health. It is the first smartband that we have seen capable of doing a complete electrocardiogram . This is because it is a functionality that is normally found in watches, but that is more complex to find in this type of device.
It will notify you if your heart rate is lower or higher than expected, and it will even score your stress management . In addition, it is capable of monitoring menstruation to improve your knowledge about your body. As if this were not enough, it also has integrated GPS so you can go running without your smartphone.
The price is around €170, although sometimes you will find very interesting offers thanks to Amazon.
Our recommendation
We cannot stay with just one of the smartbands we have seen! Especially since it would be absurd to compare the most affordable with the high-end ones , since neither the price nor the specifications are the same. That is why we have chosen one of each section.
In the case of the most affordable, the Amazfit 5 seems to us to be one of the best. It offers very high specifications despite its low price, and is capable of very precise measurements . Plus, he has Alexa inside him!
If we go to the highest range, we can't help but recommend the Fitbit Charge 5 . It is one of the most complete smartbands that you will find on the market, capable of even performing electrocardiograms . The battery also leaves nothing to be desired, since it offers up to 7 days.