In everything related to the world of office automation , group work is gradually gaining in importance. This is something that becomes essential for many when we edit texts, work in spreadsheets, or even with multimedia presentations. It is for all this that below we will talk about the ways we have to share presentations from PowerPoint.
At first we cannot ignore that when we talk about this specific program, we are actually referring to one of the most important in the sector. It belongs to the popular Microsoft office suite, Office, and serves users around the world. And it is that when talking about office solutions that we can use at the moment, there are several alternatives that we find ourselves facing. But the most used in the whole world is Office , where in turn we find the aforementioned PowerPoint.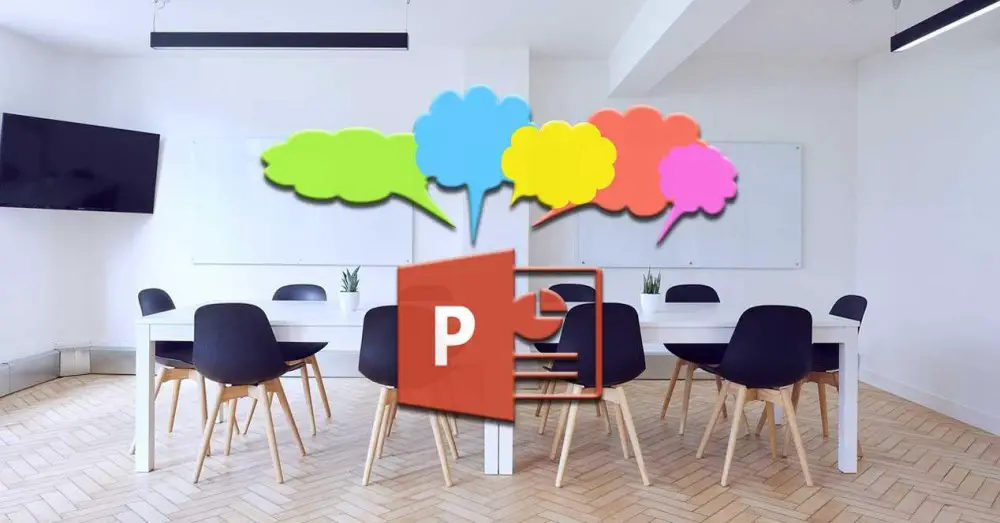 Group work to improve office work
As many of you may already know first-hand, here we are faced with a program focused on multimedia presentations. You have to know that this is a powerful software solution that has been around for a good number of years, and it can also serve us in all kinds of use environments. Here we refer to all those related to education, through personal projects , or even much more professional.
From here we will have the possibility to create our own fully customizable and adaptable multimedia presentations. Of course, for this it puts at our disposal a huge number of integrated functions that will get us out of a multitude of difficulties in this regard. But that's not all, but in addition to all this we must add the enormous amount of elements that we can use here. At the same time, as we mentioned before, group work is very important here.
In the age of the Internet in which we are currently immersed, group work does not stop gaining importance in most software sectors. The world of office automation could not be absent here, and therefore this is something that also applies to the aforementioned PowerPoint. It is for all this that in these lines we will talk about the different ways you have to use this in the Microsoft presentation program.
As it could not be otherwise, in this sense the Redmond program offers us several possibilities. With this, what we want to tell you is that we will have several ways to share with others the contents with which we work in this program. At first, all we have to do is access the File menu that we find in the main interface of the program.
Thus, as we mentioned, we have the possibility of accessing the different ways to share the presentation that this application proposes to us. To say that for everything that we are going to tell you, in the File menu we only have to click on the Share option.
Once we have located in the menu option that we are commenting on, we are already on the screen with the functions available in this regard. The first thing we see in the possibility of sharing this project in which we work with others, through the cloud .
Specifically, what we are looking for in this case is the entry called Share with other people. But to give us a more concrete idea of what we are going to achieve from this option, is to share the PowerPoint presentation, through OneDrive . As many of you may already know, this is Microsoft's own cloud storage service. In fact, users of their products have a free space to use.
Therefore, thanks to it, the program gives us the possibility to save the presentation we are working on directly in OneDrive. Later, once it is stored in the cloud, we can share it with others directly. To do this we just have to click on the button Save in the cloud.
Similarly, one of the most traditional methods used for years to share files is through email. But what we should know is that PowerPoint itself tries to make things easier for us in this sense. For all this, he proposes the possibility of carrying out this, but from the presentation program itself. In this way, we avoid having to access third-party services or platforms to send and share the PowerPoint project.
Again we go to the File / Share menu, but in this case we opted for the Email option.
But that's not all, since Microsoft's own program, depending on our needs at the moment, offers us several options. And it is that from this functionality we will have the possibility to send the file as such, send a link so that the recipients can continue working in a group, as a PDF, or as an XPS file.
Make the presentation online in real time
On the other hand, it may be the case that instead of needing to send the original file as such, we are more interested in making the presentation online directly. Well, this is something that we can also carry out from the Present online option in this same section. What is actually achieved with this is that a link is generated so that any other user can follow the presentation that we carry out, through the Internet. We can also configure this section to allow, or not, that the guests can download the original file to their local computers.
Publish the slides of a PowerPoint presentation to the Internet
Another possibility that PowerPoint offers us when sharing our presentation is by publishing the project in a shared location . At this point, say that this is something that we can easily do from the section called Publish slides. This function allows us, directly, to publish the elements that make up the presentation, in an online slide library , a shared location, or through SharePoint.