The date is approaching and given how the F1 World Championship is and its drivers, the expectation for the game is at an all-time high. Well, given its technical requirements, many users who want to enjoy it don't know what PC they should have to run it at at least 60 FPS. But for that we are here and because of this we are going to offer you a series of configurations so that you can choose the one that interests you the most. These are the most recommended F1 2022 PCs.
On this occasion we are going to completely ignore the minimum requirements, basically because what we are looking for is to offer a series of PCs that at least meet the recommended ones, but focused on current hardware and not what the manufacturer refers to, which is normally broader. with the old components.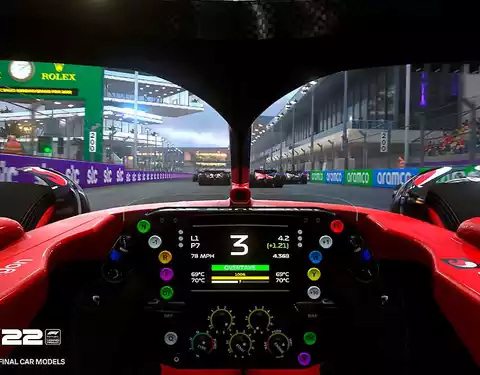 The best PCs for F1 2022 according to your budget
Three different configurations with three different prices according to the different average pockets. Given the current costs, they will surely not be as affordable as they were a few years ago, but what we can be clear about is that they are suitable for playing at a more than decent hertz rate and at very high resolutions.
With that said, let's go with them.
PC for 1080p and 60 FPS
Processor : Intel Core i5-10400F
Motherboard : ASRock B460 Steel Legends
Memory : 2 x 8GB CORSAIR Vengeance LPX DDR4-2666MHz C16
Graphics Card : Sapphire PULSE RX 6600 8GB
SSD : Crucial P2 500GB M.2 NVMe PCIe 3.0 x4
Source : CORSAIR CX750M Bronze
Case : Nfortec Lynx RGB
It is a very balanced team, more than enough power to have no problem in any circuit and incidentally make use of DLSS, which will increase performance and visual quality. Its price will vary between stores, but it should be around 700 euros with the best offers up to 900 euros .
PC for 2K and 60 FPS
Processor : Intel Core i5-12400F
Motherboard : GIGABYTE B660 Gaming X DDR4
Memory : 2 x 8GB CORSAIR Vengeance LPX DDR4-3200MHz C16
Graphics Card : GIGABYTE RX 6600 XT EAGLE 8GB
SSD : Western Digital Black SN750 1TB PCIe 3.0 x4
Source : CORSAIR RM850 GOLD
Case : Nox Hummer Horus ARGB
We take another step towards what a gaming PC should be for the mid-range or perhaps entering the upper mid-range. A motherboard with DDR4 is chosen to lower the price of the motherboard and the memory, since the DDR5 is still out of price. The PC has a more than good balance, with quality and contrasted components, it could be improved with an AIO for the CPU, since we are already entering interesting areas of heat.
As for the price, we can find it in a price range of between 1,100 euros in the cheapest case and depending on where we choose each component, up to 1,300 euros , a price more within the average.
PC for F1 2022 at 4K and 60 FPS
Processor : AMD Ryzen 7 5800X
Motherboard : ASUS X570 -E Gaming
Memory : 2 x 16GB CORSAIR Vengeance RGB PRO SL 3600MHz C18
Graphics Card : GIGABYTE RTX 3080 GAMING OC V2 10GB
SSD : Crucial P5 PLUS 1TB PCIe 4.0
Source : CORSAIR RM1000X GOLD
Case : CORSAIR 5000D Airflow
Here we have opted for a more abrupt performance jump thinking about a possible use of Ray Tracing. It is true that the higher the resolution the less dependent you are on the CPU, but that only applies in cases where the GPU is close to the limit or at it. Here we are looking for enough flexibility so that the processor continues to make a difference, so choose NVIDIA (DLSS and RT) as well as use a PSU that is close to 50% loaded to achieve the highest efficiency, always with the highest quality.
The motherboard is beyond any doubt, the SSD even more so, the memories are the new CORSAIR SL and the chassis offers cooling and quality options that we will see as soon as we open its box. The price is going to be high, that's for sure, but we can find it between 2,100 euros and 2,400 euros on average