More and more devices that we have in our homes and that we need to recharge almost daily, mobile phones, tablets, bracelets, smartwatch, etc. This means that sometimes we have home plugs full of chargers with their respective connected devices. Not forgetting the number of times that we may not find a charger and this means that we have to wait for one of the devices that we are charging to finish before charging another. That is as long as both cables and chargers are compatible, of course.
Luckily, today we can find thieves and power strips that, in addition to having several conventional power outlets, also have a good number of USB ports and even USB type C in which we can charge our devices without the need for a specific charger, only with its own cable, and without occupying all the outlets in the house.
If you are one of those who have a lot of devices at home and are always looking for a free charger and plug to charge them, we show you an interesting compilation of power strips with multiple USB ports , at least four ports.
When choosing one model or another, it is important to look at the number of power outlets and USB ports, whether or not it has any type C, if they offer fast charging or are made of a resistant and fire-retardant material to avoid any type of heating or even damage if it overheats. Some important characteristics to take into account are the different security systems that protect the connected devices from any overvoltage, overcurrent or short circuit.
Power strips with multiple USB ports
YARUIKE
Vertical strip with eight power outlets and eight USB ports to charge all kinds of devices. Made of ABS and with a safety system against overvoltages. This strip is capable of cutting off the power supply when it detects that the load is excessive to avoid any damage to our devices. It cuts the load the moment it detects overvoltage, overvoltage, overcurrent or some short circuit.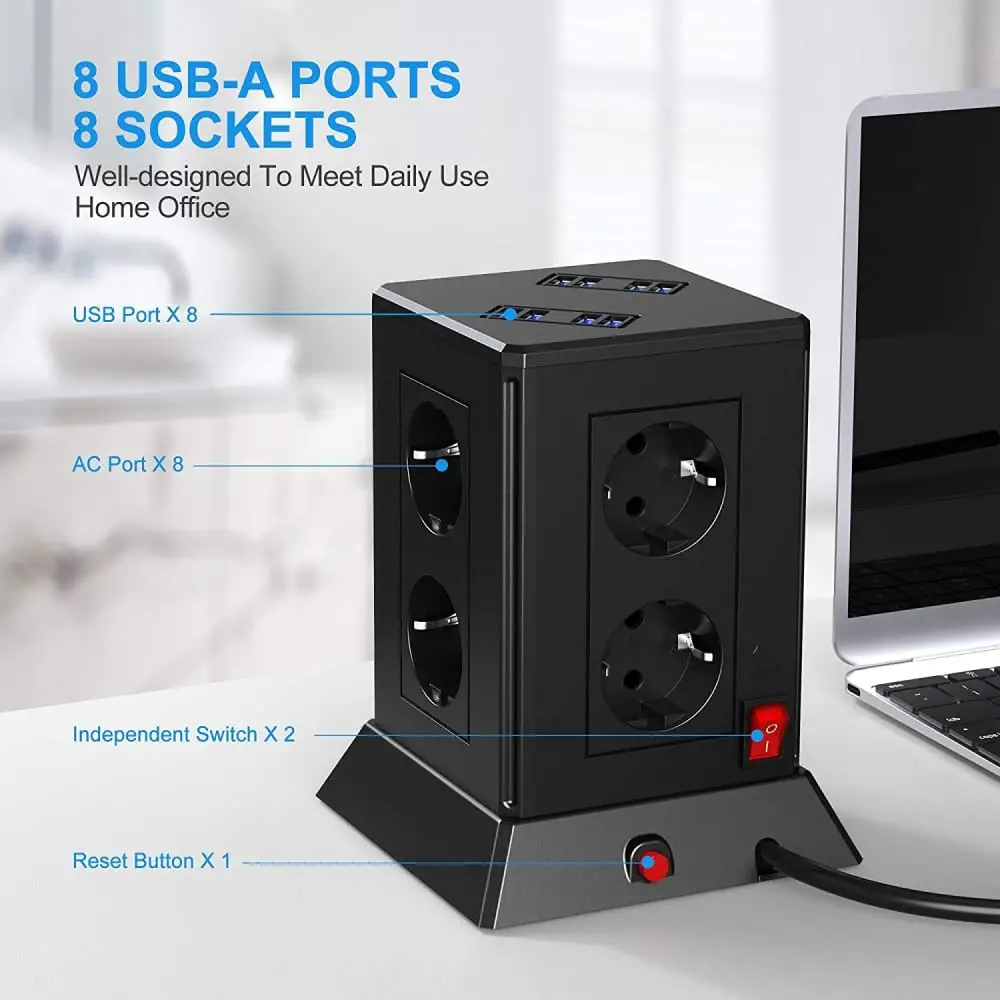 SAFEMORE
Strip also in vertical format with a base on which the cable itself is wound to keep everything organized and tidy. It has nine power outlets and six USB ports that support fast charging. It is able to detect when a device is fully charged to interrupt its charge. It has protection against overload, overcurrent and short circuit, as well as child protection.
SiegenPro
Power strip with three power sockets and six USB ports that allow the simultaneous charging of several devices. It is made of fireproof material and has a switch to turn the power strip on and off. Ideal format for any use, both home and office.
Sameriver
This Sameriver model has eight outlets and five fast-charging USB ports. Compact vertical strip with a long cable, 5 meters. It has a security system to avoid overloads and is made of fireproof material. The power outlets and USB ports are placed with enough space between each of them for better organization of all cables.
HOVNEE
Also with a vertical format we find this HOVNEE model, which has nine power outlets, four USB ports and one USB type C port. The cable is 2 meters long and has a safety system against overvoltage and short circuits. It is capable of stopping the load when it detects any overvoltage or short circuit to prevent any of the connected devices from being damaged.
NTONPOWER
On this occasion, it is a power strip with six sockets and 5 USB ports with an intelligent charging system capable of managing the ideal current for each device. Its design allows large plugs to be connected to the sockets at the ends so that they do not collide with the rest. It is capable of protecting devices against surges.
Vertical BEVA
This BEVA model is a vertical power strip with twelve sockets and 5 USB ports with fast charging. All USB ports have an intelligent charging system, so it recognizes and charges each device according to its characteristics and benefits. It also has a protection system against overheating and short circuit, it is made of a flame retardant material and has a 2 meter long cable.
BEVA
Power strip with six power sockets and four USB ports to be able to charge our mobile, tablet and other devices at the same time occupying a single wall socket. The USB ports of this model are able to automatically recognize and charge connected devices in an intelligent way, cutting off the power supply when it detects that they have been fully charged. It also has security systems to protect the devices from any damage due to overload, short circuit, etc.
Glisteny
Power strip with an elongated conventional format that has four conventional plugs and four USB ports with fast charging. It has a 2 meter long power cable and allows charging four devices simultaneously connected to each of the USB ports. It has a protection system against overvoltage and is made of highly resistant material.
AUOPLUS
This AUOPLUS model is a small square-shaped power strip that has two plugs and four USB ports. It stands out for its great protection against surges, such as those caused by lightning in a storm, overload, automatically cutting off the power to avoid any damage to connected devices and surges. It is made of flame retardant ABS material and high conductivity copper wire.