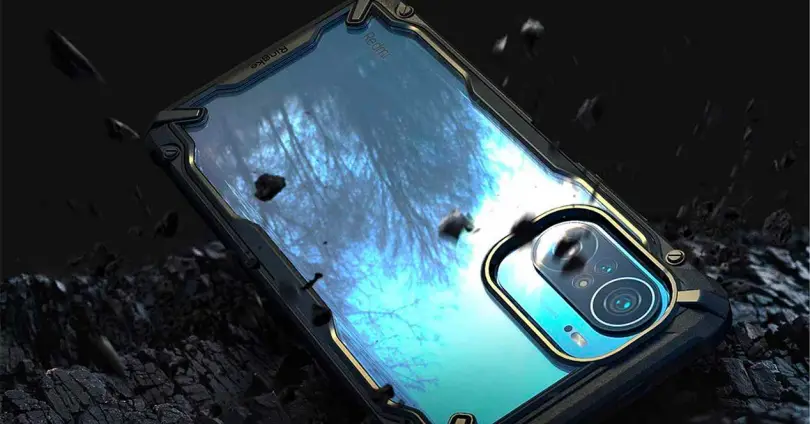 The POCO firm, one of Xiaomi's cheapest subsidiaries, has always been characterized by offering high-end devices with irresistible prices. And this year the brand has surpassed itself by launching more models than ever, with better features and very affordable prices. One of the most popular is the POCO F3 , and if you've decided on it, you should protect it with one of these covers.
A cover is a must when buying a new mobile phone. And although most manufacturers already deliver one of these covers with their mobiles, it is not uncommon to buy an additional one, which better suits our needs when it comes to protecting the phone from bumps and scratches .
POCO F3, a beautiful mobile to protect
Although it is a mid-range mobile, this phone has an appearance similar to that of the Xiaomi Mi 11 , as well as a glass finish that makes it especially vulnerable to scratches. Therefore, it is a phone that we will have to protect in an integral way to prevent its beautiful finish from being affected by an accidental fall or an involuntary scratch when leaving it on a table or similar.
Today we are going to review a good number of covers for this phone, and since it is impossible to collect all that exist for it, we are going to offer you the most representative ones. And is that each of the covers that we are going to know are included in a different category, since they are designed to protect the phone in different situations.
Ruggedized housings for the POCO F3
This type of case is one of the most popular, and the one that many users choose to protect their phone to the extreme. These are characterized by having a much thicker design than usual, both on the back of the case and on the edges. These feature highly absorbent materials, which can prevent damage from almost any fall . They are also very versatile covers, since they offer us some unique characteristics to give our POCO F3 a different use. For example, we usually find rings that become bases, to be able to keep the phone upright while we play or watch content in them on a table. In addition, the interior of this ring has a magnetic surface. This is used to place the phone on a magnetic car holder, in such a way that we only have to bring the phone closer so that it is attached to the dashboard of the car. They also have very striking designs on many occasions, and with a quite futuristic look.
The first of these designs, in addition to offering all the features we have talked about, such as a ring or a magnetic zone , has a finish that imitates carbon fiber. This gives it a very sporty and sophisticated look that will suit our phone very well. It also has reinforcement in the corners to better absorb shocks.
The other cover we look at offers us a somewhat more sophisticated design, and not as "gross" as the previous model. Since we notice especially the roughness on the edges of the cover, reinforced with absorbent material. While on the back the glass is anti-scratch , and allows us to see the beautiful color of our POCO phone, so it has a more attractive appearance while protecting.
The third rugged case we looked at not only offers us a thick profile and materials that absorb shocks and prevent scratches very effectively. But it also specifically protects one of the essential components of this phone, such as its camera. Since it has a sliding cover specifically for the camera, so when we do not use it it is completely protected.
Protect the POCO F3 with silicone covers
These silicone cases are without a doubt the first we thought of to protect our phone, and the POCO F3 is no exception. With them we enjoy a protection that better adapts to the size and shape of our phone. They are usually lighter, and in many cases they allow us to show off the design of our phone, with many transparent designs. But at the design level they allow many more licenses when offering creative designs. Since there are not only transparent ones, but with illustrations with transparent backgrounds, or pastel colors. They are also usually cheaper, we even find packs with several of them at the price of one, so the possibilities are very wide with these covers.
One of the most classic models of these cases are those that offer us a completely transparent design, which allows to show off the original appearance of the phone. But in return it offers us comprehensive protection thanks to the reinforced corners. Corners with a large volume of silicone that prevents damage to this area of the phone.
In this case we have a pack of covers , which offers us no less than nine silicone covers at the price of one. Therefore we have for the whole week and even then we will have left over. They come in red, black, white, blue, yellow, light pink, green, deep pink, and purple. With them we will have the POCO F3 completely protected, and we will be able to combine them with our wardrobe.
There are other more creative covers, such as these, which are transparent , but at the same time offer beautiful motifs that blend with that transparent background to create a unique sensation. A design with which we will not leave anyone indifferent around us.
Book covers to carry our documents
These types of covers are also very popular, since they offer us a very practical use for day to day. They are characterized by two fundamental aspects. One is to be able to carry bank cards on them , as well as tickets. And the other is that they have a case for the phone that also protects it from possible accidental shocks. And to finish off the play we have a front that closes like in a book, and that de facto protects the phone screen when it is closed.
We have the classic cover that imitates the appearance of leather , in this case black, and that inside it has a card holder on the left side to carry our bank cards. We also have a wallet just behind, to be able to store them safely, on the right side the silicone case keeps the phone in place and prevents damage.
There are other designs for this type of covers, more creative. Like this one in purple, which is also available in other colors, also imitating the finish of the leather. And that offers the same functionality as the others, with a card holder and a wallet , as well as a separate cover for the phone itself. Undoubtedly one of the best covers that we can put on our brand new phone, fully protecting, and also carrying our documents, it has everything and as in the case of other covers, for little money. Surely among these covers you will find your favorite to release it.