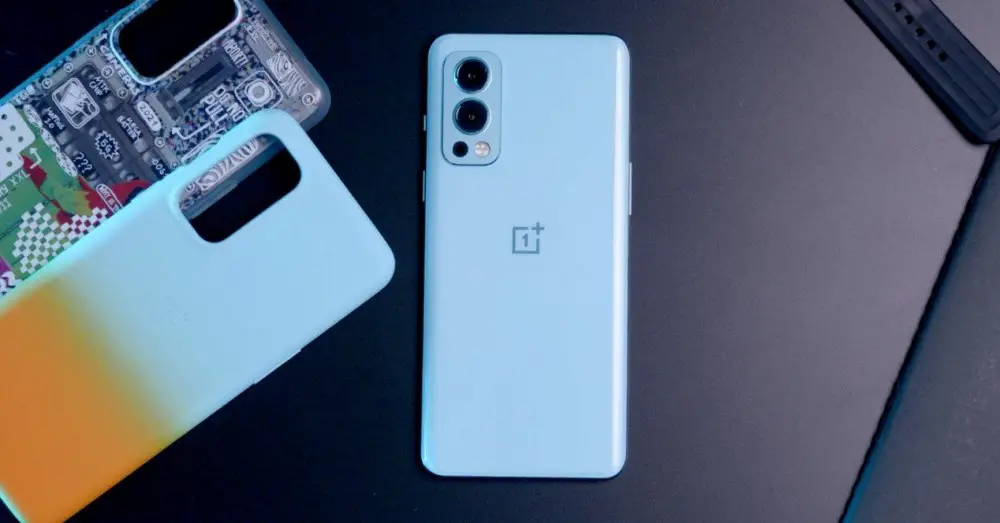 The OnePlus Nord was a great call, a very well balanced proposal that practically everyone liked the same. That is why this OnePlus Nord 2 was born with the challenge ahead of fighting against its own shadow, the worst enemy that any product can have today: overcome a previous version so well valued.
Technical characteristics
Mediatek Dimensity 1200-AI processor

8/12 GB of RAM

128/256 GB internal storage expandable via microSD

6.43-inch AMOLED screen with 90Hz refresh

Resolution FHD +

4,500 mAh battery with 65W fast charge (without wireless charging)

4G / LTE, 5G, BT 5.2, WiFi ac and NFC connectivity

USB C data transfer and charging connector

Biometric security: fingerprint reader under the screen and unlocking by facial recognition

Front camera: 32MP f2.45

Rear camera: main 50MP f1.88 OIS, Ultra wide angle 8MP f2.25 and Sensor B&W 2MP f2.5

Dimensions: 158.9 x 73 2 x 8.25

Weight 189gr

Price, from 

399 euros
Design is not a problem
Sometimes generation leaps also involve design changes that are not always equally well received. This time the OnePlus Nord 2 does not suffer from this since it inherits that appeal seen in the OnePlus 9.
Unless you know both devices very well, one could easily impersonate the other and no one would notice a difference unless they were told. That means that this Nord 2 is at a very good level and I personally have found it to be a really nice terminal in every way .
In addition, here I understand that the chosen light blue tone will be liked more or less according to the preferences of each one, but to me it has seemed very successful for the type of phone that it is and the public that you really want to convince to bet on it. Although there will always be some additional option for those looking for something more sober.
From the physical details to highlight it is clear that the Alert Slider button is the most important of all. This button, seal of OnePlus in its best terminals, is like the one included in the iPhone and allows with three positions to establish three different states that affect sounds: vibration and all sounds activated, only active vibration and absolute silence without vibration.
Honestly, if you have used other OnePlus terminals with this button, recovering it again if you had been using other models is great news. Because just by feeling the button you can change from one state to another quickly, much faster than entering the Android settings to activate or deactivate.
Otherwise, the build quality of the phone is great in every way. It is true that the frame is made of plastic, but having glass in front and behind the feeling is that of a very well finished phone.
Fluency and user experience as the first keys
Leaving aside the physical, the fluidity and the user experience are the two aspects that OnePlus focuses on with this Nord 2 when it comes to convincing the user to bet on it. And it succeeds, despite the reluctance that Mediatek's Dimensity 1200 AI processor may arouse .
The chip used by OnePlus is true that it has its weak points, I am not going to fool you, but in general it does not generate major problems in daily use. Everything runs normally, from games to other types of applications and the operating system itself.
The only downside that can be put this first is that it heats up a bit when it is required for long periods of use. This usually happens using the camera intensively or playing games, but really and even more so considering that we are in summer, it is something that happens to a multitude of terminals.
For the rest, there is no task that you have not executed well in these test days. In addition, together with a screen with AMOLED technology and a refresh rate of 90 Hz, the experience is, as I say, very fluid. Something that Oxygen OS also has a lot to do with, an Android layer that is a hallmark of the brand and great attraction for many OnePlus fans.
Images that stand out with good sound
The use of a custom processor with different enhancements via AI makes the screen of this Nord 2 look a little better thanks to features such as HDR10 + support . Both with native content and other enhanced via software, the colors that are displayed on the screen of this Nord 2 look very good.
In addition, this AI not only improves the color, in some common applications such as Instagram or YouTube it applies a series of changes that seek to increase the resolution and therefore the quality of the user experience.
So all this plus good sound make enjoying videos, music and any other audiovisual content a very pleasant and satisfying experience no matter what type of user you are, whether normal or very demanding.
Photographic section, at the height of the original Nord?
There is no doubt that the main challenge of Nord 2 was going to be in the photographic section. The original Nord left a great taste in the mouth, so the first thing any user would ask is to what extent does it improve or not? Well, without going into a direct comparison: the Nord 2 is a phone that is photographically speaking very capable. It is not perfect, but it does allow for very interesting photographs.
The main camera, made up of a 50MP sensor plus an 8MP ultra-wide-angle sensor  and a monochrome one, result in a fairly versatile combination, although in my case I always need a real zoom and not by cutting out the main sensor.
Still, the experience with the main camera and the front one designed for selfies have convinced me . There are moments where the processing and the HDR mode can play tricks, but it must also be said in favor of OnePlus that the camera software is the one that changes the most over the months of the phone's life. So today's results can vary greatly in a matter of a couple of months.
As is the camera software, the Nord 2 seems to me a phone that photographically speaking can be enjoyed a lot . This collaboration with Hasselblad that they leave exclusively for the OnePlus 9 and future reference phones is not present here, but in general what you get is very good.
And if all this were not enough, for me that video is something important, having a movie mode where you can precisely adjust each of the camera's parameters seems super interesting compared to the classic automatic mode that allows you little room for maneuver under what circumstances. In addition, the power of the processor also allows you to record with the rear and front cameras at the same time.
A mid-range very to consider
The OnePlus Nord 2 is a phone that points to the mid-range, which in its 8/128 GB version costs only 399 euros and in the 12/256 GB it goes up to 499 euros. Both prices are not the cheapest, worse considering what it offers at the level of user experience, cameras, performance, design, etc., they make it seem like a proposal to take into account.
It is true that there are details that can be improved, such as having included wireless charging. Although the 65W that it accepts with the brand's charger makes having it full battery is only a matter of minutes and that is great.
For the rest, the balance is what would best define this OnePlus Nord 2 . So knowing where it is located, we can say that it is a worthy successor to that Nord that surprised us last year and that is not weighed down by the long shadow of its previous version.