Mobile device technology has gotten better and better over the years. However, as sometimes happens, there are connections such as Wi-Fi connectivity that begins to fail from one moment to the next. In addition, it is one of the most important points that we have today in any smartphone, and that is that Internet access has changed so much that it is one of the most used options around the world.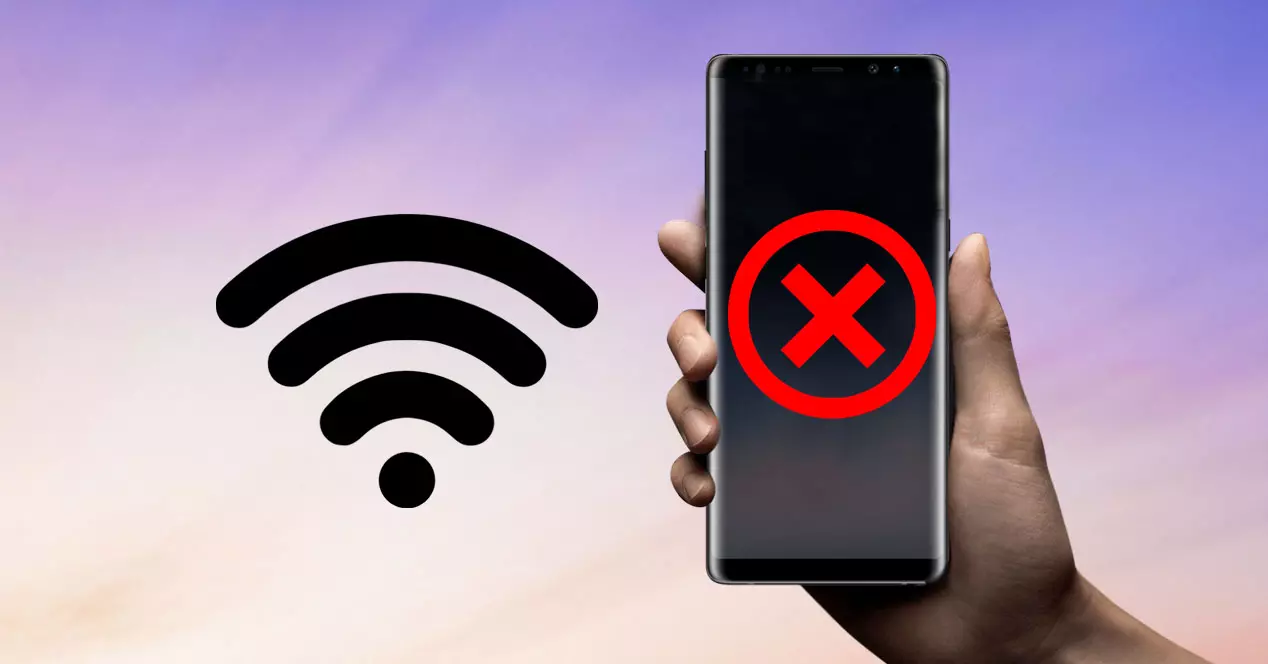 A few years ago, the connection through the router cable was essential. However, as we have seen over the years, Wi-Fi has been positioned above, although we will also find different problems that will leave us without Internet access , even if the icon appears on the panel of our mobile phone that warns us that we are connected to the router's network. So what is the problem?
Why am I getting Wi-Fi on my mobile and I don't have Internet?
This is one of the questions most asked by users who have a mobile device. And the truth is that one of the first steps that we must do to find out why the Wi-Fi is failing us on our mobile device, basically consists of looking at the router connection .
Although when checking the router all the lights are on as they normally are, it never hurts to do a small reset. And it is that, on many occasions, with this we will get the problem to be solved and we will make the connection work normally again.
When it is restarting, you will have to wait for all its lights to turn on again, especially the light that indicates that the Wi-Fi is working correctly. In the event that it does not turn on, we will have to contact the operator of our line. Basically, because we will not have much more to do on our own, so we will have to wait.
However, if the problem is not with the router because if you have this type of connection on other devices in your house, it will be your mobile's fault. So we will have to do a series of steps that we will explain one by one below, since the solutions are several, since the cause of the problem may be more than one.
How to fix the phone's Wi-Fi connection without internet
Many times the problem is usually a simple and straightforward answer, and it is that, although it says that we have all the Wi-Fi connection bars, the truth is that we do not have good coverage and, consequently, it will seem that we do not have access to the Internet because nothing will get loaded.
However, there may be other factors, so if the signal coverage of this type of network is not the problem, it is time to take action and try these solutions on our mobile device to be able to fix it for us. themselves the connection. For this, we will only need to have our mobile phone in hand.
Restart your mobile phone
The same as with the previous case, we will have to restart the terminal . A simple method, which usually works for us in different problems. Once we have restarted it, the first thing we will have to do is check if we can connect to that network or if it does not appear. If the second fact occurs in your case, there are other possible solutions that we will show you.
Delete saved data from Wi-Fi network
The second option that we will have at our disposal will be the way to eliminate the network from our smartphone . It may be that, due to some process, it has been blocked and this failure appears. Therefore, in order to erase all the data that we have saved from the network in question, we must enter the settings of our mobile device.
Also, you should know that depending on the manufacturer of your phone you can change the steps, so we will make you follow some generalized steps. First access the mobile settings, then enter System. After this, we will access the Reset section, click on Reset network settings, and then we will connect again.
Check for an update on your phone
We must also bear in mind that keeping the operating system of our smartphone updated will always be an important point. This mainly includes everything that has to do with the network. And, sometimes problems can arise if we have an old version.
More than anything, because the brand has released some kind of patch that solves the problems that had appeared in the previous software version, either the Google operating system, or its own customization layer. Therefore, it will be good to look for a possible update that can solve this problem.
The culprit may be a virus
On the other hand, keeping your computer safe from possible malware is essential. And it is that sometimes these types of problems arise because we have some type of virus on our mobile device . For this reason, we will have to delete the app that we believe has been the culprit or the file that we have recently downloaded and it is highly suspicious. The first alternative that we will have at our disposal to be able to eliminate the virus that is causing the malfunction of our Android terminal is to install and run an antivirus to see if it is capable of detecting it and ending it.
Enter the safe mode of Android and end the problem
In case the previous solution shows us that we have a virus due to an app, but we cannot eliminate it, we must act in safe mode. This will be the best way to eliminate the process that is causing us to not be able to enjoy the Internet even though the Wi-Fi icon appears on our smartphone.
The way to enter this mode is to hold down the power button and hold down the shutdown option until Safe Mode appears as an option. And once we manage to enter the safe mode of our phone, we will have to go to Settings> Applications> downloaded and from the list of applications look for the one that contains the malware.
By clicking on it, we will be shown the option to delete it, if this is done normally, we can easily restart our phone normally to see if this type of connectivity works again. Otherwise, if the application cannot be removed manually on Android, we can try to go to Settings> Security> Device Manager, search for the malicious app and disable it. After this, we can try again to eliminate it.