Outlook is one of the most popular email services in the world as it is used by millions of people to organize and manage their emails. It has always been a benchmark in terms of having a wide range of functions that allows it to be used by both home users and companies. However, not everything is perfect in the Microsoft email manager, as one of the few defects it has is that it sometimes becomes slow and heavy, significantly worsening our user experience.
If we notice that as we use Outlook, the performance of the email manager is recent and works slower, causing it to take time to display emails in the inbox or when performing other functions, we can become desperate. For this reason, today we are going to tell you what are the probable reasons why this happens together with some actions that we can carry out to solve it.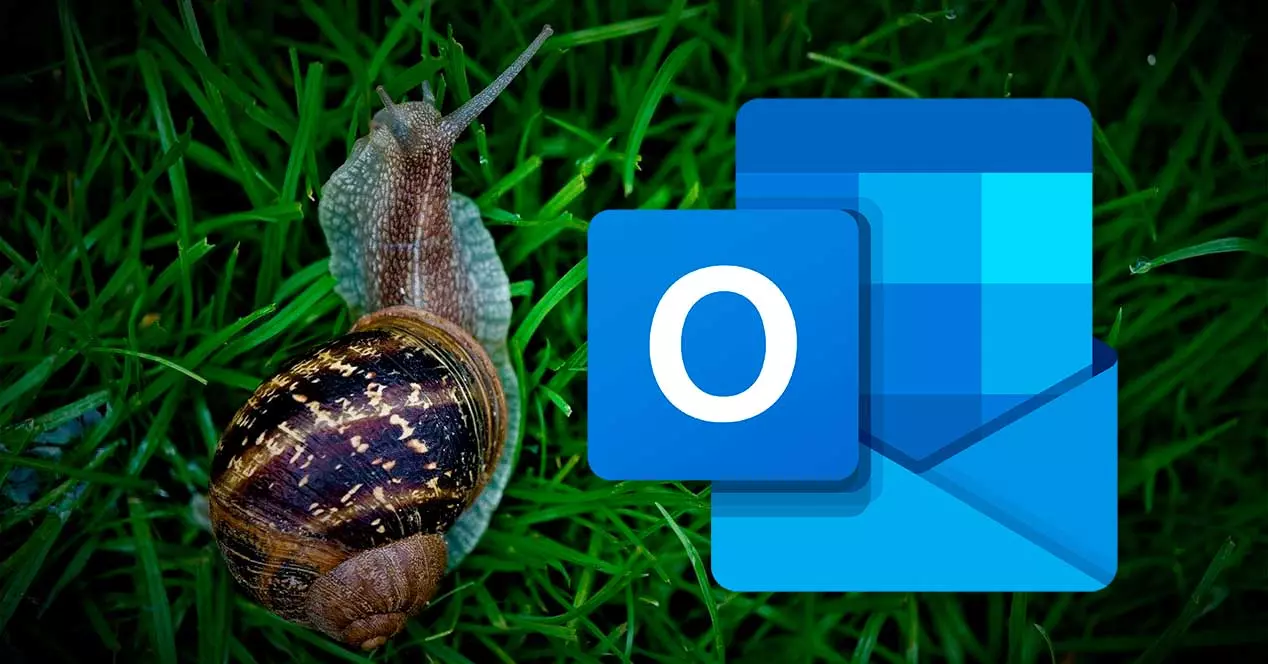 Why is Outlook slowing down?
That the Microsoft post manager slows down and does not work as smoothly as it should be due to various causes. One of them is that the problem is caused by our Internet connection. If for whatever reason the connection is slower than it should, it consequently causes Outlook to suffer performance problems, so we must review it and check if it is the source of the problem.
It may also be due to non-essential or outdated add-ons installed . These can cause a drop in program performance, so it will be necessary to check this by uninstalling these add-ons and running the program in safe mode.
Another probable cause is that it is caused by the large number of RSS feeds with which the program is preconfigured and that are continuously fed by system resources since they are in constant synchronization, which can cause these slowness problems.
Also, do not rule out that the lower performance of Outlook is caused by the existence of large OST and PST files . This causes common operations such as reading, moving, or deleting email messages to take place slowly. By accumulating a lot of information in a single PST file, we may have exceeded its maximum capacity, since from 10 GB it is possible to notice short pauses especially when we download the mail.
Whatever the reason, the truth is that, if Outlook works slowly, it will reduce the way we work and we will become less productive, so it will be necessary to solve it as soon as possible.
Different ways to fix it
Next, we are going to see different actions that we can carry out to be able to solve the performance problems and slowness when using Microsoft Outlook.
Restart and check internet connection
As we have indicated, this program depends to a great extent on our Internet connection to use it since it will continually seek to synchronize and download the different emails that come to us. That is why if our connection fails or is slower than usual it can be the cause of this problem. Therefore, it is recommended that we carry out the appropriate checks such as loading a web page to see if it loads normally.
We can also choose to restart the router , disconnecting it from the electrical network for ten seconds and then reconnecting it. Once we have a connection again, we can choose to pass a speed test to verify that we are receiving the contracted quality and, if not, contact our provider to solve the incident.
Disable add-ons and boot into safe mode
We must also rule out that the problem is caused by an add-on that we have installed, so it is recommended to uninstall them. This is something that we will do by clicking on the File tab and then making a clip in "Options" and "Add-ons". Next, we will see a list of the COM extensions that are installed.
To determine if this is the cause of the problem, we must run Outlook in safe mode. To do this we start it by holding down the Ctrl key. Another option is to press the keyboard shortcut Windows + R to launch the Run command and here type Outlook.exe / safe and press Enter.
Once we have started in safe mode, the COM add-ins will be disabled so if the problem disappears it is probably due to some of these extensions installed. Therefore, we must disable them one by one until we find the culprit.
Disable RSS feeds
RSS feeds help us stay informed of the latest changes, but these real-time updates can adversely affect the performance of Outlook. For this reason, it is convenient that we proceed to disable them to see if this may be the reason for the slowness problem.
This is something we can do by clicking on the "Options" tab again and then on "Advanced". Here, in the "RSS Feeds" section, we uncheck the boxes for "Any RSS feed element that is updated appears as new" and "Synchronize RSS feeds with the Windows Common Feeds List (CFL). Click OK to save the changes and restart the program to see if the problem has been resolved.
Manage PST or OST file
As we have mentioned, Outlook saves your emails in a single file in PST or OST format, so their size will grow over time, potentially causing performance problems in the application. In addition, this file will not be reduced, even if we delete emails from our inbox, so if we want it to be more compact we must follow the following steps.
We open Outlook and click on the "File" tab and then on "Account Settings". This will open a small drop-down where we click again on "Account Settings". In the new window that appears, click on the "Data files" tab.
We choose the PST or OST file that we need to compress and click on Settings. In the new window, click on the Advanced tab and click on the "Outlook data file settings" button. Finally, we press the "Compact now" button . The time it takes to compress the file depends on its original size.
Manage your inbox
We may have our inbox with hundreds of unread emails which can mean problems when using the PST or OST file where they are stored. We can configure the inbox so that it only downloads email of a certain age, from 3 days to everything we have. If we download only the most recent emails and omit the oldest that we will not need.
To do this, click on "File", then on "Account settings" and again on "Account settings". We select the email and click on the "Change" icon. Here we will see the section "Change email with an age of …" We reduce it as much as we can and click on "Next". In the new window you will inform us that the update has been carried out and we click on "Done" to close the window.
Disable hardware acceleration
If we are using a computer with a low-performance processor and integrated graphics, it is possible that if we have hardware acceleration of the graphics enabled, it may cause poor performance and crashes in the program, so it would be convenient to disable it.
To do this, we open Outlook and click on the "File" tab. Later we click on "Options" and "Advanced" and uncheck the "Disable hardware graphics acceleration" box . Finally, click on OK to save the changes.
Nothing works? Consider these alternatives
In case we have not been able to solve the problem of performance and slowness of Outlook, perhaps we should consider the possibility of using some alternatives that we can find that can offer us a better service.
Gmail
Possibly the most popular email client, it is assumed to be the most direct rival to Outlook. Its main advantage is that it works directly from the browser so we can access our account from any computer or mobile device with an Internet connection without installing any application. It stands out for its total integration with Google applications such as Calendar and we can filter the mail that reaches the inbox for greater organization. In addition, it allows you to create filters and labels, as well as create reminders. We can use Gmail for free just by accessing its website .
Claws Mail
We are talking about a free and open source application that stands out for having a good range of configuration options and abundant features that will help to become a clear alternative to Microsoft Outlook. If this manager stands out for something, it is for its security as it has GPG, SSL and anti-phishing . In addition, it has templates, folding appointments and a toolbar from where you can search and filter the results. We can download Claws Mail for free from their website.
Mail and calendar
Windows 10 and Windows 11 have their own email manager suitable for both home and professional use. It has a simple and attractive interface and has its own calendar to keep our agenda organized. It offers compatibility with Office 365, Exchange, Outolook.com, Gmail and Yahoo, among others, and allows you to design messages through Word. If we don't have it installed, we can download it for free from the Microsoft Store.
Developer: Microsoft Corporation