In recent times, the use of magnetic card holders that are glued to the back of the iPhone to always carry the identity card, driver's license and / or credit card is becoming popular. Known as MagSafe wallets , we can find accessories that are a design icon and that work even with mobiles that you did not think would work.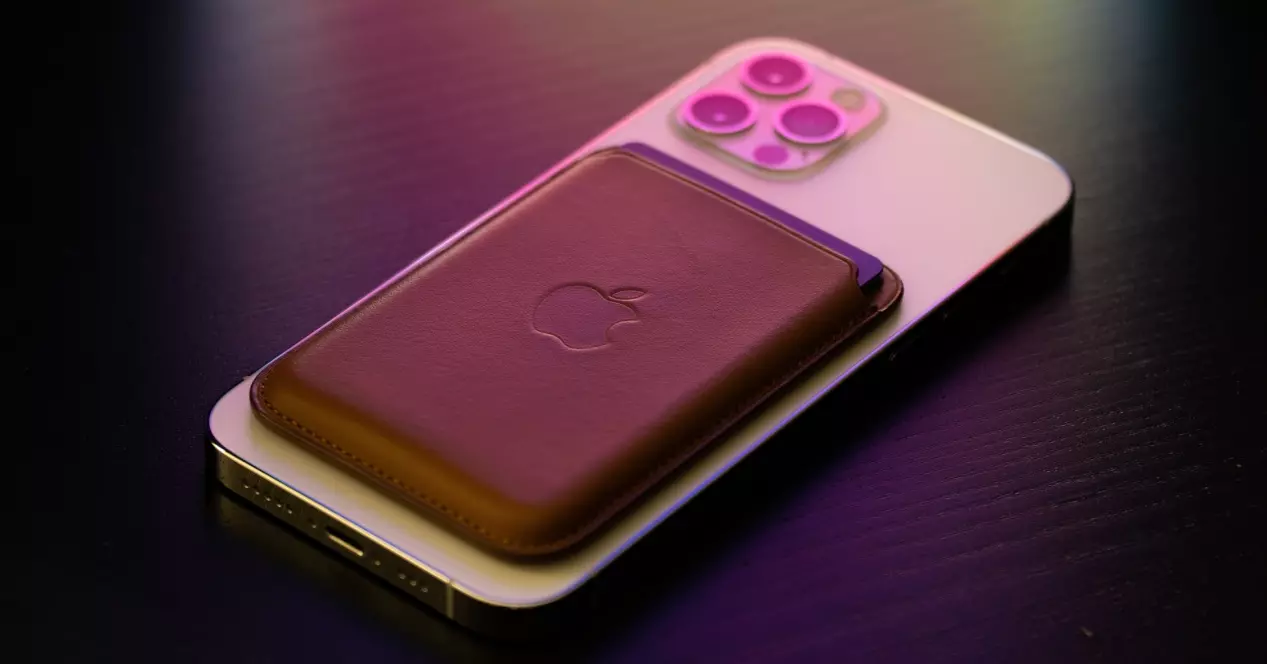 Aspects to know about these wallets
As we already told you previously, this type of accessories have a reduced size according to the standard size of credit cards. And although they can certainly seem uncomfortable, the truth is that with the good grip they have one gets used to it and they are very practical.
They have magnets on the back that, far from what you might think, will not spoil your cards and will be useful so that they can be well magnetized to the back of iPhones that have MagSafe technology. That is, the devices that already have their own system of magnets to achieve that grip.
iPhone 12
iPhone 12 mini
iPhone 12 Pro
iPhone 12 Pro Max
iPhone 13
iPhone 13 mini
iPhone 13 Pro
iPhone 13 Pro Max
How to use them on any iPhone and Android
And yes, officially these wallets have MagSafe technology and are compatible only with the iPhones mentioned above. However, there is a way to use it on other iPhones that do not have this magnet system and that may even be valid for many Android devices. The trick is none other than to use magnetized stickers.
In Amazon it is possible to find this type of ring-shaped stickers, which must be pasted on the back of the device so that the MagSafe wallet that is used can be magnetized. They usually come with guides to install them, so it is not difficult to put on. Of course, if you are going to use a case you must stick it on it and not on the chassis of the device.
The official Apple (with discount)
Although perhaps they are not the cheapest options, in this article we cannot ignore the accessories launched by Apple in this field and that in the end have served to inspire other brands to create their own. In the case of these, it must be said that there are usually sales on Amazon that make them more interesting.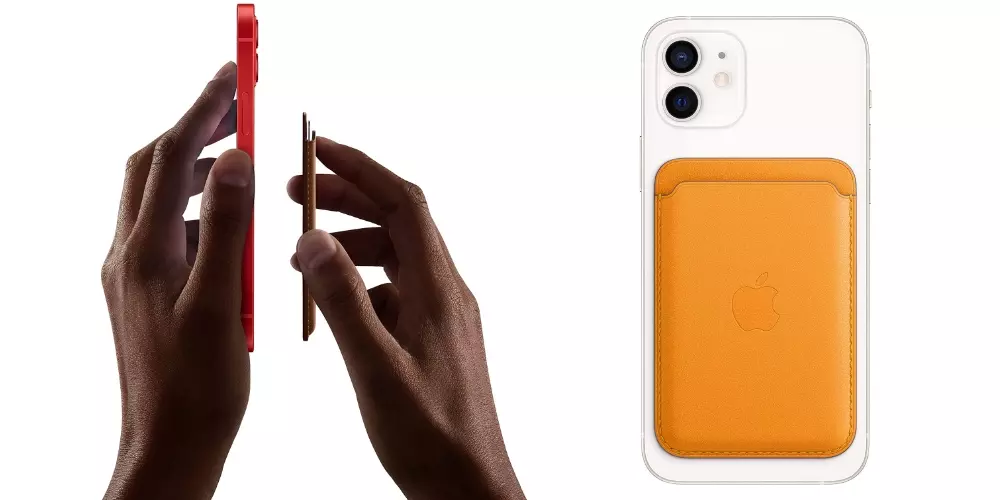 They are made with tanned and refined leather through a special process guaranteeing their durability, as detailed by the brand itself. And although there is a tendency to think that the most elegant are those in brown or black, the truth is that they are offered in different colors and with the same appeal. You can find the five colors in which it is available in the Apple web store on Amazon from the following link.
Other Brands Offering MagSafe Wallets
If you are looking for cheaper options, but that are of the same use as Apple's, of course you can find very interesting options. Here are some that, at least in our opinion, more than meet your needs in this regard.
FRTMA
These are one of the best value-for-money options , since they offer a MagSafe wallet with excellent grip and good materials at a price that is really very competitive and lower than those previously discussed.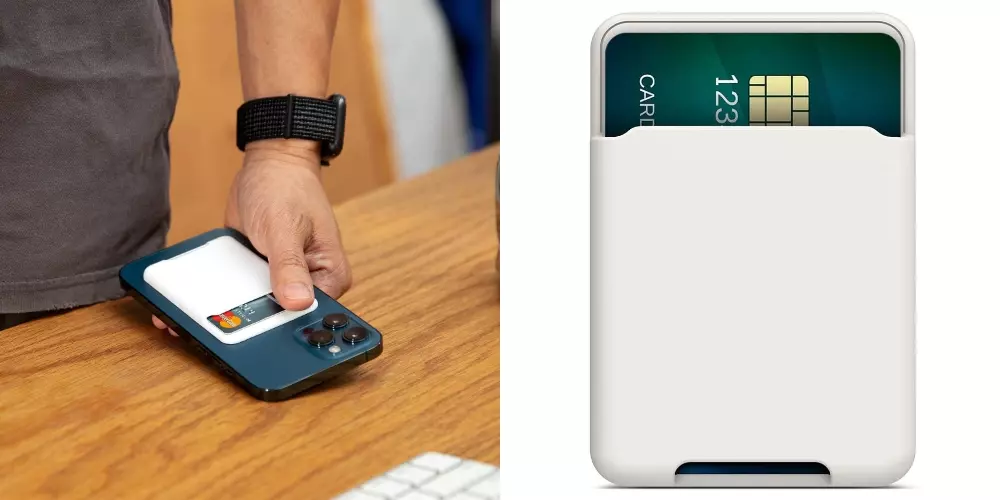 It is available in up to 8 different colors , all of them having the same manufacture with fiber-based materials. Its design perfectly combines the utility of carrying up to two cards with an ultra-thin design to ensure that the thickness of the device does not end up increasing excessively.
Dockem Bio
This is one of the most interesting options that we find because it adapts to the size of the iPhone in which it is going to be used, since it can be purchased in three available sizes. Obviously the grip is the same in all of them and therefore any of them works for any iPhone, but it is more convenient to acquire the one that fits the best so that it does not stand out or look strange.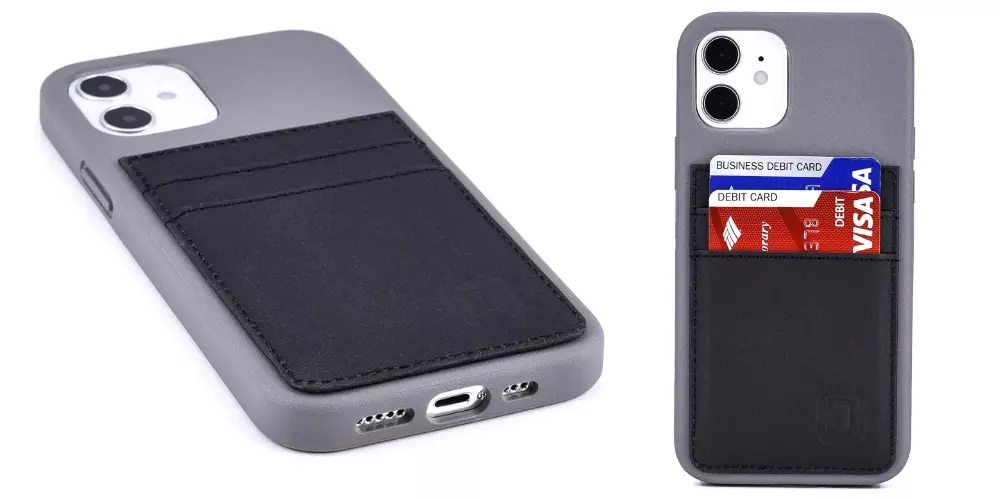 It is built with a magnetized metal plate to grip the device well and materials made of a special plastic called PBAT. It has a very good grip, protects cards well and is very comfortable to the touch. It can be chosen in gray or black .
doeboe
This other brand offers one of the best grips to the iPhone through MagSafe technology, making it not 'dance' when we carry it and it does not dislodge when putting the phone in your pocket. It offers a capacity for two cards and a very comfortable open design to remove any of these at any time and without danger of them getting out and getting lost.
Its leather materials are extremely elegant and it is available in three versions : classic brown, navy blue and gray. All this at a price that does not exceed 20 euros, being a more than considerable difference with options such as Apple's official ones.
KMAEBGH
That the unpronounceable name of this wallet does not mislead you, because far from what it may seem they are good quality accessories. It does not differ too much from the rest in terms of design, having a wide range of colors to choose from.
The size is just enough to fit two or three cards , depending on whether they are engraved or not. It has a good grip on the iPhone and also on the hand, since its synthetic leather materials feel very good visually and do not neglect ergonomics.
kwmobile
This well-known brand of mobile accessories offers an option very similar to the original Apple in terms of design, although at a considerably lower price. They can be obtained for 10 euros and obviously their materials are not the highest quality on the market, but despite this they are very durable wallets.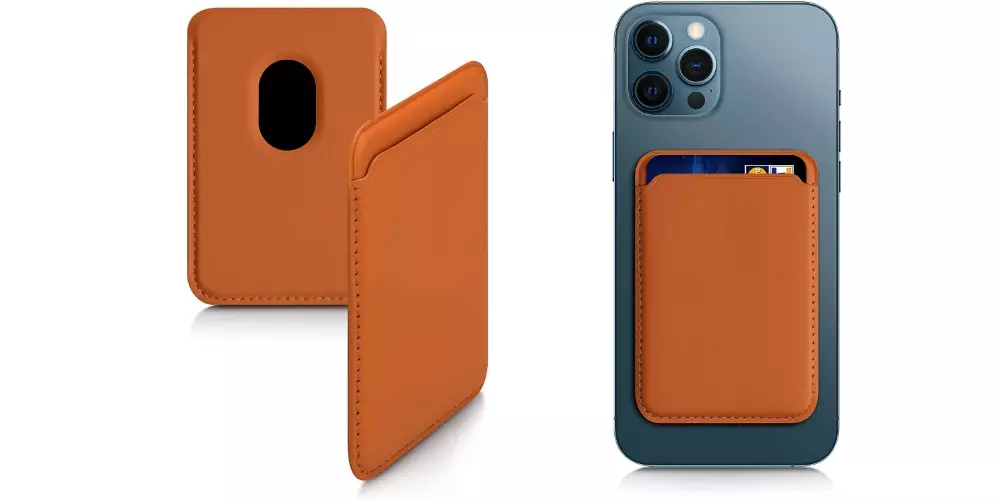 They are made with synthetic leather and with the obvious addition of magnets with which to grip the back of the iPhone well. It should be noted that it is tremendously soft, so it is a very successful imitation. Regarding its available versions, we can find it in up to 6 colors : yellow, dark blue, brown, orange, black and green.
Alternatives to this type of accessories
If you are not able to convince these types of wallets, despite the fact that we already warned that they are very comfortable to use, you may be more interested in another style of wallet that fits your iPhone. This is where another type of complete case comes into play that will also cover your iPhone.
Spigen Slim Armor CS
If we talk about iPhone cases we cannot ignore one of the most popular brands such as Spigen, which also has a version with a wallet. In this case we find compatibility with a multitude of iPhone models , having an identical design in all of them and that in addition to being very useful, it is also very striking because it is different from other options.
Apparently it looks like an ordinary case, but they include a space on the back of the iPhone in which to store cards or cards of similar size. All this protected with a band that can be removed very easily and that means that no one can easily know that you have those cards stored. Besides that there is no possibility that they will fall and get lost.
Migeec
If you are looking for a cover with a more classic style , those of this brand are interesting because they have a good quality-price balance. They offer a faux leather design in a variety of colors and for different iPhone models . With a very elegant style and a magnetic closure type lid that protects the screen of the device, as well as the back.
The wallet as such is located on the lid, so when carrying the mobile closed the cards will be protected. In any case there are different versions and it is possible to find accessories of this brand in which there is a card holder even on the back.
What are our recommendations?
You can find other very interesting MagSafe wallet options for iPhone apart from those discussed in this article, although it is clear that the ones we are discussing are the ones that we find most attractive for one reason or another. But, of all of them, which ones do we recommend above others? Well, although in the end the decision has to be made by you, we would stay with the following:
MagSafe wallets: Dockem Bio wallets not only seem attractive to us because of their price and design, but their construction materials and the durability they give the accessory also attract our attention.
Case with wallet: although we do not want to miss Migeec's options, the truth is that Spigen's have won us. The fact of offering such a different design and with the possibility of keeping the cards safe without them being visible seems to us a point in its favor that tips the balance.