The iPhone has several really useful native applications. However, some of them have been too anchored for a while and for some functions they fall a bit short. One of these is the timer and stopwatch app, therefore, in this post we offer you different alternatives in the App Store with which you can replace it and add different functions.
What is missing from the native Apple app?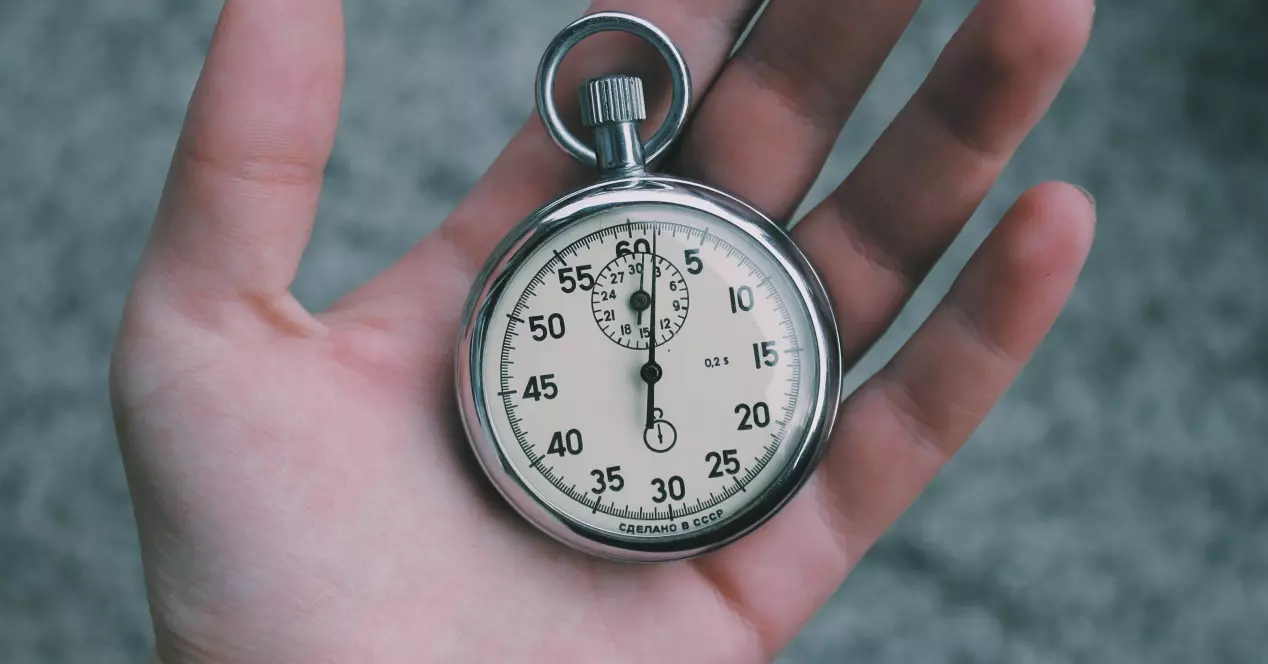 Actually, both in iOS and iPadOS there is no application dedicated exclusively to the stopwatch and timer function, since these are found within the Clock app. That is why the functions offered to users are quite limited for users who want to go one step further.
With the clock app you can barely go from timing different intervals or setting a timer of a certain duration, something that falls short for many tasks such as being able to set a timer divided into different parts of different durations, something very useful for those users who want to perform exercise routines or even to establish a study schedule. Therefore, below we propose a series of applications with which you can add all these functions previously described.
Use these apps to exercise
One of the most common uses of both the timer and the stopwatch is to exercise, especially routines in which you have to carry out a series of exercises in a given time, which is usually known as Tabata. The following applications have all the functions you need to carry out your routines in the most comfortable and organized way possible.
Timer Plus – Workouts Timer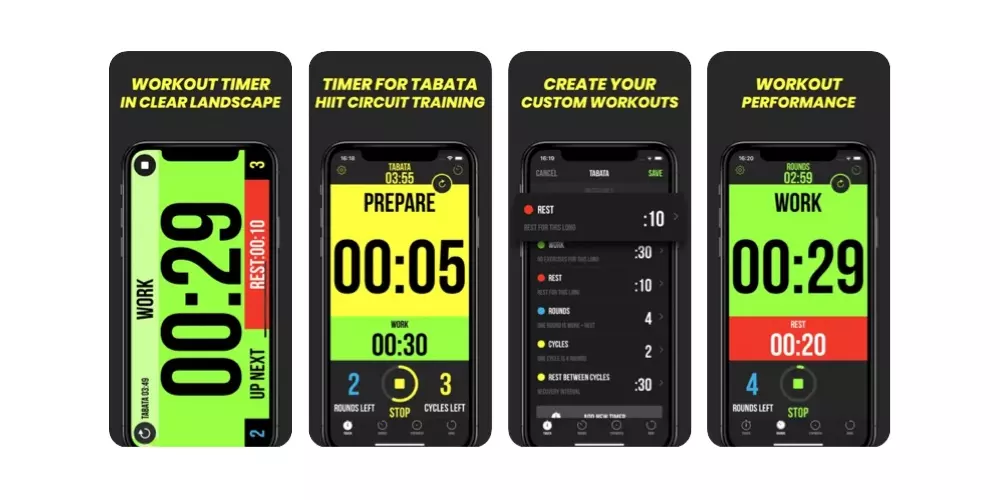 This application is the ideal one to be able to carry out HIIT workouts in which you need to previously mark the times of each of the exercises that you have to perform. It stands out for how easy it is to use and how well implemented it is to facilitate all users to carry out their high intensity workouts without any problem, whether at home, in the gym or in a park.
It has the ability to display the number and duration of all rounds and cycles, interval timer, informational flash on the screen . Obviously you can create an infinite number of timers and save them in the exercise history to have them ready whenever you want to start training. It even has a voice guide that will inform you of the key moments of the timer.
HIIT & Tabata: Fitness App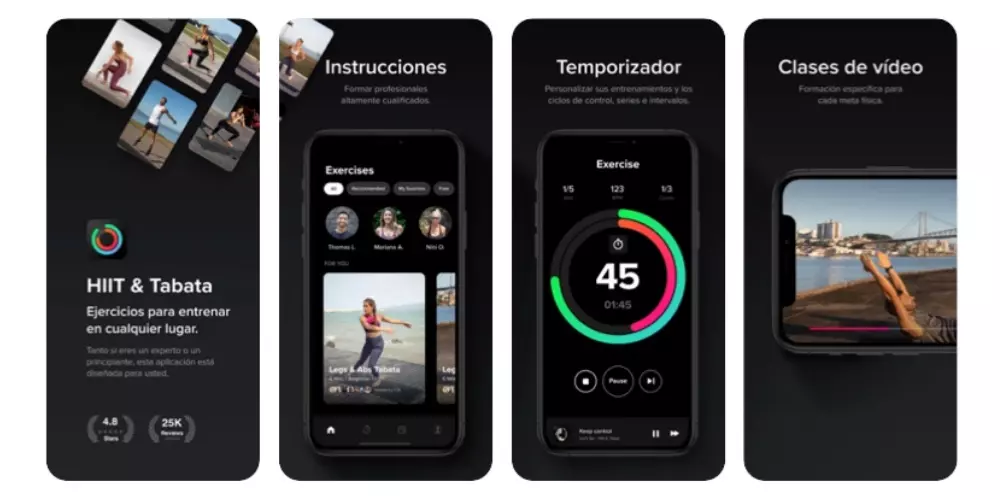 HIIT & Tabata is one of the most popular apps on the App Store to be able to set different timers and train in an organized way. With it you can establish your HIIt workouts, keeping track of your time, series and cycles , so that you have everything fully controlled and can carry out your training in the best possible way.
In addition, all the workouts you do can be saved within the application, thus avoiding that every day you have to establish the time you will be training from scratch. It also has synchronization with Apple Health , that is, with the health application of your iPhone so that you can later check the activity you have done.
Interval Timer
If what you are looking for is an application based on a simple and aesthetically attractive interval timer , this is one of the best options that you will be able to find within the Apple application store. You will only have to drag to be able to establish the personalized intervals of training, rest, as well as the different rounds and cycles that you want to carry out.
This timer will not interfere at any time with the music that you put through another application. Therefore, you can listen to your music without problem while you train , you will also have voice guides and beeps for each training you want to do. You can even exit the app and you will continue to receive the alerts corresponding to your training.
Tabata wod & HIIT stopwatch
We continue talking about applications that will allow you to have on your iPhone a timer designed and developed especially for high intensity interval training , that is, so that you can train hard wherever you are and only with the help of your iPhone that will mark you all exercise and rest times.
With this app you will be able to establish the different rounds that you want to do of each exercise, the time that you will be doing that exercise as well as the cycles that you will carry out. In addition, many of the workouts recommended by the application itself already come with their own time intervals, so even if you don't want to be the one to prepare the training yourself, this app gives it to you.
Zero – HIIT and Tabata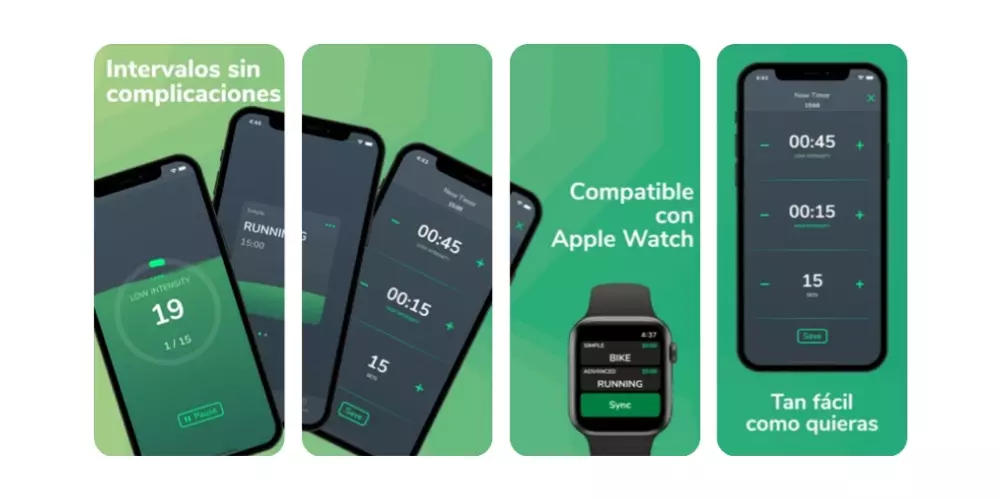 Zero is the interval timer app you've been waiting for to be your best workout buddy. You can use this app both for your HIIT workouts, as well as for Tabata, running, yoga, strength training, stretching, boxing or different circuits, in short, it will come in handy regardless of the type of exercise you do.
It has different training modes to give you the possibility to set the timers in the most optimal way possible depending on the type of training you are going to do. In addition, you can configure them in just a few seconds thanks to the intuitive user interface. Of course, all the timers you make can be saved so you don't have to repeat them again in case you want to use them again.
Tabata Timer Stopwatch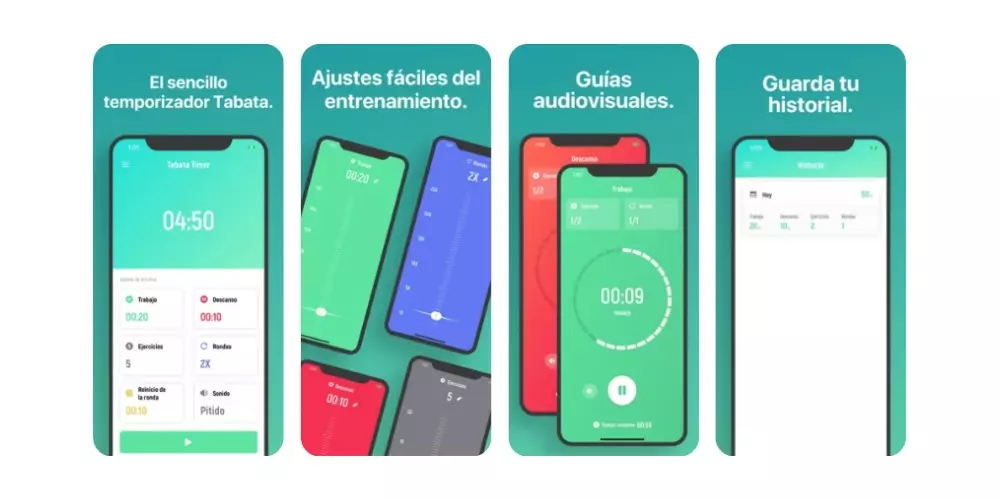 What this application offers is a simple, clear and also very attractive training timer , so much so that you will even have to gain from training with it every day. To configure your different workouts you will only have to drag to configure everything related to it, from the rounds, the rest times, the time that you will be doing each exercise, as the cycles that you will carry out.
Despite the simplicity of the application, this does not mean that it does not have everything you need to be able to properly establish and organize all your workouts . You will be able to listen to your favorite music while you train, you will even have audio that will guide you throughout the entire training so that you do not have to be looking at the screen of your iPhone.
Traditional stopwatch and timer apps
Obviously in the App Store there are not only stopwatch and timer applications focused on the practice of physical exercise. Other alternatives offer functions dedicated to other types of activities such as studying or simply timing an activity. Here we will talk about some of the most outstanding ones.
Timer +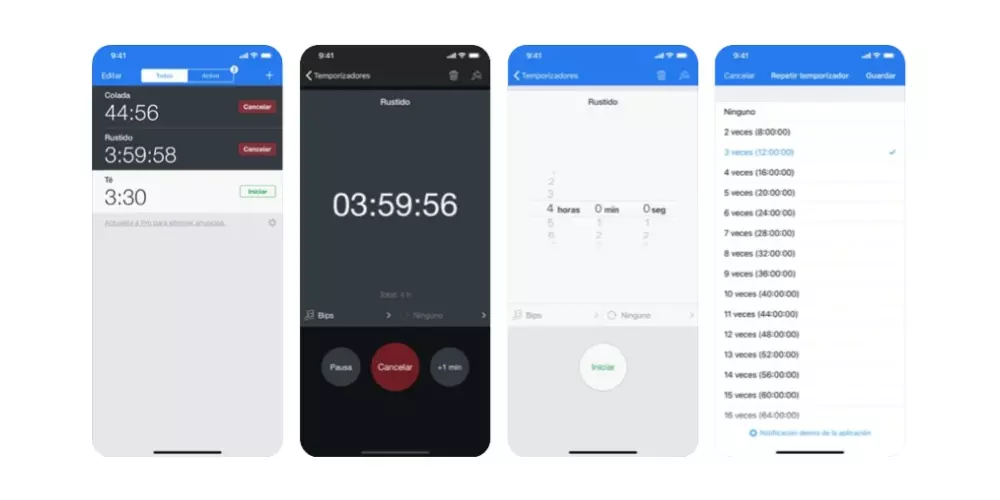 This application is a simple countdown timer that is capable of using several timers from a predefined list at the same time. It will allow you to pause and resume them whenever you want and specify the seconds of each of the marked periods, warning you of course even when the app is in the background.
You can define all the timers you want or need with control of the seconds, as well as save these timers whenever you want to use them on more occasions, so that you will not have to be programming them from scratch. If this application stands out for something, it is because it is capable of offering a fantastic service within a clear and simple interface, without complications.
Focus stopwatch
Focus stopwatch promises to be the best tool available on the App Store to be able to manage your time, both on your iPhone, iPad, Apple Watch and even on your Mac . It is the most elegant, attractive and professional solution to work more and better organized your time in different work sessions and individual tasks.
It has Focus sessions , which are designed to be able to work and be as efficient as possible. You can establish work intervals with different breaks between them, which you can also configure according to your needs. It also has a simple task manager, with the aim of helping you organize yourself much better.
Focusi: study stopwatch
If you have trouble concentrating when you start to do a certain task and you are looking for a study timer, without a doubt this alternative will come in handy to help you be much more focused during your study or work moments . This is a stylish countdown timer to focus, review, or work with a focus on simplicity.
You will be able to add or remove various time slots whenever you want, as well as use them as pomodoros or rest periods. You will have the ability to quickly view the estimated completion times of each timer before starting a new session. It also has alert sounds so that you always know that the timer has expired.
Flip Timer – Timer
This application consists of a full screen digital timer , totally different from what we have seen so far in this compilation, at least aesthetically. It has the possibility of establishing countdowns that combined with the characteristic flip animation will allow you to feel the passage of time.
It also offers chronograph functionality. With this app you can record your sports activities, your moments of study or work and everything you need. Just swipe up to set the countdown duration, set a sound as a reminder, and focus on the task at hand. Of course, keep the screen of your iPhone on to see the progress of the time at any time.
What is the best app?
Whenever we carry out this type of compilation, from the ITIGIC writing team we want to tell you which is the application or applications that have caught our attention the most. However, you have to bear in mind that this is our subjective opinion, which may or may not be in line with yours depending on the needs you present.
First of all, if we have to choose an application to help us plan and carry out our training, we choose HIIT & Tabata thanks to the combination of functions, interface and ease of use that it offers. On the other hand, in terms of more traditional applications and not so focused on sports use, the one that has convinced us the most is Focusi since it is fully usable in all areas and its interface seems very attractive.