MagicaVoxel is an interesting application that allows you to create 3D images based on blocks in the style of "Minecraft". It may sound like a small thing, but don't be confused because what you can do is simply amazing. And best of all, it's completely free, it has integration with Unity and you can install it on both Windows and macOS.
---
---
Creating 3D images based on blocks
Software has always been one of my weaknesses. I love knowing new applications, and if they are creative even more. Another issue is that you then have enough time to squeeze them and be able to do things with it. My latest discovery comes at the root of a simple MotionFX tweet.
Yesterday I discovered MagicaVoxel, a free soft designed to make 3D with blocks in plan "Minecraft".

I've been messing around with him for a while: for children (mine is looking forward to trying it), I find it super entertaining.

Gallery: https://t.co/O7n3BsJ1Dh

– Jesús Hernández Ruiz (@MotionFX_es) December 4, 2019
MagicaVoxel, which is the name of the application, is a 3D modeling tool based on blocks. That is, it would work in a similar way to how you can create anything you imagine in Minecraft or easier, with Lego blocks. You just place piece by piece, you color them and you're done.
If you think it is an application to start and little more wait, check out this gallery . What do you think of the results? Exactly, as with virtually any other creative tool, the limits are set by your imagination and the time you decide to invest in learning everything that can be done with it.
With a very simple learning curve and at the same time fun in its beginnings, I not only think that it can be -which is- a great utility for creative artists of all kinds but also for the smallest of the house. For them it is an interesting way to get into this type of apps, allowing them to develop spatial vision and skills when creating 3D objects.
In addition, this application allows integration with Unity and also the possibility to export your projects in OBJ format and then take it to Cinema4D and render to get the final art, generate 3D environments through which to move or a series of more advanced uses to that will be able to get more out of professional users with a greater technical base.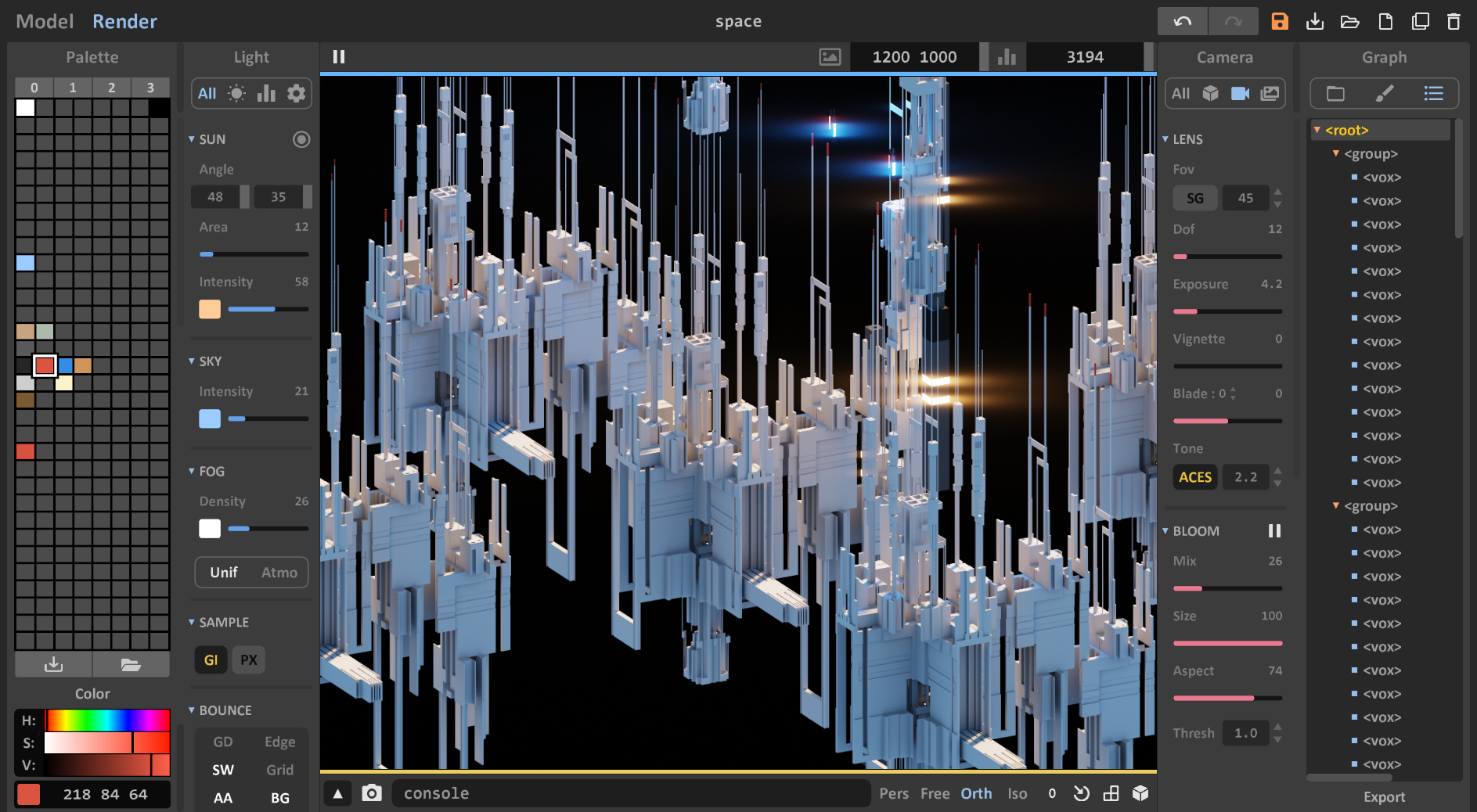 As I said at the beginning, Magicavoxel is an application available for both PC and Mac and is completely free. Everything you create with this app can then be used freely in all types of projects without paying for any type of license. The only thing, if you want, is to give credit to the application created by Ephtracy.
If you are interested, even if it is only for a while with her or if your children do it if you have, you will only have to go to the website of ephtracy.github.io and select the version you need depending on whether you use Windows in your version 32 or 64 bits, or macOS X.
---
---