LiteSpeed is a web server like Apache or Nginx, but with a much higher performance than its competitors, especially if we compare it with Apache, so the loading speed of the web pages that use this web server is really fast. This new web server that is really fast, incorporates the latest web technologies by default, such as the use of the HTTP / 3 and QUIC protocols to greatly improve the loading speed of the webs- Do you want to know everything about this new high-end web server? performance and what hostings use this technology currently?
What is LiteSpeed?
When we talk about web servers, the popular Apache always comes to mind, and you may also know of the existence of Nginx, however, these two web servers are not the only ones that exist and that we can use to serve our web , regardless of whether we have a low-medium number of visits, or even if we have high traffic on our website. LiteSpeed is a web server that has the latest technologies , as we have mentioned before, it makes use of HTTP / 3 and QUIC to greatly accelerate the first connection to the server, and also the following ones that we make.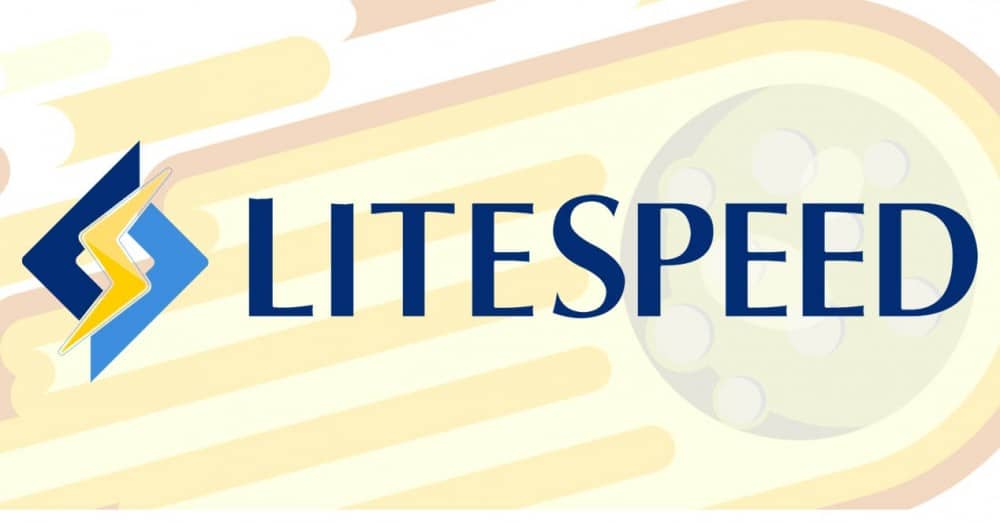 When we use this ultra-fast web server, the loading of our web page is really faster , and not only that, but it consumes less resources than if we did not use this web server, so, with the same hardware, we can serve more web pages with the same resource consumption, this is ideal if you are a hosting or have a dedicated or shared server with several webs, since you will be able to squeeze the hardware much better. Internally, this web server does not create a process for each connection, but, with the same processes in the operating system, it will serve the requests faster.
Other very interesting features are that it is capable of reading and interpreting Apache's .htaccess files , therefore, if you are going to migrate from Apache to this new web server, you will not have to change the syntax that you are currently using in Apache. This web server includes a very powerful WAF (Web Application Firewall) that will allow us to stop DoS and DDoS attacks efficiently in L7 (application layer), in addition, we can create rules to limit connections from a certain country, and we can even do that, if they visit us from a specific country, they get a reCaptcha to load the web completely, all configurable through .htaccess. Of course, it is also compatible with the popular ModSecurity , and even has native compatibility with different versions of PHP, including PHP-FPM.
This web server has an event- based architecture, this means that we will have fewer processes to correctly manage all the web traffic generated on the server. Normally in Apache, each received request starts a new process or a new thread, with this web server the requests are served by processes that are already created. Thanks to this, the response time is faster because it is not necessary to create a new process or thread and store it in memory, but it is already by default. Another point in favor is that we will not waste RAM memory having different processes with almost the same information in memory.
LSCache cache system
LiteSpeed brings by default a cache system, this will allow us to cache the dynamic content of the webs to serve them as static content, greatly improving the loading time. The user will notice that the webs load instantly thanks to this cache. The secret of this LSCache is that we have modules and plugins available for the main CMS such as WordPress , Prestashop, Magento, Joomla or Drupal, making the loading of the web even faster and more effective, therefore, it is very important that both web hosting use this web server, such as installing the plugin for the CMS that we are using. In this way, we will achieve a great difference in the speed of the loading of the webs.
This plugin can be installed in any WordPress , regardless of whether the hosting has this web server or not, but if the server is LiteSpeed the performance will be clearly higher, the reason is the following:
With a normal cache plugin like WP-Rocket, when a user visits the web, the web server processes the request in a normal way against WordPress, and it is WordPress that resolves that request by returning the information from the cache.
When a user visits the web with a LiteSpeed server, the web server itself knows what the directory is, where that cache is stored, and returns it directly without WordPress having to process anything.
If we have some kind of problem with the data stored in the cache, we will always be able to empty the cache directly from cPanel, we will have a specific icon that does this function.
Performance in WordPress: is it really noticeable?
One of the best known websites to check the performance of multiple parameters of a web page is GTmetrix , this website will allow us to analyze the web with multiple parameters and will assign us a score, score A is the best. It will also indicate the overall performance, how long it takes to load the web completely, the TTFB (time until the first byte) and other parameters that will indicate the loading time.
We have used the official website of ginernet.com to carry out this test, a website that is internally designed in WordPress. Next, you can see the GTmetrix test with a LiteSpeed hosting without the WordPress plugin .
Once we have seen the performance of a WordPress without the CMS plugin activated, now they have activated it for WordPress and the result is clearly different:
The first thing that strikes us is that the TTFB has dropped by 60%, a lot, and not only that, but the overall performance of the web is much better, approaching 90%. Therefore, it can be reliably verified how LiteSpeed has greatly improved the loading and overall speed of the web.
Advantages of using it in your hosting
LiteSpeed has a large number of advantages if we use it in our hosting, the first of which is the loading speed of the websites and their performance , a faster website means a better user experience. The low consumption of resources is also very important compared to Apache, this will allow us that with the same hardware we can manage more web traffic, or what is the same, with less hardware (CPU and RAM), we can serve the same amount of web requests without any problem. Another very important advantage is the ease of use, and the incorporation of plugins and modules for the main CMS that exist today.
Another very important advantage is its compatibility with Apache .htaccess files, we will not have to perform any type of migration of our settings, in addition, it is compatible with mod_rewrite and also ModSecurity, therefore, changing from Apache is almost transparent because migration is really simple. Finally, it is compatible with control panels such as cPanel and Plesk among others, and it is also compatible with several versions of PHP simultaneously.
Disadvantages of using it in your hosting
The only disadvantage that we can cite with this fast and efficient web server is that it is a proprietary paid software. Unlike Apache and Nginx which are free, LiteSpeed requires a monthly payment, however, it requires less processor and RAM resources in the hosting. What you pay for the license, we save on the hosting hardware. An important detail is that there is OpenLiteSpeed which is a free version but with certain very important limitations.
What is a LiteSpeed Hosting?
A LiteSpeed Hosting is a hosting whose web servers are of this type, therefore, we will have all the improvements and functionalities of this web server. In the case of Ginernet hosting, although this web server is not free, the license is paid at the server level, and it is included in the price of the web hosting to squeeze the maximum potential of the hardware. Other interesting features are that we will have the possibility to use quic.cloud, a CDN and image optimization service offered by LiteSpeed, a very important aspect to accelerate the loading of the web even more and make it as efficient as possible.
If at the time of buying this hosting you apply the discount coupon «this article» you will get a 15% discount on the final price.
These LiteSpeed hostings continue to incorporate cPanel to configure the main options of our server, such as creating email accounts and managing the entire server from the most used control panel in hostings. Of course, another very important aspect when hiring a hosting is that it is physically located in Spain, and that it has a direct connection with the main operators in Spain such as Movistar, Vodafone, Orange and Masmóvil, so that the transit of packages from web clients to the server go as fast as possible. For example, if you live in Madrid, it is very common for the latency to the hosted websites to be about 5ms, however, if the same user connects from another country such as France, the latency could go up to 30ms if there is no CDN in said country. If our main visitors are from Spain, it is essential to have a hosting in Spain to provide the best possible user experience.
Do you need more power in your hosting? Elastic hosting is your solution
If you have a website with high traffic, and the hardware of a normal hosting falls short, an intermediate step between hosting and a VPS is elastic hosting . This solution allows you to assign more power to the hosting (in CPU and RAM) without having to migrate everything to a VPS. For example, if you have an online store and you estimate that you are going to have many visits due to the Christmas campaign, Black Friday or other specific dates, a very good option is the possibility of hiring elastic hosting to dynamically configure the resources you need so as not to lose visits or sales.
If at the time of buying this hosting you apply the discount coupon «this article» you will get a 15% discount on the final price.
As its name suggests, thanks to its "elastic", we can expand and reduce the processor cores and RAM memory dynamically and whenever we want. If we are resellers of web hosting, we can also contract these plans to dynamically assign different resources to our clients such as CPU, RAM and even disk, thanks to the WHM that is installed by default. Each cPanel account comes by default with 1 core and 2GB of RAM, we can request expansion up to 8 cores and 16GB of RAM to take on the avalanche of visits to our website, since the capacity is not unlimited, but is limited to the hardware itself physical server where the web is hosted. If you need more than 8 cores, you must purchase a VPS directly.