The Kindle is Amazon's e-reader with which you can enjoy the entire collection of books from the online giant. If you have a problem with it, restarting it or resetting it to factory settings may be the solution, we will tell you how to do it.
Amazon currently markets three models of the Kindle e-reader. The Kindle is the basic version, which now includes a dimmable front light and a battery that lasts for several weeks. Kindle Paperwhite is the mid-range model with a larger screen and is water resistant. The high-end is made up of the Kindle Oasis with warm lighting, E-Ink technology and a slimmer and lighter design. Although it usually varies according to stocks, all models are usually also for sale as reconditioned devices at a cheaper price.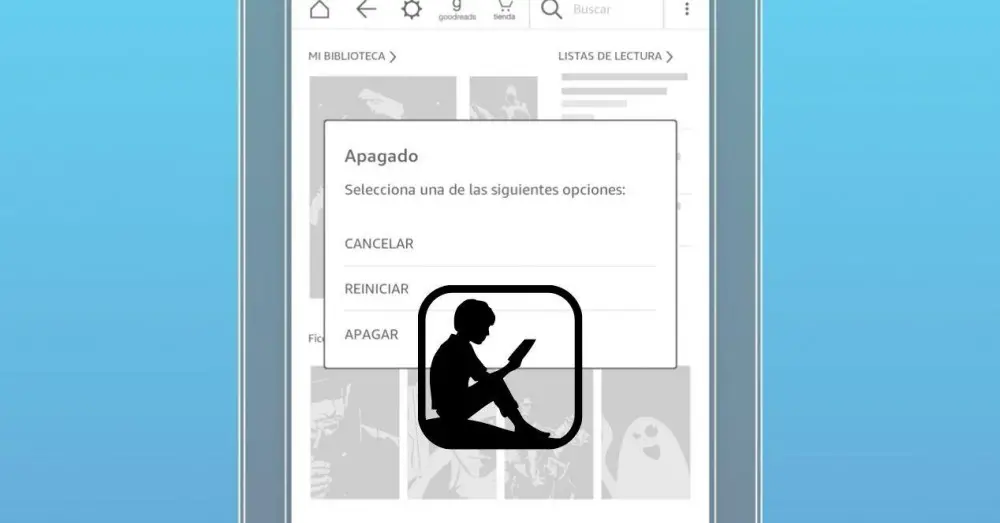 Differences between resetting and rebooting
Do not worry if you confuse terms such as restart, reset, reset … That everything sounds the same or similar is usual. But it is true that these are different concepts and that you should be clear about them when you are going to get your hands on a device to repair it. Not only with Amazon's Kindle e-readers, most mobile devices allow a factory reset or reset. First of all, clarify that resetting is usually the same as resetting or taking a device to factory settings.
Restarting is the most "light" concept. It is the same as turning off and on again. What happens is that in many cases it is not possible to turn off "for good", by pressing the corresponding button to access the shutdown menu. Sometimes you have to try another alternative method.
Resetting to factory settings or resetting a device means that the settings will revert to the same as when you purchased the device. As long as it was new and had not been used before, of course. Depending on the type of device and how the brand has designed it, these processes may be different, they can be done directly from the settings menus or through a physical button.
Restart the Kindle
Restarting the Amazon e-reader is usually useful for solving minor problems that occur very sporadically. A screen lock, download problems, or especially slow performance is something that can happen to anyone. These types of errors can be normal as long as they do not happen on a regular basis. If it happens to you once every few months it shouldn't be a worrying thing since a reboot is a matter of a few minutes. If your Kindle crashes, or your screen turns white or black, on a daily basis, it would be best if you contact Amazon technical support.
To restart the Kindle e-reader , all you have to do is:
Press and hold the power button until the power off menu appears on the screen.
Click Restart .
If it is a blockage and this menu does not appear, you will have to press the power button again for 40 seconds and release it. You do not have to do anything else, you will see how the charge indicator light turns on and the device turns on as it normally does.
This procedure makes the files and settings rerun from scratch and your Kindle works again as it has done up to that point. That is, all content, settings, subscriptions, etc. They will remain intact, in this process you should not lose any information and you will see that the device works the same.
Reset or reset
Resetting a device means applying the original factory settings to it . Normally this implies that all the information related to the user is deleted. All the downloaded books, the configuration and personalization of the Kindle, as well as the personal information that you may have stored will be erased. The reset can be understood as a new factory installation to put it in some way, it is to go back to the beginning. You will have to register again, sync your content, and set up your Kindle as you did the first time in order to use it again. Among other things you will have to configure the connection to your WiFi network again, in case you need to find the password while the Kindle is resetting.
A Kindle reset cannot be forced by a combination of pressing the physical buttons. To reset the Kindle to factory settings you have to:
Go to the Home screen
Select Menu .
Then we go to the Settings.
We click on the «…» of the menu.
We will see the Reset device button, just press it.
What to keep in mind?
It is important to know when to restart your Kindle and when to factory reset or reset it. In general, the Kindle is usually restarted to solve minor problems that do not happen often. These types of problems, as we have said before, can be device crashes, blank screens or problems when downloading content. If you cannot restart your Kindle with the methods explained above, try charging the device with the charger included by Amazon for 30 or 40 minutes and try restarting it again. In case of not being able to restart it, if you can access the configuration menu, it would be advisable to reset it to factory settings.
The reset is used when screen locks or malfunctions are constantly repeated. In fact, it is advisable to reset it before having to go to the technical service, many problems can be solved that way. In addition, the Kindle is not designed to be completely shut down and, although it is designed to work in optimal conditions that way, it can cause some problems of blocking or running slower than normal. A factory reset is also recommended when your Kindle is changing ownership . Whether you give it to someone you know or sell it to a stranger, it is advisable to reset the settings to avoid problems.
Another interesting way to troubleshoot your Kindle is software updates. These are done automatically, both the download of the file and its installation, as long as we are connected to a WiFi network. In the event that we want to know if our device is up to date, or if we want to update it manually because we will not be able to have it connected to the network, you can visit the website for Kindle software updates that Amazon has enabled.