Today, the Internet has become a tool that we depend on practically all day. To be able to access it, the most popular way is to do it wirelessly, through the use of WiFi networks. Whether at home, at work, at an airport or cafeteria, the most comfortable way to be connected to the Internet is through WiFi. However, these types of connections have a more strange behavior than it seems,
And it is that surely we will have checked on some occasion how we have been able to go from having the WiFi indicator to the maximum and suddenly it becomes empty. To study the causes and try to solve the problems we can use network analyzers.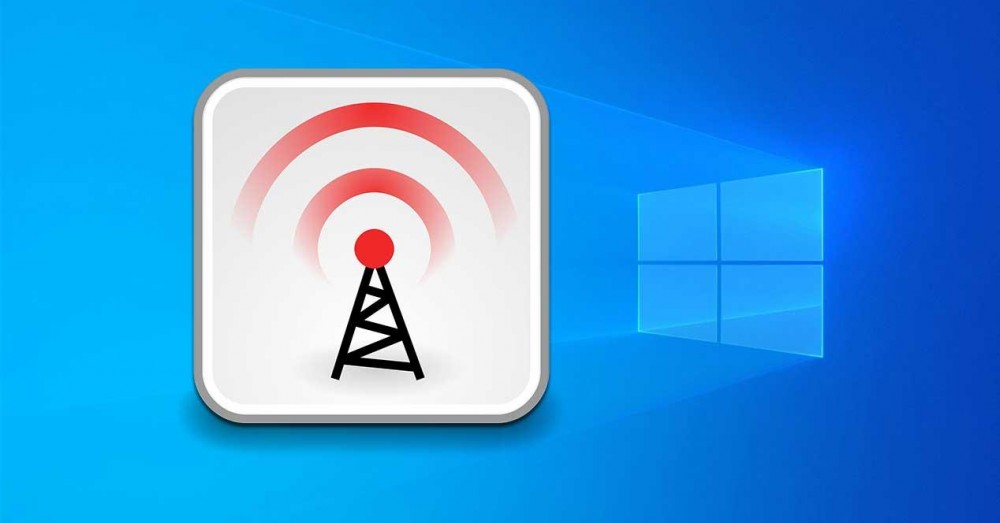 What function does a network scanner perform?
When we work with a WiFi network that provides us with good coverage, we may need to carry out research on the behavior of the signal in the place where we are. The most efficient way to obtain this type of information is by studying wireless networks. This serves us as an important part of security. For this reason, it is important to choose specialized programs in network security to locate and eliminate unauthorized access points, avoiding interference between channels and getting rid of false intrusion alerts.
To do this we will need a WiFi scanner. These applications allow you to browse 2.4 GHz or 5 GHz networks, to see their channels and signal strength. These programs collect information about the access points and channels on your network, displaying them in a visually accessible and easy-to-understand way for any user. It must be taken into account that the signals of the WiFi network can change frequently and constantly so that any small change in the network can cause important effects on the connection.
Programs to view and analyze WiFi networks
Next, we are going to see a series of applications that will allow us to see the WiFi networks that are around us. The vast majority are free, so we can try them to see which one is best suited. In addition, some have paid versions that allow us to obtain extra functions.
Vistumbler, scans wireless networks near the router
It is a free and open source WiFi network scanning tool. The application is responsible for scanning complete wireless networks within the range of our router. The tool is responsible for using the WiFi API that Windows incorporates by default to collect all kinds of wireless information, as well as locate possible access points.
Later, it will be in charge of verifying the network configurations, helping us to detect unauthorized access points. The program is able to find wireless LANs using WLAN standards like IEE like 802.11a, 802.11b and 802.11g. We will be able to know details such as the status of the network, the MAC address, the SSID, the signal strength, the channel number and the type of network. In addition, it is distinguished by its compatibility with GPS, being able to integrate into Google Earth to display WiFi networks.
Its main drawback is that it is not an easy program to use, due to a somewhat complex user interface to navigate. We can download it for free from this link.
WinFi Lite, perform analysis in a simple way
It is a program capable of monitoring, analyzing and controlling WiFi networks. It allows us to perform an analysis of the network in a simple way, having filtering, grouping and classifying capacity by class. its interface is loaded with information, although it is generally not difficult to navigate and interpret. It has an extensive filter system to limit results and is capable of exporting them in PCAP and CSV . Each detected wireless network is listed with its BSSID , network name, provider name, RSSI, bands, channels, date of last visit, etc.
This tool is responsible for displaying graphics when we want to see the details of the network, color-coding each network that was found during the scan. Of all of them it shows the graphs so that we can verify the use of the channels or the strength of the signal.
We can download WinFi Lite safely from the Microsoft Store
Developer: Helge Magnus Keck
inSSIDer, scans and analyzes WiFi networks
We are talking about a free and open source application, responsible for scanning and analyzing WiFi networks established for Windows. This tool will help us to reduce the interferences that nearby networks can produce, as well as to determine the configuration problems, so that we can limit the number of interrupted connections. The program is responsible for collecting channel data, signal strength, MAC addresses and the type of encryption for each access point on the network.
iSSIDer is very reliable and is especially oriented more to the professional field than for home users. It also uses encryption protocols to minimize any security breach and improve network efficiency. Once the networks are analyzed, it will provide us with a score for each connection. The higher the score, the greater the reliability.
If we want to use iSSIDer we can download it for free from the developer's website.
---
SoftPerfect Network Scanner, shows information about a WiFi network
This free program will be in charge of providing us with basic information about all the parameters of a WiFi network. The application will ping for TCP ports, showing what types of resources are shared on a network. It also allows you to mount shared resources such as network drives, as well as browse them with Windows Explorer and filter the results.
In addition to pinging computers, you can also scan ports, discover shared folders, and retrieve virtually any information about network devices through WMI, SNMP, HTTP, SSH, and PowerShell . You can also search for remote servers, logs, files, and performance counters. All the results obtained can be exported in a variety of formats from XML to JSON.
We can download SoftPerfect Network Scanner from here. It also has a Home version and a Business version that we can buy from 25 euros.
---
Kismet, monitors the traffic in WiFi networks
It is a tool to scan WiFi networks specially used to detect any intrusion in the network. The application is responsible for tracking 802.11.a, 802.11b and 802.11g network traffic. It also offers us compatibility with the raw monitoring mode and supports the capture of multiple sources, providing an architecture of additional plugins with which to expand its main functions.
Kismet works with both WiFi interfaces. Like Bluetooth interfaces, some SDR and RTLSDR hardware and other specialized catch hardware. The program works on Linux, macOS and Windows 10 under the WSL framework with remote captures. It is an open source application so we can download it for free from here.
---
WiFi Analyzer, ideal for home users
This application has been designed especially for home users, being ideal for users who are using a WiFi scanning tool for the first time, being a great option to consider. This program is responsible for taking the moments of our network and converting it into visually easy to understand data , suggesting which channel should be used to reduce congestion. In this way we can find the best channel and detailed information about our router.
This tool has a basic version that includes everything we need to analyze WiFi networks. On the other hand, it has a Pro version, which adds additional features, although it may be somewhat limited for commercial activities.
We can download WiFi Analyzer safely from the Microsoft Store.
Meraki WiFi Stumbler, get detailed network information
We are talking about a tool that will provide us with detailed information about the encryption used for wireless networks and SSIDs . It is a portable program so it does not require any type of installation so we can run it from anywhere. With it we will get detailed reports to obtain information about the access point, the wireless channel, the signal strength and the MAC addresses.
The application is perfectly suited for troubleshooting network problems or searching for malicious access points. In addition, we can run it on our system even when we are not connected. It is compatible with Windows and macOS operating systems.
We can download Meraki WiFi Stumbler from here.
---
What program to scan networks to use?
As we can see there are a good variety of programs with which to scan WiFi networks in Windows. When deciding on one, it may be ideal to try the different options that we have to see which one best suits what we are looking for. Among the options that we handle for home users, WiFi Analyzer and WinFi Lite may be the best options for home users that do not require an excessively complex program and that the results may be easy to understand. For a more professional field, iSSIDer may surely be the most interesting option, which allows us to minimize any security breach and improve the efficiency of the network.