Kensington has created what for many could be the definitive stand for their iPad Pro and now iPad Air too. The new Kensington StudioDock is like the Apple Pro Display XDR stand: sleek and with plenty of extra connections.
The ultimate stand for your iPad Pro and iPad Air
Although it may seem like one of those crazy do it your self projects where someone adapts the stylish and in turn very expensive support for the Apple Pro Display XDR screen, the truth is that it is not like that. What you are seeing in images is neither more nor less than a new support created by Kensington that we do not doubt has been inspired by it from Apple, but has provided it with a series of extras that make it almost the definitive support for those who He works regularly with his iPad Pro every day, although he also works with the iPad Air.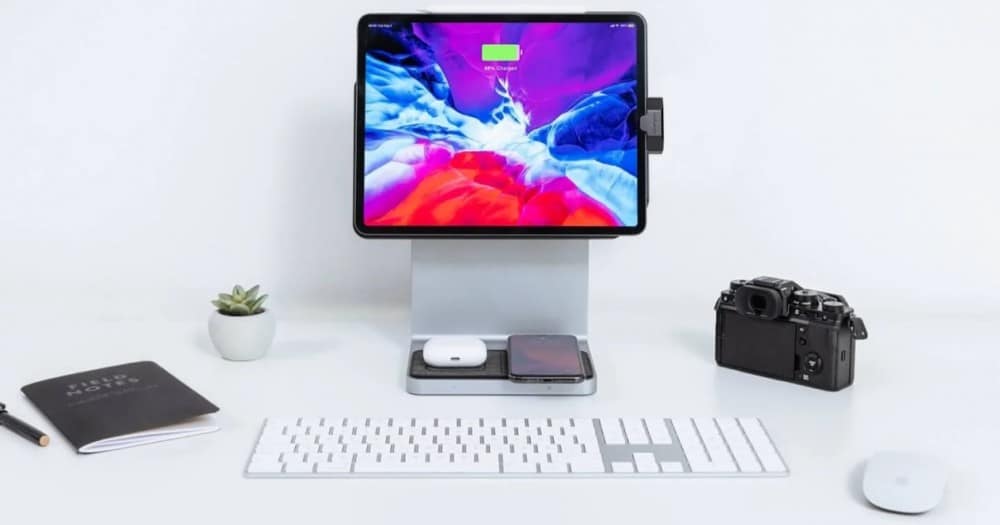 The new Kensington StudioDock is a support or almost a solution to the problems that arise when you want to work with the iPad Pro for a long period of time and in a much more comfortable way than you could do without resorting to any type of accessory. Or rather, work more comfortable when you need to use more than your iPad and Apple Pencil.
To begin with, the support includes a magnetic support compatible with the iPad Pro and also with the latest generation iPad Air, which share that design of the Pro family. Thanks to this set of magnets, in the same way that the keyboard covers of Apple, iPads can be placed both vertically and horizontally. So you can choose the way that suits you best to use it.
Of course, having a single and exclusive support is not what makes this product interesting. That it could be perfectly just for its aesthetics, especially if you are one of those who care about those details, but the good thing is that it also adds a good number of extra connections.
The support includes an HDMI 2.0 connection so that in turn you can connect an external monitor with which to work with your iPad. And yes, if you have money to spare here, the ideal would be the Apple Pro Display XDR to preserve aesthetics. Along with this, it also includes a Gigabit ethernet connection, a 3.5mm headphone port, an SD card reader and several additional USB A and USB C ports so you can use a wide variety of accessories such as storage drives among others.
If all this still seems insufficient to you, at the base of the Kensington stand it has also integrated a wireless charging base compatible with the Qi standard. In this way, when you leave your iPhone, AirPods or any other device compatible with this type of charge on it, its batteries will recharge so that they are always ready if you have to go out.
A unique product
There is no doubt that Kensington has created a unique product and one that is sure to come out soon with the occasional competitor. But if you still haven't found the ideal stand to work with your iPad Pro, here you may already have it.
Of course, for now you have to know that it is not yet available for purchase and it is unknown what price it will have. It will not be an inexpensive stand, but if you consider what a similar dock and some aluminum support can cost, it is likely that its price will not fall below 100 or 150 euros. What's more, it could easily be around 200 euros, although that is something that we will know for sure when the manufacturer confirms.
By now it is clear that for those who have bet on turning their iPad into their only work device it is the ideal stand.