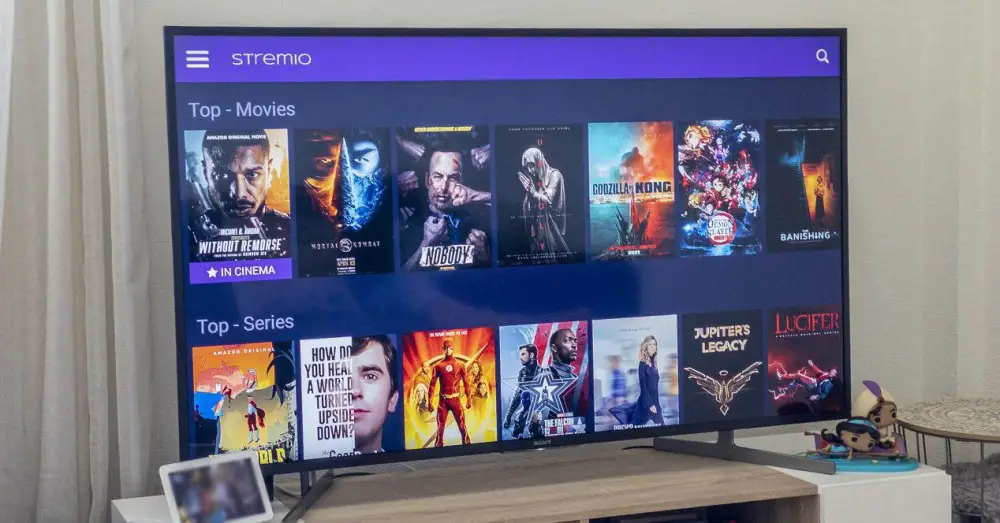 Right now we are experiencing the full revolution of streaming content. Countless series, movies, documentaries and much more hit subscription platforms daily. Some are exclusive content from Netflix, HBO or Disney +, and others can be found in different places. A real chaos when looking for something in particular that we want to see. But, what would you think if we told you that there is a place where you can have all this controlled and, also, be able to watch YouTube, television channels and many more interesting features? Today we tell you everything you need to know about Stremio and how you can install it on your Amazon Fire TV .
What is Stremio?
The first and most important thing is to introduce yourself to Stremio. And, the truth is that it is not something new, since it has been in development for several years.
Does the name of Kodi sound familiar to you ? Well, Stremio is something very similar. It is an open source app that is available for various platforms: Android, iOS, MacOS, Widows, Linux, etc. This service works as a kind of multimedia catalog that allows us to perform different functions:
Through the search engine, we can locate the platform where we can see a series or movie that we want to find.
Discover new content thanks to the continuous updates of the platform's catalog.
Make a watch list of series and movies. And even know which chapters we are going through specifically.
Watch TV shows.
Consume podcast.
And, this is just the beginning of a long etcetera. As with Kodi, we can install certain "programs". These are called Add-ons and are extensions of the service that allow us to do certain actions. We will have some developed by the platform itself that, for example, will allow you to follow channels of YouTube or activate the subtitles of the content we are watching These extensions are totally legal and free of any type of malicious software.
But, being an open source system, like Kodi, we can find many other add-ons created by the community itself. In this case, some allow us to handle, for example, torrents, watch payment channels and a lot of other actions within or outside the law . Speaking of this we do not intend to incite you, much less to make an illicit use of Stremio, quite the opposite. From El Output we want to inform you of all the benefits that we can find in this app, and then the use that each user makes of it is their responsibility.
The best of all is that, as we told you a few lines ago, this is a multiplatform service that, in addition, is completely free. And, among all the places where we can use Stremio are the Amazon Fire TV . This will give us the opportunity to take advantage of all its advantages on any screen compatible with said accessories. But, yes, the installation can be slightly more complex than in other computers.
How to install Stremio on an Amazon Fire TV?
Now that you know well what Stremio consists of, it is time to explain how you can install it on your Amazon Fire TV. You can rest easy because, if you follow all the steps that we show you below, in just 10 minutes you will have it installed on your Fire TV.
Unlike what happens in devices with Android TV (either a smart TV or a TV Box), the Stremio application does not appear anywhere if we search for it through the Amazon application store.
So, to begin this process, we will need to install a browser with a download system to our Fire TV. This first step is extremely simple:
Access the search section of your Fire TV indicated by a magnifying glass on the left of the menu bar of its interface.
Now type "Downloader" in this search bar to locate the app we need. As we have mentioned, it will help us download files and incorporates a web browsing system.
Click "Install" to add it to your Amazon Fire TV application catalog.
The first step you need to take at this time, to avoid problems when downloading, is to give the team permissions to download and install apps from unknown sources . This is as simple as:
Go to the Fire TV settings. These you will quickly locate in the carousel of options with the icon of a gear.
Once here, find and click on the "My Fire TV" section.
Now go to the "Options for developers" section.
Here locate "Install unknown apps" and click on it to enter the catalog.
The only thing you will have to do now is look for the "Downloader" application, press it and select the "Activated" option.
This process that we have just explained will allow us to install any third-party application that we download through "Downloader". Now you just have to open Downloader to continue the process:
On the main screen of the interface of this application you will see a bar to write that is under the phrase "Enter a URL …". Here you must write "Stremio" and then click on "GO".
This will cause the browser to search the internet for possible related results (as if it were Google). Be careful with the first results because they are ads. The correct address in which we must enter (using the courses to move) is stremio.com.
When you are inside this website, click on the menu with the three lines in the upper left corner. In the drop-down you will have a sub-menu where you can see, among other options, "Download". Click on this to enter it.
Now scroll down until you get to the Android devices section. And, among all the options, click on the first one that says "Stremio ARM APK" . The most current version.
The selected version of Stremio will automatically begin to download to our team. At the end, we will be redirected to a new screen that will ask us if we want to install the application. Click on "Install" to confirm and finish the process. Following this process step by step, after a few minutes, you will have Stremio among the applications installed on your Amazon device.
To locate this application you will only have to go to the section of apps installed on your computer. This is in a different place depending on the interface version of your Fire TV. If you cannot locate it, you can take a look at some videos that we leave you below with a "guided tour" through the entire system in the two versions that you can own.
It's that simple to install Stremio. When accessing you will have to enter your account and password, or create one, and you will now be able to enjoy all its advantages and benefits for lovers of multimedia content.