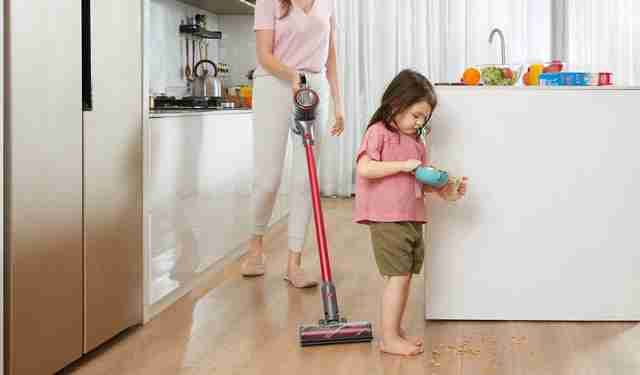 Among the solutions that exist to improve the cleaning that is done at home on a regular basis are hand-held vacuum cleaners . The new Roborock H7 has just been presented and it comes to compete with any rival on the market and become the best possible choice. We tell you what makes this striking and recommended model.
One of the active things in this new accessory for the home is that it comes with a power that makes it a perfect tool for removing all types of dirt (including pet hair). This product has a 480W motor, which means a suction capacity that can reach 160 AW . Obviously, this allows optimizing its use in all kinds of situations, including places as complex as mattresses or carpets (in this case, the ten watts more it has compared to the H6 model is quite noticeable and it should be noted that some surfaces are clearly recognizable automatic and in this way adjusts the working capacity).
A very interesting detail is that this Roborock H7 has a screen where you can see the most important information when using it, such as the remaining battery charge or the suction power that is being used. This one looks pretty good, since it's OLED. It should also be noted that a magnetic system is included to be able to place this handheld vacuum cleaner on its base (which is called MagBase). Therefore, in a very simple and comfortable way you can have everything organized and access the use of this product without having to make an effort.
Great autonomy in the Roborock H7
This is a very important detail, since we are talking about a wireless model and, therefore, that it has a battery that supports processes so that in two and a half hours the complete refilling of the included 80 Wh battery is completed . With it you can use the vacuum cleaner for up to 90 minutes using a mode called Eco that is powerful enough to be the one you use regularly.
The capacity of the tank in which the sucked dirt is stored has also been improved , since it now reaches 500 ml , so you will not have to visit the garbage can before finishing the cleaning of the entire home. With the option of being able to use the Roborock H7 with different accessories to always achieve the best possible cleaning, a good detail that is included in this model is that the bags used to store the dust are automatically closed when they are removed from the vacuum cleaner. Also included are some additional tools that are welcome, such as blocking against use by children or that it is possible to use HEPA filters .
Price of this new handheld vacuum cleaner
If you seriously think about buying this Roborock H7, you should know that the price you have to pay for it is only € 399 . A figure that, taking into account everything it offers, seems quite sensible to us. You can get it in different stores such as Amazon or eBay, something for which you will have to wait until June 2 and it has very good news associated with it: there will be an initial promotion that will allow you to buy this product for thirty euros less. Undoubtedly, a good option that will never lower your suction capacity no matter how full your tank is.