There are many documents that we send or receive almost daily through WhatsApp or email. Some documents that are usually in PDF format, since it is the one that offers us greater reliability and security to prevent them from being easily edited and modified. However, sometimes we may find ourselves in need of editing these documents or even creating several files from one. Although a first it may seem like a complex task, we will show how to divide a PDF into several manually and using some of the free online tools that we can find on the Internet for it.
---
---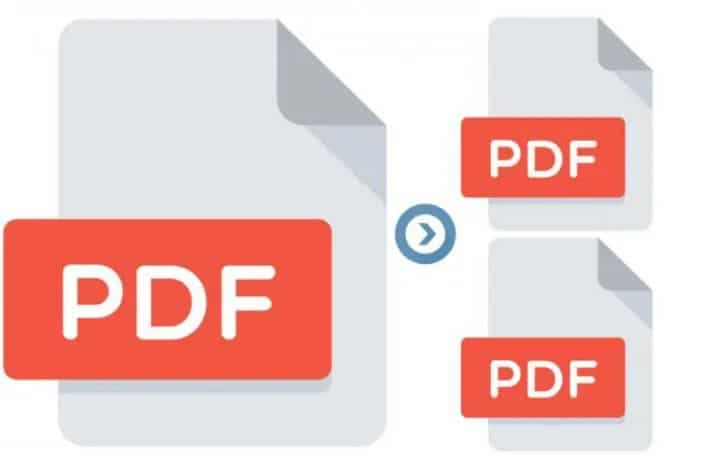 Before deciding if we want to do it ourselves manually or if we prefer that some tool help us and be something automatic , it is important to know that if the PDF has few pages, perhaps we can choose to do it ourselves. If on the contrary it is a very extensive document, the task will be much more laborious and the best thing will be to use some tool.
Of course, we must bear in mind that the document will have to be uploaded to the corresponding online service, so, depending on the information it contains, we must assess whether to do it in one way or another.
The Best Free Online Tools to Split a PDF
Using an online tool to separate a PDF document into several files makes it an automatic process. This makes it take much less time to do it, but on this occasion, we must know that the fact of uploading our document to any of these services means that we may be compromising the privacy and content of it or that we cannot personalize such separation as when We do it manually.
It is undoubtedly one of the most popular websites for handling files in this format. To divide a PDF, the first thing we have to do is go to the official website of the tool and click on Select a PDF file. Next, we will be shown all the options to separate the document.
There we will be able to indicate if we want to separate it by pages or by fixed or customized ranges. Once everything is set to our liking, the only thing left is to click on the Split PDF button.
---
Another of the trusted websites to manage our files is SmallPDF . After uploading the file in question, we must select the Extract pages option, since the option to divide a PDF is only for PRO clients.
Next, we will be shown a page with each and every page of our document. From there, we will be able to select the pages to extract or select the Split option, which allows us to separate the PDF into a separate file per page. This option is a free trial, so its use is limited.
---
PDF2GO is another free and very useful online tool to separate a PDF into several files. As in all these types of services, the first thing we have to do is upload the file, choose it from one of our storage services or even indicate its url.
Once this is done, we will see how PDF2GO shows us two icons next to each page of the document. One of them allows us to delete that page and the other (scissors), allows us to indicate where we want to separate the document. This allows us to choose a separation or division by pages, to group several in a file, etc.
---
As the name implies, this is another website with an online tool to separate a document into several independent files. Unlike the previous ones, once we have uploaded our PDF to the service, it will offer us the possibility to extract a fixed number of pages per file, manually select the pages we want to extract or even divide the PDF according to the maximum size For each file.
---
We could not forget PDFCandy , another free online service very useful to separate a PDF into several and also has its compatible desktop version for Windows. Just go to the official website, we must add or drag the file to divide.
Next, we will show a thumbnail view of the file and the options to divide into individual pages or choose the intervals. Therefore, PDFCandy allows us to customize the range of pages that we want to separate into a separate file with great ease.
Steps to follow to split a PDF manually
If you are a user of the Microsoft operating system, Windows 10, you will know that the system itself has the Microsoft Print to PDF printer, which allows us to save any file in this format quickly and easily. However, we can always install any PDF printer on our computer.
In one way or another, these types of printers allow us to separate a PDF into several files by pages without having to resort to other tools. For this, these are the steps that we must follow:
We open the PDF that we want to divide in our browser
Press Ctrl + P or select the Print option from the browser menu
Select the Microsoft PDF printer or the one we have
We display the Pages list and select the Custom option
In the field that is enabled, we indicate the page number or interval that we want to group in a file
Click on Print
We will automatically create a PDF file with the indicated page or pages
We repeat the process to divide the PDF to our liking
In this way, we will be able to separate our document page by page or even group several pages into different PDF files manually and easily. Although it is somewhat more laborious, the truth is that in this way we can divide a document to our liking. For example, we will be able to separate a page in a document or the interval between several pages in another according to our needs.