Touch ID is a fingerprint sensor that allows you to securely log in to your device with a single touch of your finger. It is a feature introduced by Apple for iPhone 5S and later models. It's also found on some iPad models, and in addition to unlocking the device, it's a quick way to use Apple Pay and other features. If you have a fault, in this post we will tell you how to know if it has been damaged.
Touch ID allows users to quickly unlock the iOS device , however, it may not work as it should and you are almost unable to use your device. Fortunately, if Touch ID does not work there is always a solution, but the difficult part is understanding what solution to adopt to avoid not being able to use your iPhone or iPad for a long time.
Check like this if your Touch ID has been broken
If the Touch ID sensor isn't working on your device, there are a few things you can do before heading to an Apple Store. First of all, look for the sensor, which is located on the home button except in the case of iPad Air 4th and 5th generation and iPad mini 6th, which is located on the top button. To check if it works correctly, follow these steps and try using Touch ID after each step:
Make sure you have the latest version of iOS or iPadOS.
Make sure your fingers and the Touch ID sensor are clean and dry.* To clean any dirt or debris from the Touch ID sensor, use a clean, lint-free cloth.
Your finger should completely cover the Touch ID sensor and be in contact with the metal ring that surrounds it. While Touch ID is scanning, you shouldn't press too quickly or move your finger.
If you're using a case or screen protector, make sure it doesn't cover the Touch ID sensor or the ring around it.
Go to Settings > Touch ID & Passcode, and make sure iPhone Unlock or the iTunes & App Stores are turned on, and you've enrolled one or more fingerprints.
Try registering a different finger.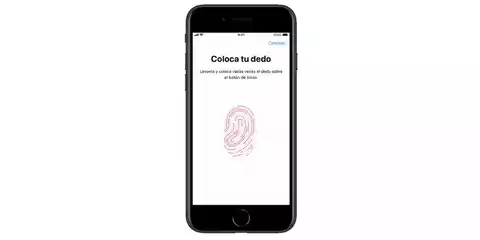 In addition to this, keep in mind that Touch ID may fail depending on the environmental conditions at the time of use. For example, if it is very cold and there is a freezing wind, if you are in a place with high humidity, with the presence of rain. There can also be failures if your iPhone screen is too dirty or your finger is dirty. There are times when the fault may be with the device, so reboot it to see if the fault was there. If after doing these checks, the sensor still doesn't work, you should go to an Apple Store or if you don't have one nearby, to a SAT. In these places, certified by Apple, they will find you a solution exactly like in an Apple Store, without affecting your warranty or Apple Care insurance. You can also go to a specialized mobile store but keep in mind that if they have to repair the device, you will lose the guarantee, in case you still have it.