If you are reading this article, you already know the importance of website compatibility across all the devices.  The most important factors while visiting a website are speed, user-friendly usability and consistency. A few years back, compatible websites were not a significant issue, but today with multiple devices in hand, a responsive and compatible website is a must-have for all your audience needs.
More than 90% of people use multiple devices for work and personal use.  Excellent compatibility will allow your website to automatically appear in the most optimized form without jumbling the website on all the devices in the market. But a bad user experience will drive more than 50% of users away from your company website.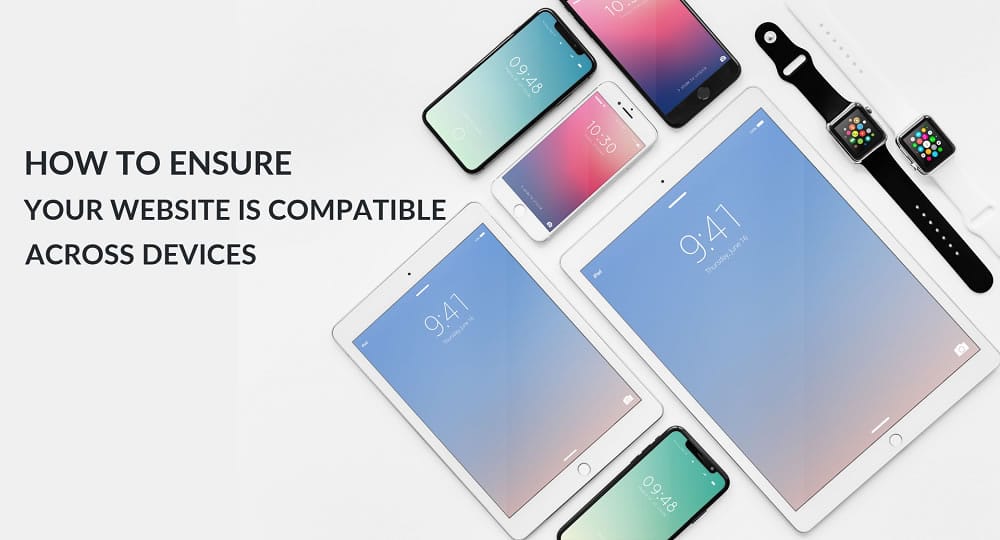 No matter how your target audience access your website, whether on a laptop, tablet, or mobile phone, your website needs to display appropriately with optimization.  The good news is that you don't need any specific technical expertise to create a compatible website. You just need some truly practical strategies that will fit just right into your existing or new website.   In this article, we'll walk through a few steps to ensure that your website is 100% optimized for every device:
Selecting Website Theme 
If you are troubled by the fact that your website pages are not aligned properly on different devices, it is primarily because different browsers or devices use different rendering engines, which can cause minor variations.
These minor variations can be a reason for the major problems of your alignment.
Selecting the most compatible theme is the first step in your compatibility process. A variety of themes are available in the market that can provide your website with the flexibility to customize the look and feel of your site.
Find a precise, responsive theme to align with your requirement perfectly. The theme you choose must assure that the site loads fast with desired results on mobile phones, tablets, as well as laptops.
You can perform a live interactive cross browser compatibility test for your websites to be sure.
Adjusting Screen Resolution 
With so many devices in the market, come several screen resolutions and orientations for these varying devices. New devices with new orientations too are being developed now and then.   In the fast-evolving landscape features of devices, compatible web design is crucial in the development process. Devices represent the screen in different views which also significantly bring variations in the site view.
Each of these devices has to depict variations in functionality according to its features. You can use different tools to test your website on various Android phones, including Samsung, Oppo, and Vivo, etc. This will allow your audience to switch between multiple Android versions and browsers without a glitch. Fortunately, it is possible to group these hundreds of variations into major categories. You have to design your website for each of these major categories to make your design flexible for all devices.
Screen-size & Orientation   
The mobile browsers represent web pages with default desktop settings that result in an incompatible zoomed out and unresponsive display. This ruins the audience experience with your site. You have to design your website to adjust for the length and width of each device.  If you're new to responsive web design, media queries are the first, most important CSS feature to learn. The latest features allow you to style the website elements based on the viewport width of each device.
86% of consumers use smartphones for most of the surfing. One of the popular CSS strategies is to write mobile styles first and build the website on top of it. With this strategy, you can create more complex and desktop specific styles of your site.
More than 70% of people prefer a mobile-friendly site to visit. To orient your site for all the devices, you have to check the grid layouts, font sizes, margins, and padding for different screen sizes of different devices in the market.
Concise SEO Content
To create a compatible site, content plays a very important role. The content from your home page to your contact us page, it has to align properly for good readability.
When it comes to content creation, the simple rule is less is more. Create as much content that can be displayed well on a website. Use SEO content to increase the Google search visibility of your website.
A lengthy blog or article might be easily readable on the laptop, but it'll be messy and difficult to navigate for the audience using smaller devices like phones, iPads, tablets, etc.
Create all devices friendly SEO content and keep your company content brief and crisp. Take efforts to simplify navigation to make it easily scannable for users using all screens. A content compatible site will ensure that your content looks good on any screen without your audience skipping pages.
Optimize Your Customization 
If your website has features with a lot of customization such as unique images or font sizes with changes in the theme. There are high chances that your personalized settings might not translate as planned with different devices. For example, if your website features a customized contact us form, make sure to check they're mobile-friendly as forms' visibility changes in mobile phones. Also, avoid using pop-up forms that tend to take up the entire screen. This packed space can make for an unpleasant user experience on mobile phone devices.  Take care of the alignment while adding custom elements to the site. Optimize these special features depending on the conditions like device width and device type. Use images along with image text but consider the narrow viewport for the correct size and density of the display.
Adjust the width and horizontal length with borders for the optimum fit of the site. Following this alignment, customization will come as planned at the right resolution on all screen sizes and types.
To Conclude
Surely some of the above tips might be completely new to you, but few must have already found their way to your heart. Try to follow the best responsive web designs to minimize the effects caused by the variable factors of different devices.  Focus on providing a variable flexibility to create an optimized website for all devices. The website optimization guide above should solve the alignment issues that you might be experiencing and will help to optimize better.   Be more creative to make your website more responsive where the audience is interacting. Ensure that your website is compatible with all the devices by conducting test edge browser online for optimization.