Dark Mode is one of those quite popular features that we can find on practically any mobile device. More than anything because we managed that our smartphone not only completely changed the interface to show us dark tones, but we even achieved greater efficiency in the OLED panels and lower battery consumption.
In addition, the Chinese firm is updating their phones to the new Realme UI layer and, therefore, they can customize the new Dark Mode. Although it is not as such a new functionality of Realme UI, but now it is much more complete than what was available until now. Even, it does not have anything of similar when the mobiles of the company operated under ColorOS. More than anything because we know that the Asian manufacturer wants to continue creating its own identity and its own software system has been one of the most important steps in the history of the company. For this reason, the firm does not stop working on the different improvements that can be applied in this new user interface, which emerged with UI 1.0, and that we will surely see in the future how it continues to advance.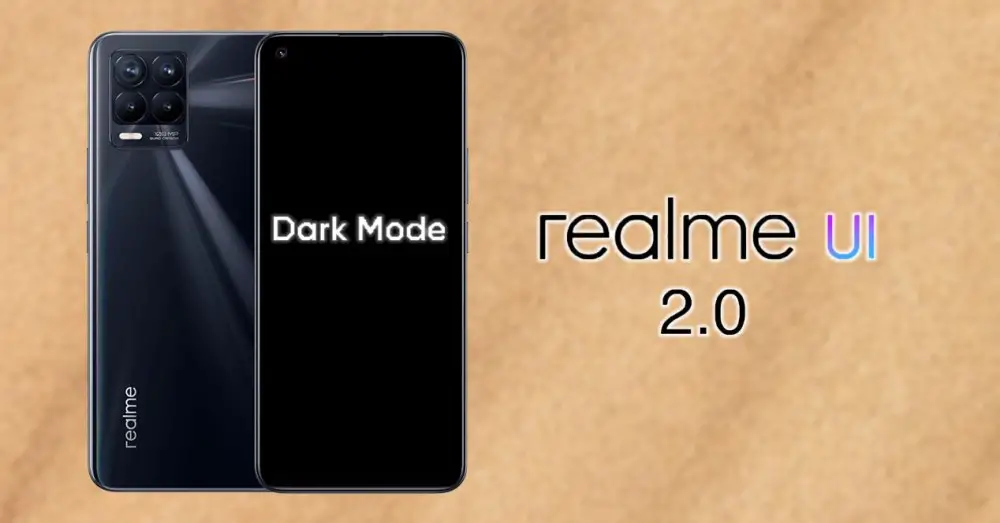 Activate Dark Mode in Realme UI 2
Before going to know the different configurations that have been added to this functionality with the Realme UI 2.0 version, it is necessary to know how it has to be activated. Although luckily it is much simpler and faster than it was when the Dark Mode of the mobiles of this phone company was operational through the ColorOS customization layer.
Basically the problem occurred because it was not well adapted and had to be activated through Realme Lab. However, it is now available natively for all terminals of the Asian manufacturer that have already been updated to the Chinese company's own software layer . Something that should have happened in all its terminals from 2020, leaving aside the latest models to be released during this year and the end of the previous one, since they came standard with this system.
Therefore, in order to activate the dark theme of our phones with Realme UI, we will have to go to the Settings of our mobile phone and access the screen section. Once we are inside, we can see a menu that is dedicated to the famous Dark Mode . Then, we will only have to activate the switch that appears so that the smartphone begins to change to the new mode.
From that moment, the entire mobile interface will change, going from light to dark tones, including the system applications. In addition, with Realme UI 2.0 the possibility of enabling it without having to access the device settings has been included. Only, we will have to enter the Quick Panel or Quick Settings of our smartphone. And if we want to access its settings, we will only have to press said switch for two seconds.
Customize this mode on your Realme
In recent months, we have been able to see how this section is being taken into account by the different smartphone manufacturers, since it represents an improvement both for the health of our eyes and for the fact that it helps us save energy in our terminals. For this reason, the new Realme menu has decided to go a step further to offer us a more customizable experience.
If in the version of Realme UI 1.0, for example, you could choose between the default styles of light (white color) or dark (black tone). With the latest version of the Asian company's software layer we will have a new submenu called Dark mode settings. In this way, with the new version, we can choose between three tones within this functionality:
Enhanced: This shade is basically pure black. Very important to save battery, especially in mobile devices with AMOLED panels.
Medium: has a blue hue that is between enhanced and soft. Ideal for the last hours of the day.
Soft: we will have a dark gray that we can apply at any time, also intended for those users who do not like the terminal screen to be completely white.
To access these tones, we will have to follow the previous steps again: Settings> Display and brightness> activate Dark mode > Dark mode settings. Once there, both the three new tones and other configurations will appear, since they will not only let us choose the type of tone that we want for this mode. Also, we can choose different options to adjust both the backgrounds and the icons with this functionality activated.
How to program this function on your mobile
The reality is that, with the arrival of Realme UI 2.0, the terminals in the catalog of this Chinese brand will have a lot of features. They will even serve to a great extent to improve the experience of its users. In addition to that with this version of their system, users will have more options to customize the user interface of their smartphones. The truth is that previously we could already configure the Dark Mode of these mobile devices in different ways.
Of course, with Realme UI 2 new features such as screen layout, icon styles, improved dark mode, and color schemes are included. It is thanks to this version that users who have a smartphone of the brand, which is updated to this software layer, will be able to easily open this customization configuration option. To do this, they will only have to pinch the home panel with two fingers.
As we mentioned, we also have some options such as the possibility of activating the option "From sunset to sunrise". This means that, based on our geographical area, the phone itself will be able to calculate what time it has to activate the dark mode automatically when night falls and will deactivate it in the morning.
We can also activate a customized activation, that is, if we click on " Schedule time " we can choose the time that we want. When accessing this option, an options tab will open in which we will have to mark the time when it will be enabled and when it will be automatically deactivated.
And although more and more applications are adapting to this functionality, there are still many that need to be adapted. However, Realme UI has an extra option that allows you to force the " Dark Mode in third-party applications". Of course, it must be clear that it is a function that is still in beta. So it will not work equally well with all apps.