With the arrival of Windows Vista and Windows 7 Microsoft launched a wide variety of editions of Windows. Each user could choose the one that best suits their needs according to their use. In the end users do not need 10 different Windows editions, and therefore, with the launch of Windows 10 Microsoft has reduced the number of these to 4: one for home users, the Home, another for advanced users, the Professional, one for companies, Enterprise, and another for schools, Education.
---
---
The edition of Windows that we must install must always be the one that corresponds to the license that we have, since otherwise we will have problems to activate Windows. However, if we have doubts we should always start by installing the Home edition, since Microsoft allows us to easily upgrade from Windows 10 Home to Pro without formatting or losing data.
If we are going to buy a Windows license, or a new computer, what we must be clear about is what each edition brings us.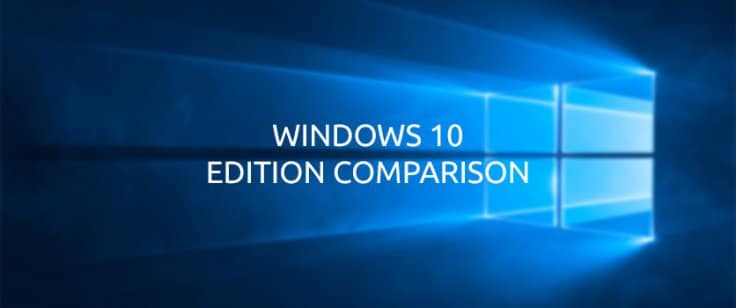 Windows 10 Home, the Basic Edition for All Users
The Home edition of Windows 10 is the most basic and simplest edition of the operating system. This is the most economical when buying a new license.
Windows 10 Home basically comes with the common features we have seen in the previous point. It has no news regarding the later versions. Remote Desktop , RDP, can work in this edition, although only in client mode.
In addition, it has some other limitations, such as that we can only buy OEM or Retail licenses , and that the maximum RAM we can install is 4 GB in 32 bits and 128 GB in 64 bits.
This edition allows you to upgrade directly to the Education edition. This edition has a cost of 145 euros.
Windows 10 Pro, for users looking for "something else"
This edition of Windows 10 is recommended for somewhat more advanced users who are going to use the computer for more than just browsing the Internet or writing in Word. This edition of Windows includes everything we have seen in the Home edition, although it allows volume licenses to be purchased and the maximum RAM for 64 bits increases up to 512 GB.
In addition to the above features, the Pro edition has its own features that are not available in the Home edition. For example, this edition has Hyper-V , the Microsoft virtualization hypervisor that allows us to virtualize operating systems, as well as BitLocker and EFS to encrypt drives and data. Remote Desktop works as a client and server in this edition.
In addition to a series of features focused mainly on the most advanced users for business environments:
Assigned Access 8.1.
Business Store
Current Branch for Business.
Union to domains and management of group policies.
Enterprise Data Protection
Enterprise Mode for Internet Explorer.
Windows Update for Business.
Possibility to join Microsoft Azure Active Directory.
Private Catalog
This edition allows you to upgrade directly to the Enterprise edition. This edition has a price of 259 euros.

---
---
Windows 10 Enterprise, the edition for companies
The main change of this edition is that the license can only be purchased by volume. There are no separate licenses for Windows 10 Enterprise, or OEM or Retail.
In addition to including everything we have seen in Windows 10 Pro, this edition has a large number of tools and functions specially designed to provide the best service in companies. Some of the main features of this edition are:
AppLocker
BranchCache
Credential Guard
Device Guard
Direct Access
Smart Screen controlled by group policies.
User experience control.
Windows to Go
LTSB extended support branch.
As we can see, at the user level the differences with the Pro version are irrelevant. However, in companies it is the edition that must be installed.
Windows 10 Education, same as Enterprise but for schools
Finally, we can only talk about the Education edition . This edition is exactly the same as the Enterprise, and has only one difference in features: it does not have LTSB support.
This edition is not intended for the average domestic user, but its purpose is to use it within school environments and related to education . Using it in companies or at home would violate the license terms, and Microsoft may void it.
These licenses are also distributed by volume, individual licenses cannot be purchased.
What edition should I buy?
Here it depends on the use we will make of our computer. Most of the OEM computers we buy usually come with Windows 10 Home since they are computers for home use. Some high-end models usually include the Pro edition as it is assumed that they are used for "something else" than for writing in Word or watching YouTube.
If you want features like HyperV or Remote Desktop in server mode (to connect from outside to your PC), then opt for the Pro edition. Otherwise, the Home is much cheaper and for domestic use more than enough.
If we are setting up a business network and want to make the most of the Microsoft operating system, then we must opt ​​for the Enterprise edition. But using this edition at home, in addition to being unnecessary since the tools offered by us are not going to use them, goes against the terms of use.
The same goes for the Education edition, which makes no sense outside of educational settings.
---
---