Many times we seek some privacy when we are one of those people who usually leave their mobile devices to others to put music, play video games, among many other actions. However, surely on more than one occasion you have had to delete an application from your mobile so that no one knows of its existence before leaving your phone to someone else.
And it is that our mobile devices are the true reflection of us. In addition, there are different types of users, those who like to have a whole computer and others who do not even know where they have their favorite app. Although of course, there are also those who seek to maintain some privacy. For this reason, OPPO phones with ColorOS have different tools with which to hide apps, something that we will tell you how to do step by step.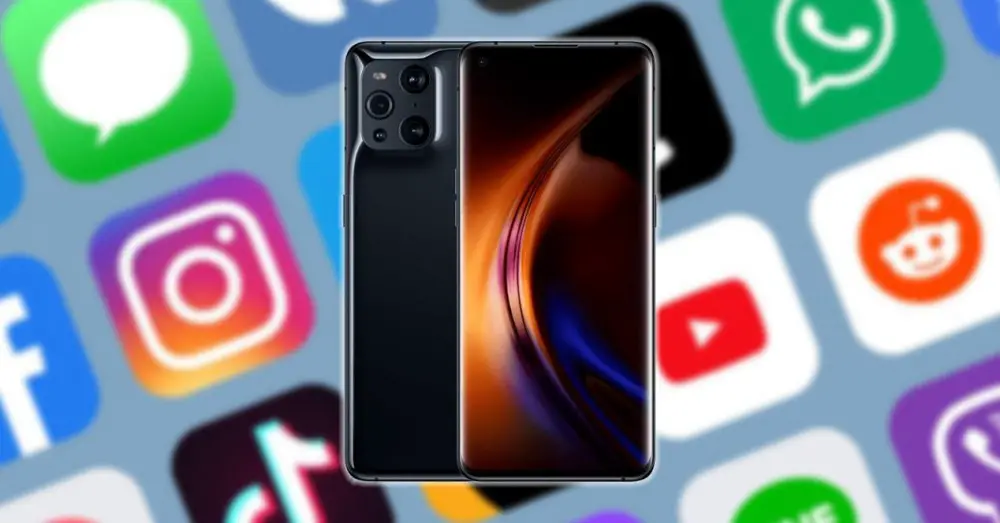 Hide apps in ColorOS
The first tool of the Asian manufacturer's mobile phones that will help us hide our mobile apps will be the easiest to follow. And all because it is within your own settings. Although this does not mean that it is the only way we have to hide these applications. But, it will be the simplest.
And there is nothing more uncomfortable than someone is checking your phone. So it will be a relief to be able to hide certain app icons from those prying eyes of other people. This will prevent someone from knowing that such an app exists on your smartphone. However, before we can hide them from other people, we will have to configure how we want to encrypt them and configure an access key so that only we know how to access them.
However, encrypting third-party software will not be difficult at all. In addition, these options will be compatible with all OPPO that count from the ColorOS 5.1 customization layer . If you don't know which version you have, go to Settings> About phone. If you have a lower version, you will not have the possibility of having this useful privacy tool.
After this, it will be time to configure the access code to hide the icon from the home screen. To do this, we will have to access Settings> Privacy> hide applications. Once we have reached this point, we will have to enter the password that we use each time we go to access that software. In addition, at this point we must choose which ones we want to block. We will have to activate Enable password verification and click on Hide home screen icon .
Another way to mark the code we want will be by going into Settings> Fingerprint, facial recognition and private password> Access code / Privacy password and encrypt the apps. When we select a specific one, a pop-up message will appear on the screen of our OPPO that will ask us to configure an access number. Of course, it will only appear the first time we use this functionality.
To configure it, we will have to enter a number that begins and ends with "#" , and it will have to count from one to sixteen characters. Then, click on the ready tick at the top right. In this way, you can hide all that software that you do not want anyone to discover. But … How do you access them? Keep reading!
After knowing how this functionality can be adjusted to hide all that software that we want to hide, it is time to discover how we can use those apps again. In addition, when the time comes we may get tired of always keeping them hidden, so we will teach you to deactivate this function.
Therefore, when a certain icon of a software is completely hidden, we can see said app by entering the access number on the touch panel. For this, we will have to enter the enumeration that we had chosen in the previous step within the call app of our OPPO. Therefore, we will have to click on Call> Access number so that all those applications that are not visible reappear magically on our mobile.
And in case you have already reached the point where you have nothing to hide or you don't care if people see the apps you have, you can always deactivate this functionality in the fastest and easiest way. Of course, you will not be able to forget the password you set at any time. Then, you will have to go into Settings> Privacy> Application lock and put the password you set. Then, click on the encrypted app and deactivate the option to Enable password verification.
Use a second space for your secret apps
With the arrival of ColorOS 11 to OPPO smartphones, a novelty was introduced that also gives us the possibility of keeping applications safe. We are talking about making a copy of our smartphone inside the phone itself, that is, a totally cloned system. Although, this is not only its purpose, as it also offers us to copy all kinds of multimedia files, contacts, messages or documents. However, what interests us for this occasion is the third-party software of our Android.
Once this is understood, it is time to use this new functionality that has reached OPPO mobiles thanks to this version of the Chinese firm's customization layer. Therefore, in order to access this new tool we will have to follow the following steps:
Access your smartphone settings.
Open the privacy section.
Click on the option called System Cloner .
Once inside, click on the Create option.
At this point you are almost ready for this OPPO software tool to start working. On this screen, you will inform us of exactly what this functionality consists of and the different functions that it will have, such as the fact that it will be able to Synchronize notifications, the rapid switch between spaces and the cloning of all applications.
Also, once the system is copied, and we are inside the cloned space, we will have the option to return to the original version by clicking on the quick shortcut that is found by sliding the panel from top to bottom. And if after returning to the original system we want to continue using those cloned apps, we must use that same quick shortcut and enter the password that we use on the phone.