The slowness of the computer is one of the things that most commonly annoys us, a frequent annoyance that may be due to disk problems. If the disk is at 100% it will make the computer go much slower, that it does not load correctly, that it freezes. Therefore, it is convenient to know how to detect when the use of the hard disk is at 100% and to solve this frequent problem in Windows.
How to check that the disk usage is at 100%?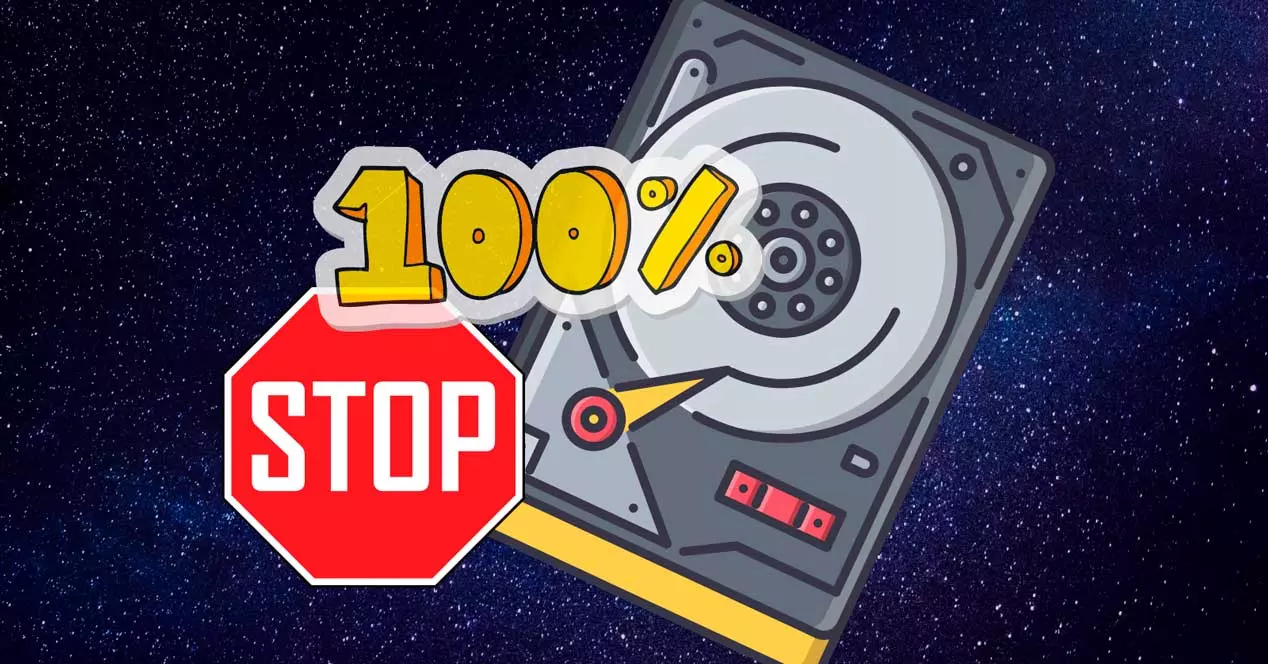 The first thing to keep in mind is that, of course, we are not referring to space. We are not talking about the hard disk being full in terms of space, but that it is 100% charged. The first thing you should do is check it out. It may be slow for many other reasons and that is not the cause of the problem.
To check it, we have to follow a few simple steps:
We go to the Windows Start bar (usually at the bottom)
We right click anywhere on the taskbar
A drop-down will open with options
We are looking for: Task manager
Another option is to do Control + Alt gr + Del and several options will open. We choose "Task Manager". Both ways will take us to this window.
Once here, we will see a series of tabs at the top such as processes, performance, application history, start, users, details, services … Here we will not have to touch anything if we are in " Processes ". Just look at the top where you will see what it says: CPU, memory, disk and network along with a few percentages. If the disk is at "100%" we will know that this is the reason why the PC is especially slow and we must take measures to solve it.
You can also see if there is a program or process that is causing this. You can touch on "Disk" to see in order what each of the computer's processes is consuming and thus you will know if there is something that is saturating it.
Why can it happen?
Your hard drive will go to 100% when something is in use. For example, if you are copying files between two locations on your computer. If you open a folder on your computer in which there are thousands of photos and videos, you will also see how it makes high use while loading the different thumbnails of all the files there are. Also if it is being used for temporary storage or the disk is being defragmented. If you try to copy files from one folder to another by opening the Task Manager you will see how the disk goes up in use until it ends and goes down again. That would be normal. But if it is always 100% without you being aware of a process, it is because there is something being used in the background or without you having seen it voluntarily.
There may also be other causes such as the antivirus that is causing the disk to be at 100% or some specific programs. In the case of antivirus, we will explain in the next paragraphs how we can deactivate it to check if the problem is here. We deactivate temporarily to see if the use of the hard disk goes down and stops being at 100% as before. The same happens if you use some specific drivers that can cause this.
That is why below we propose a series of different solutions to solve it, from deleting temporary Windows files to more complex solutions …
First solutions and basic steps
There are some basic steps that we can take. Although they will not always work for you but they are usually the first thing we do and that can help us.
Restart your computer or shut down for a reasonable amount of time in case there is a hidden process running in the background without your knowledge. If there is something specific, you will make this process stop and the album works as usual. It will only take a few seconds and can be a quick solution.
Run an antivirus or a cleaner to check if you have any security problems on your computer. There are many free antivirus for Windows that will allow us to know if there is something that is causing the disk to work like this. Make a scan with Windows Defender or install an antivirus without cost or with a trial period to make the analysis as complete as possible.
There may be a program causing it. Following the steps in the previous section, we will be able to see, from the Task Manager, what is there that is putting the disk to work at 100. If it is a specific program or software, just go to "Add or remove programs" within the Windows 10 settings, look for that program and touch "uninstall" . Check if it has been fixed and look for an alternative in case it is something you use often.
Solutions
What can we do if the disk is at 100?
Temporarily disable antivirus
It may be that your antivirus is causing the disk to be at 100. So we can rule out or see if this is the problem. If we use Windows Defender we can deactivate it from the computer configuration. We deactivate, check the disk and reactivate if it has not solved it. The steps are simple and take little time.
Open Windows Settings
Go to the section: Update and security
Open the option "Windows Security" from the menu on the left
Choose the section "Protection against viruses and threats"
Click on it
All the details about the current threats will be opened to us or we can do a quick scan of the device to see if there is something dangerous. But, in addition, we can manage the antivirus and we can deactivate it. Go to the bottom by scrolling. Go to "Antivirus and Threat Protection Settings", as you see in the image below. Once here, we tap on "Manage settings".
Here we will have a series of tools with their corresponding switches that we can activate and deactivate depending on whether we want them to work or not:
Real time protection
Cloud-based protection
Automatic sample submission
Protection against tampering
Etc
The one that interests us is the first: Protection in real time. Turn off this switch and check again to see if you've fixed the problem.
Turn off Windows searches
Another step we can follow is to disable Windows search. It is a very simple option that will allow us to rule out possibilities or errors. According to many of the forums consulted, it is this search that causes the problem of 100% disk usage in many cases. Therefore, you do not lose anything by trying to deactivate it and see if this annoying error is solved.
Look for "command prompt" in the start bar
Right click
Tap on "Open as administrator"
Type the following command: net stop "Windows search"
Hit enter on the keyboard
Check if the disk error has been fixed. This will be temporarily disabled, but it will be enough to know whether or not it is the solution. If it is, we can deactivate it permanently by following other steps:
Press WIN + R to open run
Type "services.msc"
Tap on the OK button
Find "Windows Search" in the list
Double click on it
Go to "Startup type"
Use the drop-down menu to choose " Disabled "
Tap on "Accept"
Now check if the disk is working correctly and does not appear as before.
Clear temporary Windows files
One of the first steps that we can follow to solve that the hard disk is at 100 is to erase the Windows temporary files. It can be a simple step and it does happen occasionally. Doing this will take us just a minute so we can rule out the problem. Also, it is advisable to delete them from time to time.
To delete the temporary files we must follow these steps:
Press Win + R on the keyboard on your computer
The "Run " window will appear.
Write the word "temp" here
Press the accept button or the enter key
We will see a warning message that tells us whether or not we have permission to this folder. You can tap on " Continue " to access as administrator. Tap on the button you see in the screenshot below and you will go to Computer> Local Disk> Windows> Temp . Here we will find all the temporary files.
Once in this folder, you must click on the right button of the mouse and choose "Select all". Or we can do it through combinations or keyboard shortcuts: press CONTROL + E to select everything. When they are selected, touch SHIFT + DEL to remove them. A window will appear asking if you have administrator permissions and we simply have to tap on "Continue". If you have done this, your temporary files will have been deleted.
If you don't like this way, there is another option to remove them. We have to go to Windows 10 Settings and here we go to the first option: System. Once inside this section we have to go to the left to see all the menu options. In it, look for " Storage ". Inside storage it will take a few seconds until it fully loads, but you will see how your storage is used and what the space is dedicated to. Here we will see "temporary files" and a number that tells you how many gigs they occupy. Tap on them and wait a few seconds for them to fully charge. You will see the detail of the files: trash, downloads …
Go marking the type of files you want to delete and tap on "Remove files." It is advisable that you delete everything and thus we can see if the disk is no longer at 100. It is the same process as the previous one, but following other different steps.
Turn off notifications
Disable notifications from the settings as this can cause the disk to continually "receive" information from programs that you are not using. If you do not use them at that time they are not urgent.
Open Settings on your computer
Go to the first section: System
Tap on " Notifications and Actions " in the menu on the left
Disable all the notifications you can here. You will see a switch that says "get notifications from apps and other senders." Remove the button or deactivate one by one the tics that you will see below as:
Show notifications on the lock screen
Show incoming VoIP calls and alerts on the lock screen
Allow notifications to play sounds
Show me the Windows welcome experience …
Suggest ways to finish setup …
Etc
Also in the lower part you can activate or deactivate notifications according to the specific program or application that you want not to disturb or cause the disk to be working unnecessarily when you are not using them.
Kill some apps on startup
Although this is not usually the main solution and there will be other problems that we will explain in future sections, reducing applications that work at startup can also be a long-term solution. When you turn on your computer, a series of applications or programs are activated by default. And we can prevent it from happening from the Task Manager.
We open the Task Manager following the steps in the previous section and go to the top of it, where we find a series of tabs. We choose " Start " at the top and we will see what programs are running. Right click on the one you don't use and mark it as "disable."
Check the power settings
This is also one of the errors that can cause the hard disk to be at 100, although it is less common, but there are some users who have found the error by modifying this option. We can try as an alternative or solution.
Open Control Panel
Go to Hardware and Sound in the menu
Find the "Power Options" section
Tap on "High performance" and "Plan settings"
Choose "Change advanced power settings"
A pop-up window will open with all the options and customization of the power settings. At the bottom, tap on "Restore plan defaults"
Restart the virtual memory of the computer
Another solution is to restart the virtual memory of the computer. We can expand or modify it from the settings, from the computer panel. We simply have to go to the start bar and look for "control panel" to open it. Once inside, we will have a series of options and adjustments and the one that interests us is "system and security".
Go to the start menu
Find and open the Control Panel
Open the System and Security tab or window
Find the option "System" and click on it
On the right side, tap on "Advanced system settings"
A pop-up window "System Properties" will open.
Tap on "Advanced Options"
Go to the first option: Performance
Choose "Settings …" and click on this button
Here a series of options such as visual effects, advanced options or data execution prevention will open. Touch on the second (advanced options) and we will see a virtual memory section where we can touch on "Change …"
Disable the "Automatically manage paging file size for all drives" button. Choose the option "No paging file" and tap on the "Set" button. Confirm with "accept" and restart the computer. Check the disk again and make sure it doesn't follow 100%.