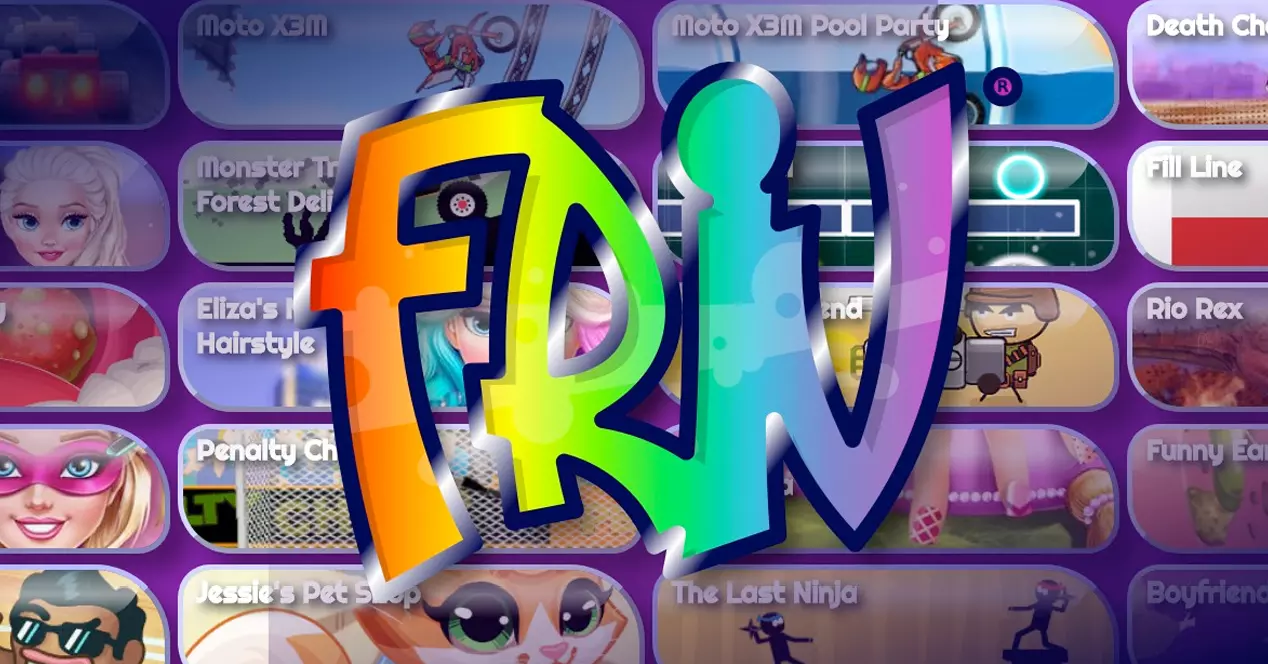 Free browser games had a golden age with websites like Minijuegos.com, which offered a huge catalog of titles with which to have a good time. However, most of them were programmed in the Flash . Technology evolved, Flash became obsolete and smartphones took over that entire niche of free video games. However, there are still interesting websites that continue to exploit this concept. One of the most interesting is FRIV , a gallery of free mini -games that you can enjoy both on your computer and on your mobile or on an Xbox using the web browser.
What is FRIV Games?
FRIV is a website that includes an endless number of free mini -games. They do not require installation on your PC, console or smartphone, but are played directly from a web browser such as Chrome, Firefox, Edge or Safari. You also do not need to register or pay any kind of subscription.
The FRIV catalog is very varied , and its mini-games are intended for all audiences. Most of them have very simple mechanics that you can learn in a matter of a few minutes, although that does not mean that the difficulty does not increase as you advance in their levels.
FRIV is financed with ads, although they are not too intrusive, so the website is quite safe for minors .
What does FRIV mean?
Good question. FRIV is an acronym or abbreviation for Free Online Games . This was what the old Flash-based game websites were called. Therefore, it is not a brand as such, but rather a concept .
Currently, many of these mini-games have ended up included in the friv.com platform, although it is not the only website that uploads this type of video game. There are also alternative websites and even illegitimate copies that circulate on the Internet and that try to illegally monetize these video games.
Unlike the original minigames, the FRIV titles are not programmed with Flash, but with more modern alternatives such as the Unreal Engine. This allows the games to work in modern browsers, without the risk of viruses and being compatible with all types of devices.
Still, not all FRIV games are classics. Many of the favorites are fairly recent creations. However, you will also find traditional games on this platform.
Websites offer FRIV games
Friv.com is one of the best-known portals for minigames of this type, but it's not the only one. Yes, it is true that the web offers a very safe , clean and well-worked ecosystem , but there are alternatives where you can also find exclusive games.
Another great alternative to FRIV is 1001juegos , which is a website very similar to FRIV itself, with games of all kinds separated into ten different categories. It also offers a safe platform for minors and has a huge catalog, where dozens and dozens of multiplayer titles stand out.
Best FRIV games to play
Here is a list of the best titles currently available.
Real City Driver
Choose a car and go through a city at your will in a completely three- dimensional environment . It is not the most realistic game in the world, but it is quite fun. You'll be able to do all kinds of stunts with the racing car just like in the custom levels of Grand Theft Auto V Online . You can play on the 1001juegos website .
Avengers Hydra Dash
If you are a fan of The Avengers , you will like this free game. It's an action game in which you'll have to use Captain America, Iron Man, and other Marvel characters to avoid danger and face enemies. Controlling the characters is really easy, and you'll get the hang of it in a matter of seconds if you've ever played a Metroidvania -style game . It is available on 1001games .
Demon Castle
If you're into Metroidvania and don't want to spend a penny on titles like Metroid , Hades , Ori or Hollow Knight , you can still rock the monkey with Demon Castle . Obviously, it is not at the level of all the titles that we have just mentioned, but it is very similar to the original 8-bit Castlevania , not so much visually as in terms of gameplay. If you want to try it, it's in the FRIV repository .
Geometry Dash
Modern, but already become a classic. Geometry Dash has versions for mobile, PC and almost any smart device. However, it also has its FRIV version on the geometrydash.io website.
If you don't know it, it's a very simple addictive platform game in which we will have to jump different obstacles to the rhythm of the music.
Blocky Snakes
The game is identical to Slither.io , which could also be part of this top, only better. Blocky Snakes takes the mechanics of that popular game, but gives it a slightly more three-dimensional perspective . And the thing does not stop there. The snakes are made with materials from Minecraft , to the point that you can replace your snake with a whole conga of characters from that video game. The control is very simple and it will not be difficult for you to crown yourself as the largest reptile in the entire room. Of course, your reign will have an expiration date: sooner or later, some little boy will get in your way and turn your entire empire to ashes. You can play this title on FRIV.
Coconut Monkey
This is one of the most popular games on the FRIV website . It is a fairly normal platform game , but with small levels that can become quite a challenge. The objective of the game is to collect bananas in a dangerous world full of spikes. Our ape will not always be able to jump to reach the banana, so he will have to use the coconuts to create his own platforms , jump on them and thus get the piece of fruit.
Endless Siege
It is a fairly simple turn- based strategy game where we will have to defend a castle in the purest Lord of the Rings style . You will have a limited budget in each round, and you will get coins as you defeat the orcs. For each round that passes, you will have access to new materials, but more enemies will also spawn. If a single orc reaches the doors of your castle, you will lose life, bringing the end of the game closer, this mechanic being a bit similar to that of Plants vs. zombie . The map is changing every day, so you will have to use your ingenuity to place the different pieces and improve your arsenal strategically. The game is available on the FRIV website .
Mitch and Titch: Forest Frolic
It's a fairly simple platform game , but with a rather peculiar style. The scenarios are small, but we will have to collect different gems using two different characters and then place them at the goal. You will find it in FRIV.
Moto X3M
This is also another of the most popular FRIV games, and it has several different versions . The original game has 22 different levels in which we will control a biker who has to reach the finish line in a certain time. The scenarios are big and you will have to perform some other pirouette to get rid of the dangers that he will find in his path.
Zombrotron 2
We close the top with another Metroidvania that you can find in FRIV. There are various Zombotron available on the platform, but this sequel is even more interesting than the first one. You will control a character that has ended up on a hostile planet full of zombies. You will have to shoot and sneak into different corridors to escape alive from said planet throughout many levels with increasing difficulty.