Although when we talk about drones most of us think of the typical models designed for leisure, the truth is that it is a sector that has grown tremendously in recent years. This means that today we can find different types depending on use and characteristics. Although we can find models that move on land or water, perhaps the most popular are those that fly. In this case, we can find very different models depending on their design and functionality. Fixed-wing drones are not the most popular, but they are very interesting for certain tasks. If you want to know much more about them, keep reading because we will tell you everything you need to know if you want to buy one.
By now everyone knows what a drone , UAV (Unmanned Aerial Vehicle) or UAV ( Unmanned Aerial Vehicle) is, which are the terms with which we can refer to this type of device. Now, the truth is that there are still some types that are not very well known.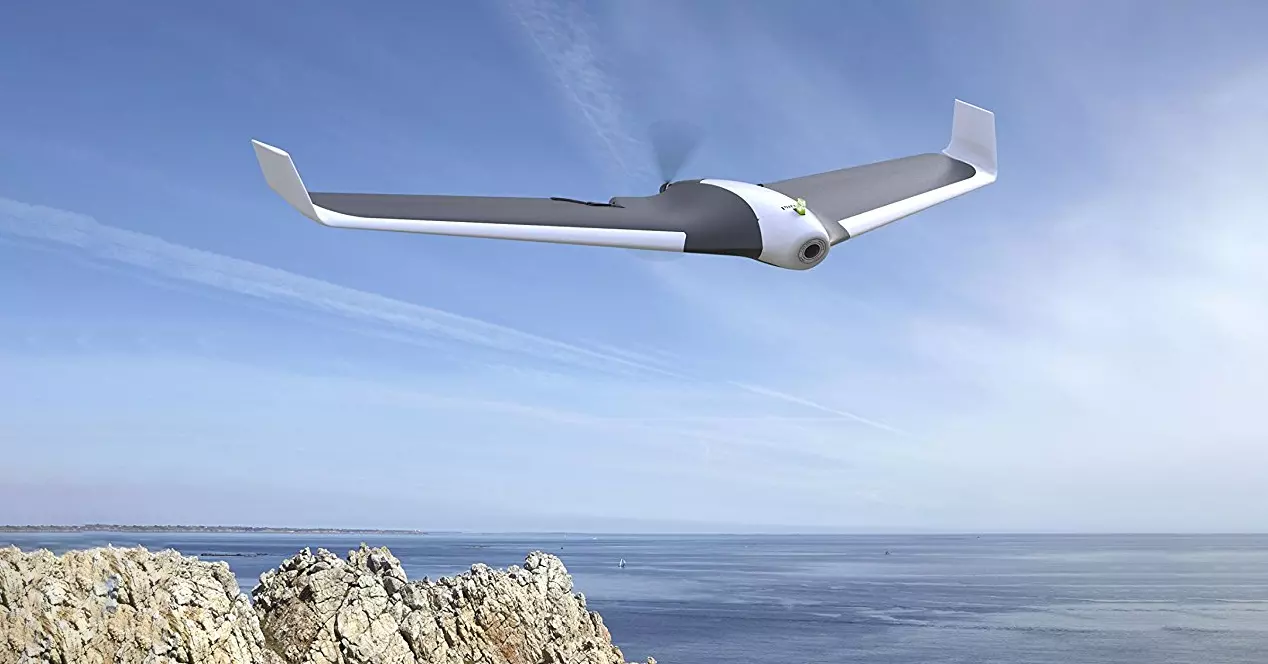 Types of drones
To get into the subject a bit, it is important to know that in a generic way we can classify them according to their use, the medium in which they move or even the control method used. That said, we can make the following classification:
through which they move
maritime.
Terrestrial.
Aerials.
Use or purpose
Leisure.
military use.
Professional.
control mode
Remote control.
Supervised.
Autonomous.
Aerial Drones
It goes without saying that aerials are one of the most popular types. In recent years they have become the ideal gift for children and adults and we have seen how they are used professionally to record videos or take photos and even in rescue and emergency tasks.
Within this type, we can make another classification according to its type of wing. And it is that there are fixed-wing drones and rotary-wing drones . The latter are the most popular, since they are used for the leisure of those who love this type of device.
However, the ones we are going to focus on now are the fixed-wing models. To give us an idea, these types of drones have a very similar design to radio-controlled planes, but their operation and the use given to one and the other differ quite a bit.
What is a fixed-wing drone, what are they used for and advantages
As their name suggests, they are those that are equipped with fixed wings, which do not rotate. Its better aerodynamics means that certain models can take advantage of air currents and their gliding ability to increase their flight time.
Regarding employment, it must be said that we find fixed-wing drones for leisure , although there are also models for professional use. This type is used today for surveying tasks, agriculture and mapping of difficult access terrain, etc.
Their autonomy is considerably greater than rotary wing drones and the models designed for professional use may include other very interesting features such as a high resolution and quality camera, being able to load the plane so that the flight can be carried out autonomously or even be able to control them remotely by means of a supervision system.
Among the main advantages offered by this type of drone, we must highlight:
Greater autonomy.
Good stability and aerodynamics.
Cover larger areas.
Safer recovery from a loss of engine power.
Within fixed-wing drones, we can establish a new internal classification according to the shape of the wing :
straight wing
Arrow shaped.
Delta wing.
Now, if we look at the use, we can find fixed-wing drones:
Acrobatics : Models specially designed to execute all kinds of acrobatics in the air.
Military : In this area we can find what is known as UCAV, which stands for Unmanned Combat Air Vehicle, or what comes to the same thing, unmanned combat aircraft. The military world has been using this type of drone for many years for many tasks.
Leisure : They are the most demanded, models for those who are passionate about the world of drones and even for children's use.
Professionals : Very different designs and capacities depending on the use that is going to be given to them.
Important features when buying one
Landing and take-off type : These fixed-wing drones usually take off manually or may need a take-off and landing runway that meets certain conditions. Therefore, it is essential that we review this information before purchasing one.
Construction material : We can find models made with all kinds of materials, consequently, depending on what we are going to use it for, it is best that it is made of a more or less resistant or heavy material.
Flight time : Although they usually offer greater autonomy than rotary-wing drones, it is undoubtedly a fact to take into account and that we must verify before buying it.
Extra equipment : We can find models equipped with cameras of greater or lesser quality, GPS, terrain mapping systems and even accessories for transporting objects.
Do I need a license?
The regulations that have to do with the flight of drones are quite complex. If what we want is to know if we need a license to fly a fixed-wing drone because it is one of our hobbies, then we tell you that it is not necessary to have a license. However, it is necessary to strictly adhere to a series of rules .
That is not a flight for professional use.
The drone must have a weight of less than 25 kg. Models between 250 gr and 25 kg do not require certificates or license plates.
It is not allowed to fly over areas where there is a large concentration of people
Flying near buildings is prohibited
It is mandatory to fly outside the airspace and more than eight kilometers from an airport
No risk to the safety of people
Cannot exceed 120 meters in height
We always have to have our drone in sight
Flights must be made far from urban areas
It is also not possible to fly on soccer fields or beaches if we are not authorized to do so.
Fixed-wing drones for leisure
Below we show you an interesting selection of various models for recreational or entertainment use with prices for all types of pockets.
advanced usage
Achko SWAN-K1
It is one of the fixed wing drones that allows a vertical start and landing. It allows to switch between two flight modes, said and multikopter flight and offers a handling without great complications compared to other models. It has a return button, it is equipped with a video transmission system, although it also admits the possibility of installing our own GoPro-type camera, and it is accompanied by a remote control with a 5.5-inch screen and Full HD resolution. Its price is around 1600 euros.
Advantages : Allows vertical takeoff and landing, return button and 45 minutes of autonomy.
Disadvantages : High price.
PARROT PF750001
This Parrot model is one of the fixed-wing drones with the best value for money. It is equipped with a camera that offers a resolution of 14 megapixels and is capable of recording video in Full HD. It also has GPS, automatic return button and is capable of flying at a speed of 80 km/h. The range of the signal is up to 200 m and it allows reaching an altitude of 150 meters. At the connectivity level, it is a model with WiFi and that has its own app for iOS and Android. The drone measures 115 x 58 x 12 cm and weighs 750 grams. Its price is approximately 550 euros .
Advantages : Good autonomy, GPS, high speed and integrated camera.
Disadvantages : It does not allow the installation of additional cameras.
Beginner
Ladyshow A160
Although it is a fixed-wing drone, its use and handling is the closest thing to a rotary-wing model. It has little autonomy, a fairly limited remote control distance, is powered by a brushless motor and comes with an easy-to-use remote control. A model designed for beginners that is priced at 177 euros.
Advantages : Cheaper price.
Disadvantages : Little range and quite reduced autonomy.
SM Sunni Mix XK A800
Also designed for those who are just starting out in this world, this SM SunniMix XK A800 drone has a modularized design that allows it to be easily transported and is quite light. It is made of EPO foam that makes it weigh little and, in turn, offer great structural resistance. Its dimensions are 78x53x13.3 cm and it has a 300 mAh battery. The price is only 115 euros.
Advantages : Modular, very affordable price, easy to transport and handle to do acrobatics.
Disadvantages : Little autonomy
The winner is…
Without a doubt, if what you are looking for is a fixed-wing drone with which you can enjoy a quality flight, the Parrot PF750001 is the best choice. It is a model with a robust body that offers great durability and is also equipped with WiFi connectivity and a 14- megapixel camera that allows us to capture photos and record videos in Full HD resolution.
One of the aspects to highlight is its great autonomy , since it reaches a flight time of up to 45 minutes. Its maximum speed is 80 km/h, it has a range of 2,000 meters and can climb up to 150 meters in altitude. As if that were not enough, it is equipped with GPS and an automatic return button so that, in the event that the return maneuver is complicated, the drone itself can carry it out automatically.