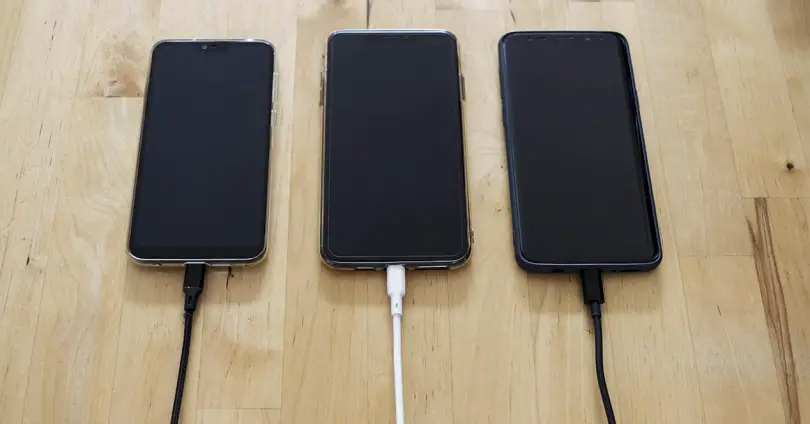 To this day, fast charging of mobiles has become the normality within all the range caps that we can find in the market. However, as we will see, there are different types that each brand usually uses for their mobile devices, and there can be quite a few differences between one and the other.
This technology appeared a few years ago and with the passage of time it has been gaining even more weight, not only in high-end terminals, but also in the mid-range. And it is already common to see how many smartphones reach the market with support for this type of recharge. However, there are differences between the types of rapid from each manufacturer, as we will show you later. In addition, the speed to fill the mobile battery to the maximum in less time is still a technology that is still under development , so it still has a lot of room for improvement. For this reason, it is important to know what types exist and what exactly it is.
What is fast charging
Basically, it is a technology that many terminals have today to be able to recharge faster than they did before. This means that, if your mobile took 2 hours to fill completely with a standard charge, using one that has this technology will take less time. Depending on the time, it may take an hour or an hour and a half. Even today there are different terminals that can be 100% completed in an hour or less.
What this technology does is increase the power in such a way that the battery is recharged with a much higher speed. To do this, the voltage (V) and the amperage (A) must be increased, or both at the same time, since each brand has opted for a different system for this. So, in short, the rapidity of the terminals causes a rise in the flow of current that is sent to the battery, making it fill with energy much faster.
However, the main problem with this type of recharging is that current batteries suffer greater stress when using it, and over time it is something that could even affect the operation of the mobile or the useful life of said battery. In addition, when it appeared, the possible overheating that could occur in some mobile devices was reported. Although, with the passage of time the experts have been improving and adjusting certain aspects to provide a correction and put an end to these problems that we have mentioned.
How to know what fast charge the mobile has
Although it has become widespread, there is still the possibility that many people do not know at all what it is and if their terminal has this technology. However, these characteristics usually appear in the specifications offered by the different manufacturers . So it is advisable to look at them and find out about this important detail because having one of the types of fast charging that we will mention later will mean a great time saving.
But, if in your case you did not take a good look or you simply forgot the recharge watts that your terminal has, do not worry, since there are different ways to find out. One of the first options is to look at the charger itself that comes with the terminal. In it you can check since it will show the one that the terminal has or the name of the technology that the brand of your mobile uses.
If you do not have the original charger, you can also see what type of charge you have on your mobile by accessing the settings of the same terminal. We will only have to enter the About Device section, which is usually found at the end of Settings. Once inside, one related to the battery will appear, inside we can see the power of the terminal, data that will help us identify the fast one. Although, other manufacturers have chosen to indicate the type of their devices in the Battery settings themselves .
Loading speeds, and loading time
10W
This was one of the first to appear on mobile devices, and it was found with the Quick Charge 1.0, which uses 5 V and 2 A to achieve a power of 10 W, in older Samsung terminals with micro USB connectors that had with its Adaptive Fast Charging and, also, in Huawei's SuperCharge. Being twice the standard, we will be able to significantly reduce the time to fill our terminal, although it will also depend on the mAh capacity of your battery.
18W
This power can be found in various manufacturers of both mobile phones and processors such as Qualcomm with its Quick Charge 2.0 / 3.0 / 4.0 , Samsung in its new terminals with USB-C, the Huawei SuperCharge or the MediaTek Pump Express. In addition, depending on the battery of our mobile, they can get it to recharge completely in just an hour and a half.
30W
This power can be found in the Pump Express 4.0 from MediaTek. For example, we could fill a 4,000 mAh battery in just over an hour , that is, to go from 0 to 100% energy we will need a little more than 60 minutes.
40W
With 40W of this technology, which we only find in Huawei's SuperCharge , it can provide us with a recharge of 90% of its total in just 30 minutes for a battery with 4,000 mAh.
65W
One of the mobile brands that can openly boast of this type of technology are the OPPO terminals. These devices have Super VOOC 2.0, one of the most advanced, which is capable of reaching 65W. Although it is also used by the Realme with the name of UltraDart and OnePlus, with Warp. So it would be capable of recharging 100% in 25 minutes a terminal that has a 4,000 mAh battery.
100W
One of the first to have this power was Xiaomi with its 100W Super Charge Turbo, although Samsung also has it came with its MM101. In addition, Qualcomm already presented, in 2020, Quick Charge 5 with a fast charge of 100W that promised to be able to complete 50% of the mobile battery in just 5 minutes.
However, they are not the fastest since ahead we find the Flash Charge of OPPO with a fast charge of 125W , which promises to fill the battery of a 4,000 mAh phone in just 20 minutes, and the Super FlashCharge of Vivo with 120W, reducing the time to complete a 4,000 mAh mobile to just 13 minutes.