When choosing a program to carry out spreadsheet tasks, we find two clearly more popular options, depending on whether we want a free or paid product. On the one hand, we find Excel belonging to the Microsoft Office suite, for a fee. While within the free options Google Sheets is positioned as the great alternative. And it is that Google Excel is not only used in the professional field, but also for domestic tasks.
The Google spreadsheet could be said to be the Excel of the search giant. Well, this proposal is able to cover the vast majority of the needs of a good part of the users who make use of it, both at a professional level and at a more domestic level. In addition, to all this we can add the fact that it supports work with complements that we can add additionally if we wish, which will also increase our versatility and productivity.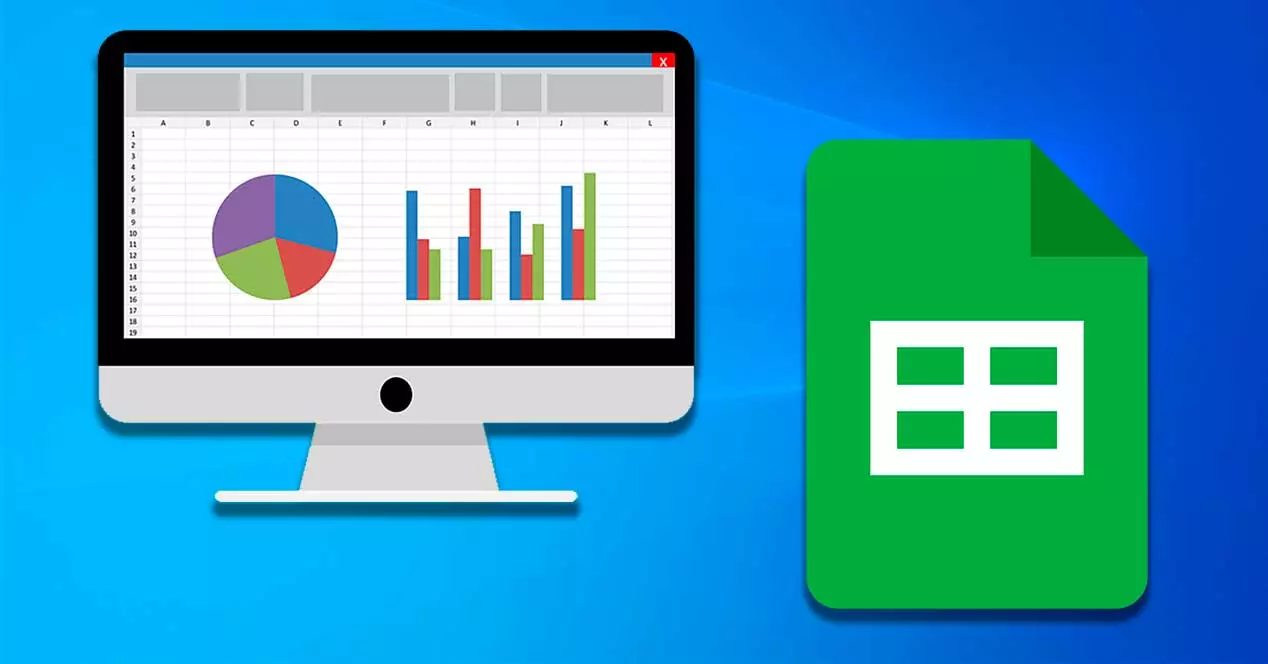 Add and remove Google Sheets plugins
Plugins are third-party extensions that add more features to your spreadsheets and provide additional functionality to the already powerful Google Sheets.
To do this we must click on the "Extensions" tab that is available in the Google Sheets toolbar. This will open a drop-down menu, where we select the "Plugins" and "Download plugins" option.
This will bring up a new window that will show us several add-in options for Google Excel. If we click on the button with three lines at the top left, a menu opens from where we can filter the add-ons that appear based on our needs. Here, we can find the most popular, the most installed, the best rated or organized by categories, whether it is tools for business, productivity, education, communication or public services. There is also a search engine , where we can find any complement, for example, the ones we are going to see today.
Once we select a particular option, another screen appears with a brief description of it and an "Install" button to add it to the Google Spreadsheet.
Once you select a particular option we will be asked to manage the permissions, so we click on the "Allow" option. Later the process of adding the extension ends there and we will have it available.
In order to access the plugins we simply have to click on the "Extensions" menu and in the drop-down menu, at the bottom, we will find the added extension. Similarly, to remove a plugin, all you need to do is select the Manage Plugins options in the same Extensions menu. This will open a window where the installed extensions are listed. Click on the three dots inside the extension and select "Uninstall" .
Best plugins for Google Excel
Next, we are going to see a series of essential Google Sheets add-ons that will help us work better with the spreadsheet. Although most of them are paid, they also have a trial version so that we can try them for free.
Template Gallery for Sheets, add a wide variety of templates
It is a complement that will help us to have, natively, a series of templates of various kinds to use in our work with Sheets. In this way they will save us a good amount of time by not having to start from scratch. Included here is a huge gallery of professionally designed templates, including calendars, schedules, invoices, time sheets, budgeting tools, letters, resumes, financial calculators, and more.
When we find a template that we want to use, just click the Copy to Google Drive button and the plugin will save a copy of the template in the root folder of our Google Drive. This plugin only requires the use of the Google Drive API to copy a spreadsheet or document template to our Google Drive. Therefore, it does not access, update or delete other documents, spreadsheets or folders in our Google Drive.
Power Tools, adds more functions and utilities to work
Another interesting add-on is Power Tools since it offers us a good number of additional features to use in Google Sheets. This includes both aesthetic functions, such as use, or improvement of the experience and daily work with the program.
Included are functions that take care of removing duplicates, comparing and querying sheets, importing ranges from multiple sheets, merging cells, finding and replacing data, adding and counting colored cells, generating numbers and other records. It also includes a text toolkit that allows us to change case, add and remove strings and characters, trim whitespace, and split text into columns.
Of course, we must bear in mind that, in this case, we are talking about a paid add-on, although we will have a 30-day free trial available when installing it.
Advanced Find and Replace, advanced find and replace options
In the event that we normally handle a large amount of data in this tool, another add-on that can be of great help to us is Advanced Find and Replace, an add-on that, as its name suggests, presents us with a series of advanced options for locating and replacing elements of all kinds: values, formulas, notes, links, etc.
We can use this simple plugin for advanced search in our Google spreadsheet. Thus, we will be able to find and replace text inside a formula, check hidden links behind the displayed text, search inside notes and search for values at the same time. It is possible to search and replace within a column by selecting the required range of data or by scanning the selected sheets. This plugin will show us the list of all found records organized by sheet and take you to any found cell with one click.
Likewise, given its large number of functions, we are facing a paid extension that has a free 30-day trial version.
Remove Duplicates for Sheets, find and remove duplicate data
Additionally, the plugin called Remove Duplicates for Sheets can also help us to eliminate duplicate data quickly and easily. Duplicates are automatically removed with distance correction and it helps us save time. We can search for duplicates in two columns, with no requirements for editing scripts, macros, formulas, or special coding. We can quickly find duplicate cells and rows in a table, or sheets to highlight, copy, transfer or delete data from the results.
It also has individual characteristics that give us a variety of steps to follow in the content of the sheet. Thus, we can highlight duplicate or unique data with our favorite color tone, delete rows/cells and move to another Google spreadsheet. We can also copy data to another spreadsheet and mark it as a duplicate column. Also, we will be able to combine cells and rows of duplicates using delimiters and estimate numbers from duplicate rows with many functions.
Table Styles, customization and design of tables
In case design is our thing or we need to take special care in the external appearance of the personal spreadsheets we create, we will surely appreciate the installation of the Table Styles plugin. This complement focuses precisely on increasing the customization and design capabilities of the jobs that we generate in the Google program.
This plugin allows us to quickly apply a professional and uniform look to our tables in Google Sheets. It has more than 50 preset styles divided into 6 groups. We simply need to select our data and use one of the predefined styles that are included in the plugin. Templates are very flexible to use, since they allow us to apply the format only to the elements of the table that we mark.
We can use this plugin for free for 30 days, after which you will need to pay to continue using it.