The Nintendo Switch is one of the best-selling video consoles on the current market , and it is not that we say so, but that, in the middle of 2022, it is the best-selling console of all Nintendo and that, since 2017, continues to stand up to the big consoles like PlayStation or Xbox. Of course, with renovations ahead such as the V2, the Lite and, the latest model, the OLED . It can work as a desktop (except the Lite), but also as a laptop, so there is always that extra danger, fearing that it will fall or hit on trips. Therefore, today we bring you one of the most complete guides with accessories.
And there are hundreds of accessories of all kinds for video consoles, but if possible, even more so for the Nintendo Switch, since it supports different game modes, controls, portability options, accessories such as the dock or joy-cons… As covers something so broad, we have prepared a guide and selection of the best models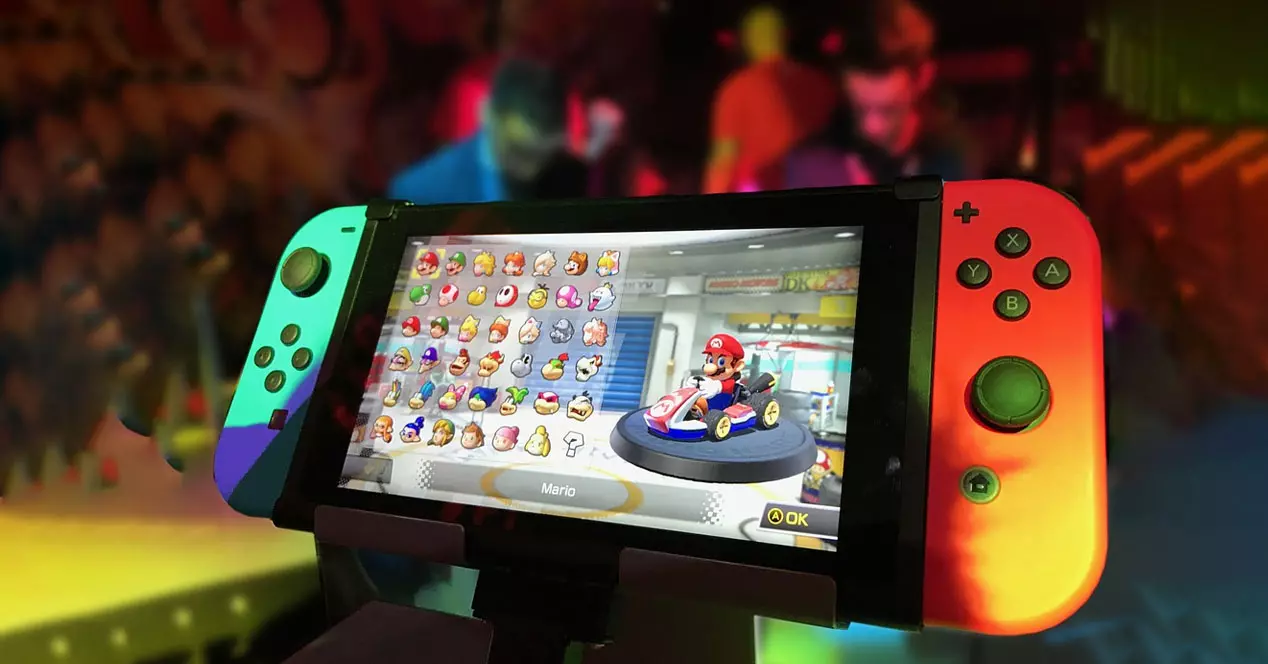 Nintendo Switch, Lite and OLED
Before starting with the list of accessories that we propose, you have to differentiate between the Nintendo Switch models that currently exist, since not all models have the same dimensions. We will put you under the title of each object for the model in question that is compatible, but keep in mind the following:
The Nintendo Switch is the original console, the one that came out in 2017. In 2019 it released a remodel, with a more efficient processor and more battery, under the name of V2. Actually, it's the same console with a different processor. In terms of size, the two models are exactly identical, measuring 102 mm x 239 mm x 13.9 mm and weighing 297 grams. The joy-cons are removable.
On the other hand, the next on the list is the Nintendo Switch Lite , a compact version of the first console, without removable joy-cons and with measurements of 91.1 x 208 x 139.9 mm, so you will have to pay close attention to what be compatible with 'Lite' and not normal model, or the accessories will be too big.
Finally, the OLED is the latest version that arrived in 2021. In principle, it has very similar measurements to the first model, but not the same, only the screen changes, while the size is the same, although with a smaller border. For this reason, nothing will happen in covers, but it will in screen protectors. In addition, it weighs a few grams more, up to 320.
Choosing good accessories for your Switch
Having seen the different types of consoles, you already know what you have to look at in that aspect. However, there are hundreds and hundreds of accessories to protect your console, improve the experience in different types of games, change joy-cons… That's why at Topes de Gama we have prepared an accessories guide for everything you need.
Before jumping into them, you have to take into account the types of accessories that exist, on the one hand, and what you should take into account when buying them.
As for game accessories , the Switch is one of the consoles that allows more versatility in this aspect, being able to make compatible hundreds of accessories such as steering wheels, specific for sports games, charging bases, small supports for controls… They will mainly be destined for the Switch (2019) and OLED, while the Lite does not have compatibility with the vast majority of them.

Screen savers . They are a fundamental part of the game console, since it is tactile. To avoid scratches with the continuous movement from one side to another, as well as its use with the touch mode, it is better to protect it well. They don't have to be tempered glass.
Shells. They are always worn, they are ideal to play in portable mode, in case you drop them. We find them made of all kinds of materials such as TPU or flexible plastic, although the latter are the best, since they will better absorb the impact in the event of a fall.
covers. They are a great option to transport the Nintendo Switch and a few games or small accessories, but in favor of their portability you will lose space to carry other larger accessories. Ideal to store it day after day or short trips.
Cases . The cases are designed for long trips in which you need to carry all the material, literally. We are talking about the dock, the controls, all the cables, games… They are much larger than the cover and are usually protected with compartments.

Peripherals also play an important role, such as:

Headphones . We find two types of headphones, those with cable or 3.5mm jack and those that are completely wireless. With the latest update of the Switch, support for Bluetooth devices, including wireless headphones, was activated without the need for an adapter.
Controls or joy-cons. Is not the same! Remember that the joy-cons are attached to the Switch to play in portable mode, and there are cheaper and equally functional models in case you have suffered the famous 'drift' (when the controller starts to fail and moves on its own), while the controls are used to play remotely, with the console mainly in desktop mode.
Maximum protection: cases, covers, cases, protectors
As we mentioned at the beginning, in this selection we will include all kinds of cases, covers, cases and protectors for your Switch.
Switch Lite Case
Compatible with : Nintendo Switch Lite
One of the best cases to protect your Nintendo Switch Lite, only compatible for that model. It will give a better feeling of comfort to your console, since it has a very soft touch, and two protruding grips for better ergonomics of the hand, which is appreciated. It is yellow, but there are several more models to choose from to match your Switch.
In the back part it includes an opening to place a support and play in portable-table mode, as well as some grips for the joy sticks. The price of this case is about 15 euros on Amazon.
Case compatible with large models
Compatible with : Nintendo Switch (2019) and OLED
A case this time compatible with the largest models of the Japanese console. From the HeyStop brand, this case is made of flexible TPU, which will absorb the shock in the event of a fall. It is the number 1 best seller on Amazon, and it comes in two parts; one to protect the joy-cons and one to protect the console screen. The positive part is that it is so thin that it is compatible with the dock.
It 's ultra-slim and easy to take off and put on , but you won't need to because it allows you to attach it to the dock. In the event that you want to play without the joy-cons, you can take them out and also independently protected . It has a price of about 14 euros.
Heystop cover
Compatible with : Nintendo Switch (2019) and OLED
In case you want to carry your case daily, this case will do the job comfortably. It is a pack that also includes protectors and covers , but what interests us most is the cover, black, basic, without much weight, ideal for transporting your console (only Switch and OLED) wherever you want. You can choose several colors in the link that we put below, in addition to the fact that it has a very suitable price: only 19 euros.
PowerA cover
Compatible with : Nintendo Switch Lite
Are you looking for something thin and that does not take up too much space ? This PowerA case for Nintendo Switch is the best we can find on the market in terms of mobility and weight . Despite being slim, the outer shell is slim and solid, with a rubberized casing and sturdy zippers. Inside, it has a plush lining and a zippered storage grid. Very useful!
Fivoler travel case
Compatible with : Nintendo Switch and OLED
Hard case lined with Oxford cloth that provides great resistance and protection for the console. The interior is cut foam with different compartments to perfectly fit the console, controller, charger, base, etc. In the lid it has several compartments to get several cartridges with games in a completely organized way. The closure is with a durable zipper and has a handle to carry it comfortably anywhere.
Terbse Case
Compatible with : Nintendo Switch and OLED
Travel case compatible with Nintendo Switch personalized with the typical red and blue colors of the console. It offers a large storage capacity with holes specially designed for the console, controller, charger, base and other compartments to store certain accessories such as memory cards, etc. Made of highly resistant material and zipper.
Switch Screen Protector
Compatible with : Nintendo Switch and OLED
Protecting your screen is important, and even more so when we talk about a game console that is constantly moving and rattling, and that is also tactile. For this reason, a simple screen protector will avoid unpleasantness and you will avoid scratching it. This protector is a tempered glass, with a 2.5D edge and 9H hardness , that is, it is scratch resistant, and guarantees a bubble-free installation.
In addition, it is ultra-thin, with protection for the oleophobic screen ( ideal for the OLED version ) and with round contours. It also has a good precision to be able to write without noticing that it is on, and it does not affect the screen. It only costs 7 euros.
Switch Lite Screen Protector
Compatible with : Nintendo Switch Lite
And if you have the Lite version, what better than this protector, one of Amazon's best sellers and that will guarantee good screen protection. This in particular is also a tempered glass, with a 9H hardness and a thickness of 0.3 mm, ultra transparent and thin. It is anti- scratch and anti-fingerprint, ideal for playing in touch mode too.
Its price on Amazon is only 6 euros.
game accessories
As you know, the Switch is a great entertainment center: you will be able to play hundreds of games that require mobility, with their respective accessories , and now even more so with the arrival of Nintendo Switch Sports, let's see some of the best packs to complement:
All-in-1 Bundle
Compatible with : Nintendo Switch and OLED
This is the best possible pack for transport, protection accessories and play. Includes all the essential accessories for any of your Switches, including a carrying case , screen protectors, grips for the joy-cons, two steering wheels ideal for playing Mario Kart, a USB charging base for the Pro Controller and for the Joy-Cons , a portable stand, a game case, headphones, USB type C cable and a Stylus to be able to draw or write on the screen of your Switch.
It is ideal if you are looking for a starter pack to have everything covered . In addition, you can find it for a cheap price of about 50 euros on Amazon.
Action game accessories
As we have mentioned before, the arrival of the new Nintendo Switch Sports game revives the famous Wii Sports , the most active sports game for Nintendo par excellence. There are hundreds of activities to do: tennis, badminton, football… And what better way to have fun than with accessories that pretend to be practicing that sport, whether held on the wrist, with a tennis racket or even a shuttlecock.
Includes 4 cool switch dance bracelets for Just Dance and Zumba Burn it Up!, 4 tennis and badminton rackets, 4 steering wheels for Mario Kart 8 Deluxe , ergonomic controller grips, and more. No one better than you to know if you need it or not, as you can see in the image above.
steering wheel and grip
Finally, and although we have already included a few wheels in this pack, if you want something more professional that includes better ergonomics and a grip, these are the ones you need. It is a pack of 4: with joy-con and grip. It even has a built-in visual indicator panel and oversized buttons, plus a nice spring.
You will have a great time in the best Mario Kart races, very simple to use, simply inserting the joy-cons in any of the two controls or steering wheels, with a compact size and durable material made of ABS. Its price is around 27 euros on Amazon .
gaming peripherals
We come to the final stretch of this guide with some of the best peripherals essential for gaming , such as headphones (in-ear, headband or cable), as well as a controller or the perfect substitutes for your Switch joy-cons. It has separate volume control, microphone mute and multifunction button.
JBL in-ear headphones
The Nintendo Switch has a 3.5mm jack connection, and these from JBL are an excellent option at a great price to enjoy a much more immersive sound. It has 8.6 mm drivers with QuantumSound ideal for receiving even the smallest detail during those frenetic and interesting games of Zelda or any Mario.
The earbuds are made with Twistlock for long-term comfort and stability, plus flexible silicone for either ear. JBL highlights in all its headphones the powerful bass ideal for capturing the most striking details in the best possible way. Its price is about 25 euros.
Orzly Wired Headphones
If you are looking for something much more 'gaming' and with that Switch touch, these are ideal as they have neon colors just like the Switch joy-cons. They are from the Orzly brand , with an integrated microphone and fully compatible with any model of the Switch. In addition, it has active noise cancellation to reduce ambient noise and be heard better during games, with a 120-degree rotation.
They only weigh 360 grams, so you won't notice them on your head. It has volume controls, on and off switch, plus LED lights, gaming to the fullest ! Its price is not expensive at all, being able to do with them for 25 euros.
EPOS Wireless Headphones
Finally, in headphones, completely wireless and in-ear . Taking advantage of the update of the console that allows you to add Bluetooth devices, with these you will be more than enough. They are hybrids, designed for gaming, with a Bluetooth and USB type C connection through a dongle that could be connected to the base. They have active noise cancellation and IPX 5 water resistance.
They are capable of offering up to 20 hours of autonomy alternating them with the charging case, and offer exceptional sound quality, with surround sound and multi-platform compatibility. The bass and their great acoustic clarity stand out. You can get them for about 150 euros, and use them for your mobile and even computer!
SwitchProController
Of course, this selection of products and peripherals could not miss the official Switch controller to play in desktop mode: the Switch Pro Controller . It is one of the best controls on the market, with incredible ergonomics and comparable to those of the PlayStation and even Xbox . Avoid the awkwardness of joy-cons and give your hands a break with this lightweight, comfortable controller that you'll appreciate playing with.
It has controllers, a crosshead, a main button panel like the rest of the game console controls , adjustment and auxiliary access buttons, as well as NFC for Amiibos right in the center. It is ideal for games that require a lot of movement and thus not damage the joy-cons over time. Its price is usually around 65 euros.
Spare Joy-Cons
The famous Joy-Cons of the Nintendo Switch suffer from a common problem: over the years and with use, the famous 'drift' ends up appearing , which causes the controller board to fail and they begin to move on their own, which which makes it impossible to play. If you are looking for a replacement for these, you can find them at PcComponentes, being exactly the original ones, and available in various colors. Although if you want to change we offer you this blue and yellow model. Dock and go!
hori controller
Finally, if what you want is something much more ergonomic and different from the Joy-Cons, you can attach this Hori controller. They attach in the same way as joy-cons, but their base is much larger, making it easier to grip, ergonomics and play. They are officially licensed by Nintendo, and are very similar to the Switch Pro Controller.
The layout of the button panel is practically identical to the joy-cons, but with the exception that it is larger, with a turbo function with 3 different settings between 5, 10 and 20 pulses. The positive part is that, in addition to being comfortable, they are cheaper than the joy-cons themselves: only 50 euros.
The recommendation
At this point, if you ask us about the model that we would keep from this selection, without a doubt, something essential is the Switch Pro Controller . Playing in handheld mode is fine, but if you want to detach the Joy-Cons it will be quite awkward to play on the couch with them. And since we don't like the original Joy-Cons too much for their drift, Hori's controller is also one of our picks, along with a good case like PowerA 's for the Switch Lite and a case like Terbse 's for the largest version of the game console.