Microsoft has made a strong commitment to Edge, the web browser that came as a natural substitute for Internet Explorer and is struggling to position itself as one of the most popular options. Among its features, it is found that it is based on Chromium and is compatible with a large number of extensions with which to increase its functionalities. These add-ons can help us to organize and be aware of all the news that happens throughout the day along with the information and weather forecast.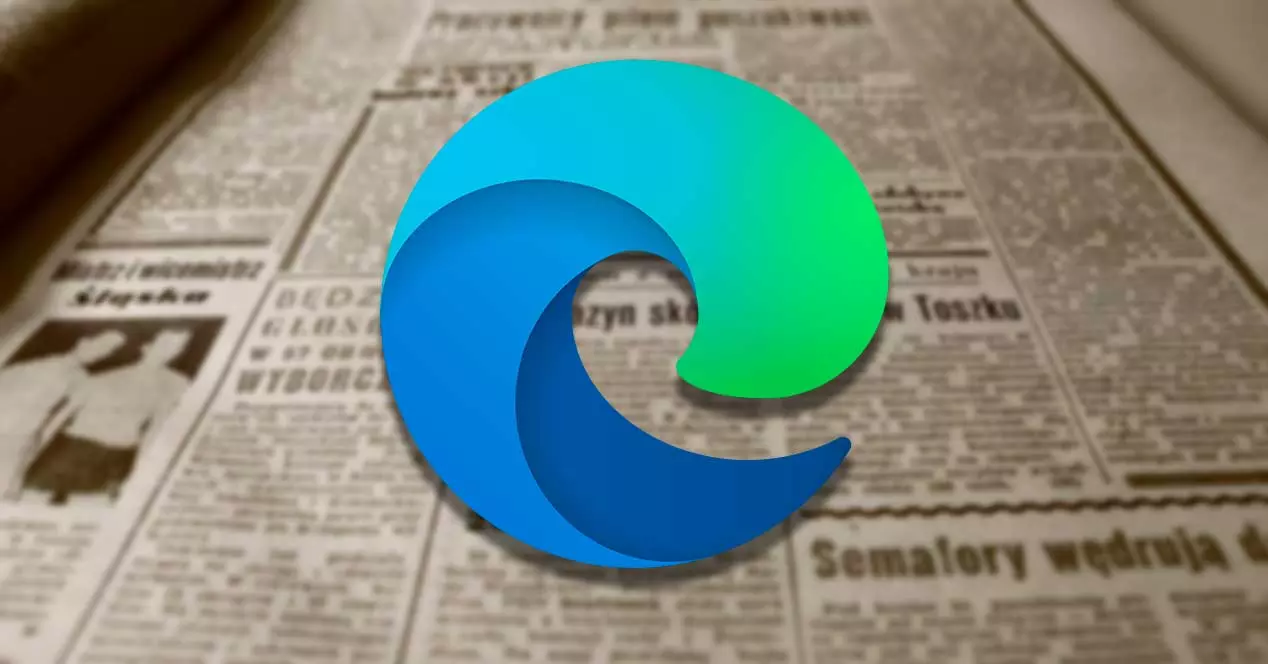 And it is that the Internet has currently become the main source to be able to be informed almost instantly of any event that occurs. That is why we are likely to use Edge to stay on top of current affairs. To avoid having to go from web to web reading news, we can make use of extensions that allow us to manage them, so that we can group all those that appear in the media that interest us the most and have them available from a single place.
Plugins to always be informed
These add-ons for Edge will allow us to always be informed of the news that most interests us directly from the browser.
The News Tab, customize your RSS feeds
We are talking about an extension for Edge through which we can see the latest news that we want to see to always be informed while browsing the Internet. This is inspired by the new Edge tab page and the Microsoft news page, but it also allows us to customize and choose which RSS feeds we want to see without showing unrelated ads .
Among its features, it is worth highlighting the possibility of carrying out searches on Google, adding and deleting RSS feeds and configuring the number of articles that appear. Although it is in English, it is easily configurable, being able to choose the maximum number of publications that appear, the feed update frequency, as well as the search engine.
We can install The News Tab from the Edge plugins page .
Feeder, follow all your news from one place
It is an extension that can become the easiest way to follow all the news that interests us from our favorite websites and blogs, being able to almost automatically see all the publications that are added to our news feeds . It is possible to easily subscribe to new sources by simply clicking on the icon that appears in our browser and manage all our feeds from it.
Through the use of its contextual menu, which we access by clicking the right button on the pop-up windows, we can mark everything as read, as well as export our feeds , in case we want to save it or later export it to other computers. All our posts can be organized through the use of folders and it allows us to choose between a light or dark theme so that we can choose the one that best suits our environment. In addition, it has a paid version that allows us to receive notifications on our mobile.
We can download and install Feeder from the Microsoft Store.
Feedbro, with different display modes
We are talking about an independent and complete news reader (RSS, Atom, RDF) for which no online service is necessary. It is compatible with social media plugins integrated into YouTube, Facebook, Twitter, Instagram, LinkedIn, among others. It is fast and has several view modes like full view, headline view, headline and subhead, newspaper view or magazine view.
It also allows us to convert partially displayed feeds to full articles thanks to its built-in readability conversion engine. This allows us to define rules for filtering, edge highlighting, auto-marking, tagging, hiding, and highlighting articles with regular expressions. Also, they support desktop notifications and sound effects.
We can install Feedbro for free and keep all our news sources organized.
Inoreader RSS Reader Extension, gather your news in one place
By using this plugin for Edge we will be able to subscribe to RSS feeds, blogs, podcasts, Twitter and Facebook searches, and even email newsletters. We will be able to receive all our news without filtering or filtering it to our liking, increasing our productivity without having to leave our current tab.
Among the features of this extension we can highlight that it allows us to control the number of unread articles with its counter, view our updated subscriptions with a click and subscribe to RSS feeds or save pages while browsing. It also informs us whenever RSS feeds are detected on the site to update. It also has a Pro version that increases its functionality to a new level.
Install the RSS Reader Extension from the Microsoft Store .
Addons to know the weather forecast
These plugins for Edge will allow us to know and be aware of all the weather information from our browser.
Weather, know the weather of the next 7 days
This extension provides us with a direct way of knowing all the weather information from the browser, showing us the forecasts in real time, by the hour and for the next 7 days. Its icon updates automatically to the current temperature and has support for different languages, including Spanish.
Among its features, it should be noted that it has a geolocation system, the possibility of showing multiple locations, animated icons, precipitation alerts, establishing personalized locations both by address and zip code, and receiving weather alerts with precise forecasts. Also, it displays the temperature in either Fahrenheit or Celsius and is very easy to use.
Download Weather for free and always stay informed about the weather.
Weather Forecast, check the weather anywhere
By using this plugin we will be able to check the weather anywhere in the world, in real time and directly from the browser. For this, it allows us to install a direct access to World Weather, one of the most complete platforms to consult all the weather forecast from the browser, to the right of the address bar.
The extension automatically shows the weather forecasts for our current location , which we can change by entering the name of the city, so that we can get the forecasts for any city in the world and allowing us to configure whether the temperature is displayed in degrees Fahrenheit or Celsius. .
To know the weather situation at all times from Edge, we only have to install Weather Forecast .
Weather Alerts, weather alert notices
We are now talking about an extension that will be in charge of showing us descriptive weather alerts in real time provided by official meteorological agencies and governments. That is why it is an especially useful application if we work outdoors and under any threat of weather.
The extension shows us different types of alerts such as storm surge, hurricane and tropical storm warnings. We will also receive warnings in case of floods, cold and wind. Likewise, it also informs us of air quality, fires and the space weather declaration.
Install Weather Alerts from the Edge Add-on Store .
Time, simple but useful
It is a fast and simple extension, specially designed so that we can know the current weather and temperature just by looking at its icon that is placed to the right of the address bar. In this way we will get all the weather information of our current location, as well as for the days to come.
It stands out for having a fairly clean and easy-to-use interface , so that there is nothing that can distract us from the most important thing, which is knowing all the weather information, both in our city and in any other destination that we need to know. This is something that we can know in a minimalist way or use more detailed information with all the data exposed in a broader way.
We can download the El Tiempo extension from the Edge Store.