Managing iPhone storage is a fundamental point that most users have to do from time to time. Therefore, in this post we bring you a great compilation of applications that will allow you to manage duplicate contacts, to be able to eliminate them and thus free up space on your iPhone easily and comfortably.
Is an app necessary to clean contacts?
Surely many users will wonder if it is really necessary to have to resort to a third-party application to eliminate duplicate contacts and the reality is that it is. The reason for this is that the iPhone does not have any native tool to be able to identify the duplicate contacts that you have stored in it and delete them.
For this reason, it seems practically essential to use one of the applications that we are going to talk about in this post, since otherwise you would have to manually check each and every one of the stored contacts and delete them one by one, a task for which you will surely have to invest a lot of time and that you can really do in just a few seconds thanks to these applications.
Apps that allow you to do it for free
Within the App Store there are always applications to carry out practically any task you can imagine. However, within the same category or type of application there are always two well differentiated groups, on the one hand there are the paid applications or those that inside offer premium functions for which you have to go through the box, and on the other there are the applications free, which are just why we are going to start talking about.
Clean Master – Phone Cleaner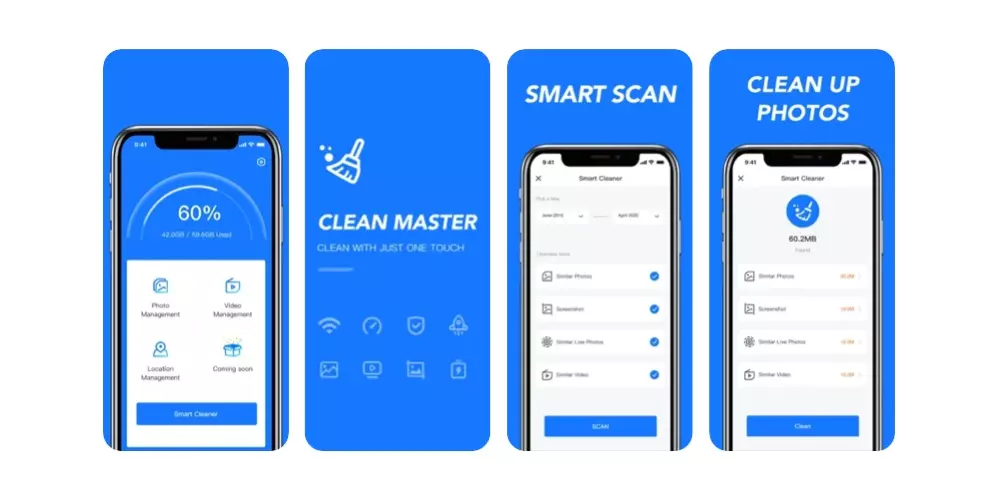 We start with one of the few quality free alternatives that you can find in the App Store to be able to free up space on your iPhone by eliminating duplicate contacts. It may seem unimportant but without a doubt, for a device that has little storage capacity, every detail counts, and if in your case you discover that perhaps the amount of storage occupied was not as small as you thought, it will be great to have this application .
In addition, this application not only focuses on identifying and eliminating duplicate contacts, but it can do exactly the same with the film of your iPhone, that is, with the photos that you have stored inside your device. This is another of the ways through which all iPhone storage is usually used, and with Clean Master you can find a solution.
Super Cleaner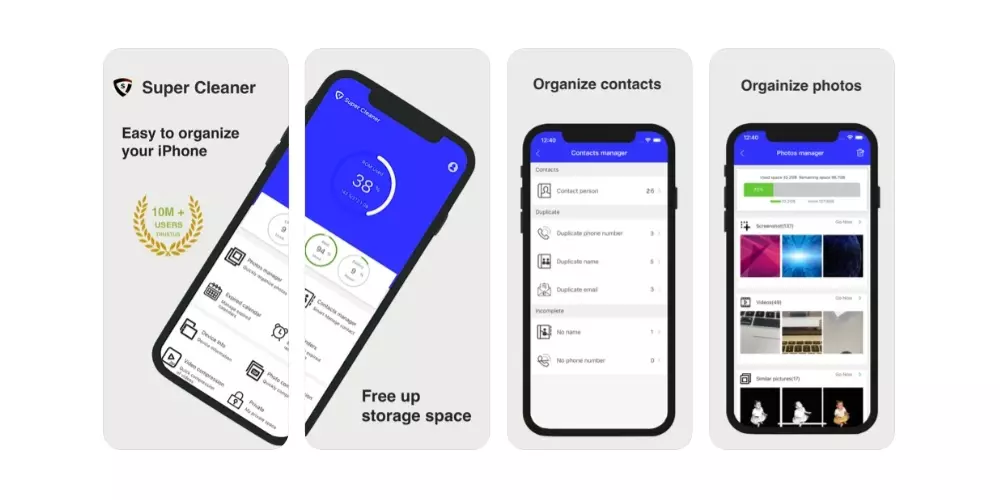 Another fantastic alternative that is also capable of offering all its functions completely free of charge is Super Cleaner. This application will give you the perfect way to easily organize all your contacts, photos, videos, calendars and reminders, that is, not only will you be able to have all your contacts controlled, but you will also be able to manage everything that makes the storage your iPhone is depleted.
It has an intelligent organization that automatically identifies the garbage that you have to eliminate in order to free up storage space. In addition, it is not only capable of identifying duplicate contacts and photos or videos, but you can also delete them directly. You may wonder, what happens if I delete something by mistake? Well, nothing because this application also has a recovery mode.
Cleaner Pro
Without a doubt, picking up the iPhone and checking all the contacts stored within it one by one is a very tedious and undoubtedly boring task. That is why it is so important to have an application that is capable of doing all this work in just a few seconds and, above all, that it is capable of doing it effectively.
With Cleaner Pro you have at your disposal a series of actions that will be great for you to manage all your contacts. In the first place, you can delete all duplicate contacts very easily, but you also have the possibility of merging duplicate contacts, eliminating those that do not have a name or phone number, and of course, finding the contacts you need in just a few seconds.
Paid apps, but with extra features
We have already told you about two fantastic free applications to be able to free up space on your iPhone by deleting duplicate contacts. Now it is the turn of the paid applications, which in this case you will be able to download all of them completely free of charge, but within them it has premium functions for which you will have to pay if you really want to use them.
Smart Cleaner
If you want the task of freeing up space on your iPhone to be comfortable and simple, without a doubt Smart Cleaner will help you with it and will provide you with all the tools you need to first be able to really eliminate everything that you do not want to keep inside the iPhone, and second, to do it in just a few seconds.
With this application you can easily identify all your duplicate contacts and delete them in just a few steps, but in addition, you can also delete all duplicate photos and videos at once, something that together with the elimination of duplicate contacts will free up a lot of space on your iPhone. It also has a powerful search engine to be able to specify much more the type of file you are looking for to be able to delete it later.
Delete Contacts +
In that case we are talking about one of the applications to eliminate duplicate contacts that has more and better ratings and reviews within the App Store, so it removes all doubts that it is one of the best alternatives you can find, among others. things due to the large number of functions it offers to the user.
You will be able to delete all duplicate contacts in one go, without having to go one by one or in batches, as can happen with other similar applications, it also offers the possibility of making backup copies of your contacts as well as finding contacts without names. Without any doubt it is one of the most complete applications to be able to manage your contacts effectively.
Contact Cleanup
Do you want to delete duplicate contacts with ease and comfort? Well, this is the application you were looking for and that will allow you to do all of this in a totally intuitive way. With just one click, you can delete all the duplicate contacts that are inside your iPhone, with the peace of mind that later, you can undo the changes made.
It also has another series of functions that are very useful if you want to properly manage your contacts. You can combine contacts with duplicate phones, in the same way with emails, merge them, find contacts without a name or without a phone number, in short, it has everything you need to have all your contacts well organized and controlled.
Cleaner
We could say that in this case we have already told you about this application since we can consider it the sister of Cleaner Pro, only in this case, as you can see within it, you will find some functions for which you will have to pay to be able to use them . This function consists of an annual subscription that will allow you to restore all your contacts whenever you want on all the devices you need.
This app is available in up to 15 different languages, offering fantastic tools to be able to manage all your contacts easily and comfortably. You will be able to find and merge all duplicate contacts, as well as delete all those that are without a name or even without a phone number. All this with just a few taps, the same ones you need to make a backup of your contacts.
Fast Cleaner – Super Cleaner
On many occasions, doing a good cleaning of duplicate contacts is not enough to be able to eliminate and free up space inside the iPhone, therefore this application, in addition to giving you enough tools to be able to eliminate duplicate contacts, also provides you with the opportunity to carry out an effective management of your Photographs.
You will be able to clean both your contacts and your photos through the powerful search engine that finds both the contacts and the duplicate images that you have on the roll of your iPhone. It is also capable of combining duplicate contacts by name, phone number or email, as well as deleting contacts that are incomplete. In addition, this app offers several widgets that you can include on the screen of your device.
Hyper Cleaner – Clean Phone
Of course, if you want to do a good facelift of your iPhone, with Hype Cleaner you can do that and many more very interesting actions. First of all, we must highlight the possibility of being able to delete both contacts and duplicate images within your iPhone, something that as you know will free up storage.
But that's not all you can do with this app, since it also gives you the ability to hide photos and videos in a secret place on your iPhone, create passwords to access those photos, or use its search engine to find both a photo specific contact or a specific contact you need.
Simpler – Contacts Manager
If your iPhone contact book is a real disaster, Simpler has come to help you manage it in the best possible way thanks to the large number of tools that it will provide you with to do so. Having the contacts well organized is vital to be able to access them whenever you need it, but in addition, having them well organized will allow you on many occasions to free up storage space on your iPhone.
With this application you will be able to merge duplicate contacts with a single touch since it has a powerful search engine that will be able to give you all the duplicates in just a few seconds. You can create contact groups, as well as send messages to contact groups instantly, you can even share these groups with your family and friends.
These are the best options
As we usually do in all applications compilations, from the editorial team we want to tell you which are the applications that have caught our attention the most. Obviously this is our personal opinion, which does not have to coincide with yours since each user may have completely different needs.
If we start with free applications, the one that convinces us the most due to the large number of functions it has is Cleaner Pro, since it offers everything a user needs to manage their contacts correctly. Looking now at the apps that contain purchases within them, the most appropriate option, in our view, is Smart Cleaner since it not only allows you to properly manage your contacts but also your photographs, which becomes an ideal combo to be able to free up space on the iPhone.