QR codes have never been as fashionable as they are now, and it is clear that, with current phones, we can get more out of them. Basically, because they are capable of linking to practically any type of content. And not only this, but to use them is as easy as opening the camera of a mobile phone and scanning it. It's that simple. For this reason, it is time that you can create them on your own and, the best
It doesn't matter if you have an iPhone or an Android mobile, and it is that in both operating systems we find the necessary tools so that we can get to design them on our own without the help of anyone. Well, in some cases we will use apps outside the terminal's own software. Although, in any case, we will always explain how to do it directly from a phone. So you should not have a PC or other device at hand.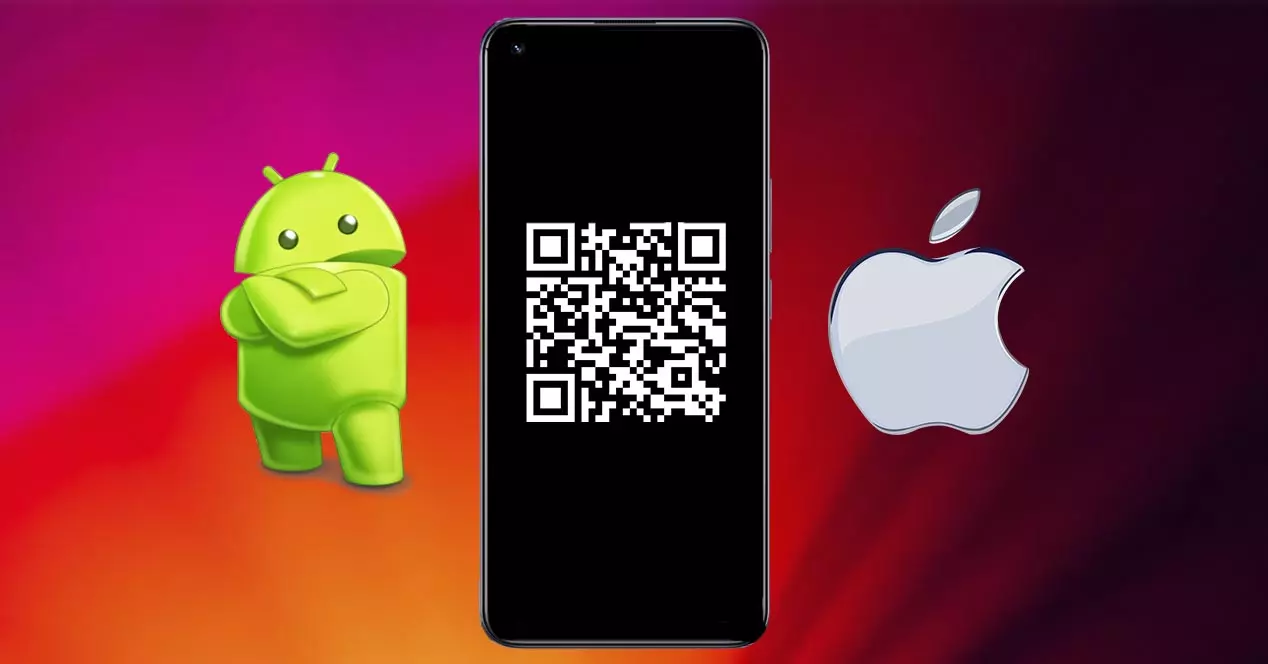 default functions
It is clear, obviously, that we will always be looking for a way to do it natively with an Android or iPhone mobile without having to download an application or resort to web pages to achieve it. However, we have already warned you that our options on Android are a bit short, but we will see how to do it. In the case of iOS, it will offer us a tool capable of achieving it without the help of third parties.
on Android
In Android we cannot create a QR code and customize it to the maximum, something that we can achieve with an iPhone mobile natively. Instead, we will be lucky enough to generate it to share Wi-Fi. If you don't know how, the truth is that it is as easy as entering the Settings and following a series of steps that we will give you below:
Open your phone settings.
Tap on the ' Networks and Internet ' option or section.
Once inside, we choose 'Wi-Fi '.
Select the connection you have saved on your smartphone.
Choose the ' Share ' option.
Confirm by entering your PIN or fingerprint.
Once these steps have been followed, a QR will be generated so that we can give the key to our Internet to another person. To do this, it will be as easy as scanning the code with your mobile camera, it's that simple. But, as we told you before, we cannot create a QR code to share any other personal details such as email or phone. If we want to go further, we will already have to need the help of a third-party app or even a specialized website.
on iOS
However, at this point the iPhone has some advantage , since they are capable of giving other functions to the QR codes they create. To do this, we will make use of the function known as Shortcuts . It will be easy to find it, you just have to write its name in the app search engine of your Apple phone. In addition, this software tool that is included in iOS will also allow us to customize the code that we generate to be able to share what we want.
When you are inside this software, click on the '+' that appears in the upper right corner of the app.
Next, give the shortcut a name (we called it Create QR ).
Next, choose an icon (preferably the QR icon as you can see in the following image).
Then, tap on Add action and in the Find apps and actions bar type Generate.
Select the QR code option .
Now look for Share and click on the function that comes up.
Within 'Generate QR code from' you must enter what you want to link to, such as a URL, an application, etc.
Once you say ' Hey Siri. Create QR ' a menu will be displayed that will tell you that there is a PNG image, so you must click on Save image.
Finally, to be able to see it, you must enter Photos . And that's it, there you will have the one you just created with your Apple mobile.
with a website
The simplest and easiest way that we can generate the QR that we want from an Android or iOS mobile will be by going to one of the different websites that we find on the Internet. With them, we will have it within our reach and at any time. We just have to enter one of the pages and start creating these codes from scratch.
In our case, we have opted to use the QR Code Generator website. Once you have entered that page, we will see how it offers us different options, since when scanning it they access a URL, an SMS, PDF, images, etc. Here it will depend on what we want to link to once they read the code with the phone's camera:
After choosing the option, you must fill in the field that asks us.
Then, it will be time to press the Download option that will appear in green.
When we have already decided, it will be time to touch the green button that we told you about earlier.
After a few seconds, we will have downloaded the QR that we have just designed.
Although, before finishing it completely, we will also find a section on the right where we can select if we want it to have a frame, as well as the option to create a JPG or a vector file . We can even choose to choose a shape and color, in addition to the logo that it will finally have. However, for these functions we will need to be registered on the web. So this will depend on you and how much we want to personalize the QR code that we have created from the mobile phone. After finishing it, we can send it using any messaging application or we can print it, save it in the gallery, send it by email, etc.
This website will be as simple or more than the previous option. Once we enter its page, it first tells us what we should do, that is, we will have to enter the URL to generate the code . Therefore, it will only serve us to share those documents, videos, photos, apps, that we upload to the Internet. In any case, it will be good to use this online tool. And, for this, these will be the steps that we must follow:
In the ' URL ' tab put the link of the website you want to share.
Choose the size you want it to be.
In the ' Redundancy ' option, choose the medium (the higher the level, the more security you will have, but the weight of the QR will increase).
When you select everything, click on ' Generate QR code '.
The last online tool that we bring you is called QRCode Monkey . In addition, it works in a similar way as the other two examples that we have explained to you previously. But, so that you do not have doubts during the creation process, we will give you all the steps that you must follow. And it is that, in this way, you will be able to create all the ones you want from your Android or iPhone :
Access the web and enter the link in the ' Your URL ' tab.
You can choose the colors, add a logo image and customize the design.
When you finish customizing it, you should tap on the ' Create QR code ' tab.
You can also download it PNG to save it on your smartphone.
From an app
Another of the easiest options and that we have more within our reach without surfing the net will be using one of the different applications that we can find in the Google or Apple app stores. For this reason, we bring you two options, one for Android phones and one for iPhone . In addition, the best thing about these tools is that, in just a few clicks, we will be able to generate a QR with the mobile.
QR Code Generator
One of the most used apps by users who have an Android mobile in their possession is the QR Code Generator application. Neither more nor less, we are facing one of the options that accumulates more than 1 million downloads. And its assessment more than proves its use, since it has almost 5 stars. Here we leave your link to Google Play so you can download it as soon as possible:
When you have it installed on your smartphone, you must open it and cancel the VIP option on the top left by clicking on the 'X'. Later, the app itself will give us a quick summary of everything it offers us, so it will be even easier to understand how it is used. Finally, we will have to create the one we want and give the necessary permission to the gallery so that the QRs that we design with the phone are saved.
Qrafter
For Apple phones, we not only bring you a software capable of creating QR codes , but it is also capable of scanning and analyzing all those that we are going to read with the terminal. We are talking about Qrafter , so in the following link you can download it from the App Store:
When you have it installed, you just have to open it, ask the app not to track and enter the Generate section. Once there, we must choose what we want to link to once said QR is scanned. When we have filled in the field, we must click on Preview > Generate . Although, before creating it, we can send it by mail, as a text message, copy it to the clipboard, among other options. If you get quiet ads, it's normal, since it's a free application.
QR code generator
The last application that we will have as an alternative to create them from scratch will only be available for Android mobiles . This app is completely free and we will get it from Google Play, just like the first option that we presented to you. As in the other examples that we have brought you, it will not have any type of added complication. Therefore, the first thing we must do is download it to the phone.
Once we have it on the Android phone, we will have to access it and paste the link of the website to which we want to send those people who scan the QR with their mobiles. As extras, we will have the opportunity to put a personalized logo of the different options that the application itself offers us. Also, we will be lucky to choose the color. But, best of all, if we tap on the 'Tt' icon, it will let us choose if we want to put a link, text, SMS, phone, etc. That is, we can generate a code of different elements.