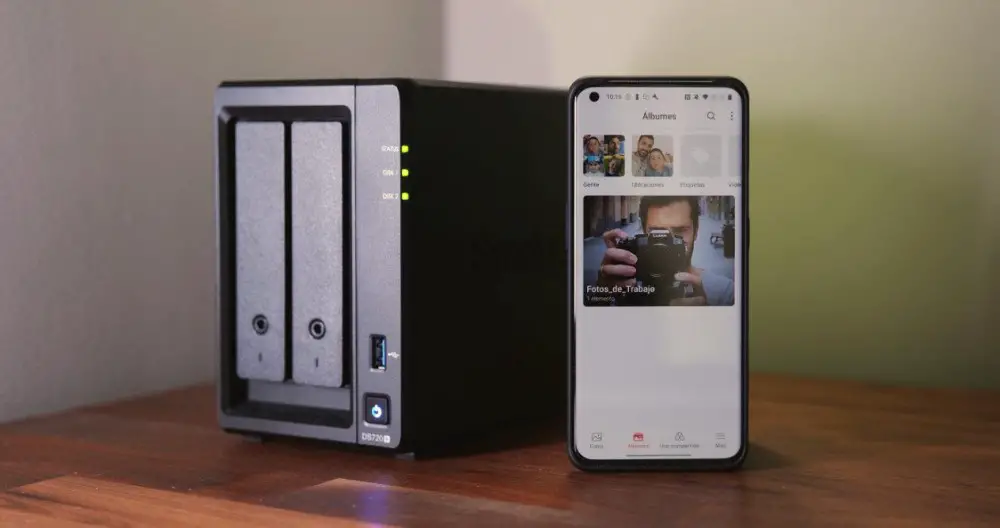 It's over, Google Photos will no longer allow you to store photos unlimitedly and completely free of charge in exchange for applying compression to the files. From now on, every new photo you upload will count towards your available storage capacity. So if you exceed 15 GB for free, you will have to go through the box if you want to continue using its options. So maybe the time has come for you to consider the possibility of creating your own "Google Photos" . You want to know how, I'll tell you.
What's changed in Google Photos
When Google launched its online photo and video storage service, it was able to quickly win over millions and millions of users around the world. And it is that they offered unlimited storage capacity totally free. The only condition was to accept that they apply a compression algorithm to photos and videos to optimize the disk space occupied.
In the event that you did not want them to modify the original file, then you would have to pay because each stored photos consumed available space. So when occupying the free 15 GB you would have to opt for one of the different existing price plans.
Now that option is over and any new photos and videos that you upload after June 1, 2022 will take up storage space . Only the uploads before that date will be kept without counting in the available quota.
So, although right now it is not a problem because the photos that you already have uploaded will not modify the initial conditions of use, in a matter of weeks or months you will end up needing more space. Because phones and cameras are taking photos of higher quality every time and that implies greater size. Unless you barely take photos or have them on another service, then you could have Google Photos for years.
Therefore, what options do you have to avoid having to pay each month for the service, an expense that will surely increase over time? Well, create your own Google Photos . But first, if you like, let's do the math.
Google Photos vs your own photo storage system
Since stored photos don't take up space right now, to know how much Google Photos would cost you over time, you need to know when you'll have to start paying. To do this, go to the Google Photos application or to the web through this link.  This way you will be able to know an estimate of the time it would take to reach the current capacity.
Based on that data, you will know from when you will have to pay for more storage. And if right now you only use the free 15GB, the first jump would be 100GB for 1.99 euros per month. If you need more, you would have the options of 200GB for 2.99 euros per month or 2TB for 9.99 euros per month.
Knowing all this in the best of cases you do not pay, in an intermediate one you would have to pay about 30 euros a year if you take advantage of the annual offer or 36 euros adding the monthly amount. And in most cases, all those users who take a lot of photos with their phone, maintaining Google Photos would cost 99.99 euros with the annual plan and 119.88 euros with the monthly plan.
It is true that it may not seem like a lot of money now, but in the long run you add up and everything begins to change . In addition, the normal thing is that you need more space, so the day will also come when you need more than 2TB.
With this data in mind, a storage system like a Synology NAS may seem like a less interesting investment at first, because it is superior. But keep in mind that these devices are much more than just an online photo and video storage solution .
As we have already shown you, you can create backup copies of any file, allow devices not compatible with HomeKit to integrate with the home app, create your VPN server, a multimedia server for series and movies, host your website or even podcasts, work collaboratively and much more.
In addition, there are solutions for all types of users and needs, from inexpensive models with a single drive, the most popular with two bays and other proposals with 4 or more bays that offer greater versatility and options for the future.
Synology Photos: your photos wherever you go and just for you
However, once you have made the decision that you think is most appropriate, if you think that a NAS may be your ideal option, pay attention to this Synology app for managing photos and videos.
Synology Photos is the name of the application that the well-known NAS manufacturer has been developing and improving for years to such an extent that it has little to envy of many of the photographic storage solutions in the cloud that currently exist. What's more, it offers some additional advantages that if you are concerned about privacy, they will make you choose it much more easily.
Of course, if you like, let me show you the keys to this application with which you can manage all your photos from wherever you want to be with the peace of mind that only you will have access to them.
Private storage that you can share only with whom you decide. Here with the addition of being able to set a password to the links and even expiration dates so that if they are rolling around your privacy cannot be affected

Ability to create albums manually and automatically with which to enjoy an organization that can then be chronological or by folders. This will make it much easier for you to separate those photos in which only you or someone in particular appear, those that are from a specific trip, etc.

Advanced search engine that allows you to locate photos and videos by years, places and even other criteria such as camera with which it was taken, focal length, etc. This for advanced users can be great if they want to locate specific photos that they know took a telephoto or wide angle.
All this and much more is what Synology Photos allows, an application that has little to envy the Google service. In addition, thanks to the use of mobile applications, you can upload the photos you take even with your phone and consult them wherever you go.
Of course, Synology Photos is available for DSM 7 (currently in beta version of the Synology NAS operating system). If you are on version 6, then for DSM 6 you have Photo Station. Both apps are available in their respective Package Center.
To install the beta of DSM 7 you just have to go to the following link of DiskStation Manager 7.0 and then click on join the beta.
How to create your own Google Photos
Well, now that you know the solution, you may wonder how is it created, is it a complex process? Well no, so if that puts you back, get it out of your head because it is as easy as you will see below.
The first thing is to start your NAS , create your user account, and then install the Synology Photos package . This time you are looking at the application that corresponds to version 7.0 of DSM, the operating system used by Synology NAS, which is currently in beta.
Once installed you will only have to start loading the images and let the automatic system create the first folders and albums. Then you will be able to manage the images as you prefer.
Of course, if you are going to upload a number of important photos, it is advisable to use the application that Synology makes available to its users to ensure that it is done correctly and also faster than through the default option, which for thousands and thousands of photos is fine, but not ideal. direct connection against the NAS.
Ready, once you have all the photos, all you have to do is start enjoying all the possibilities of this alternative, which many are already your main option for storing and managing photos and videos.
Bonus bonus: how to say goodbye to Google Photos
If you have finally decided to say goodbye to Google Photos and although you could continue to save the photos you already have there, we are also going to tell you how to remove them from the service to add them to your Synology NAS or delete them if you have already done so to save space and even reduce what you pay for extra storage on Google Drive.
The first thing is to go to Google Photos and in the configuration options you can find a link to 

the account storage management

 options . This will allow you to clean up email attachments and other services that use Google Drive, so that you are aware of the space you really need if you decide to keep the files

Once you have only what you really want to keep, to download everything you have to request a copy of your data through 

Google TakeOut

Select the services you want to download data from, in this case it would be Goolge Photos only

Now in the download settings, if you don't have a good connection, set the size of each generated file to a small value, so that if the download is cut you don't have to start over. Ideal if the network speed is low

Once done, you will receive a link from Google to download everything and once you have the images, delete if you want from the cloud and upload to your NAS or whatever you think is appropriate
Ready, as you can see building your own Google Photos is not complicated. It may be an initial investment that you did not have, but we assure you that in the long run you will not regret the number of uses and possibilities it offers. But it's up to you now.