One of the great milestones for home automation lovers was, although you can understand why for the moment, the compatibility of Xiaomi bulbs with Homekit. Being able to use more easily from the iPhone made the possibilities for many users improve, especially in the economic section. If you have an iPhone and have not yet paired your Xiaomi smart lamp with it, today we explain everything you need to know.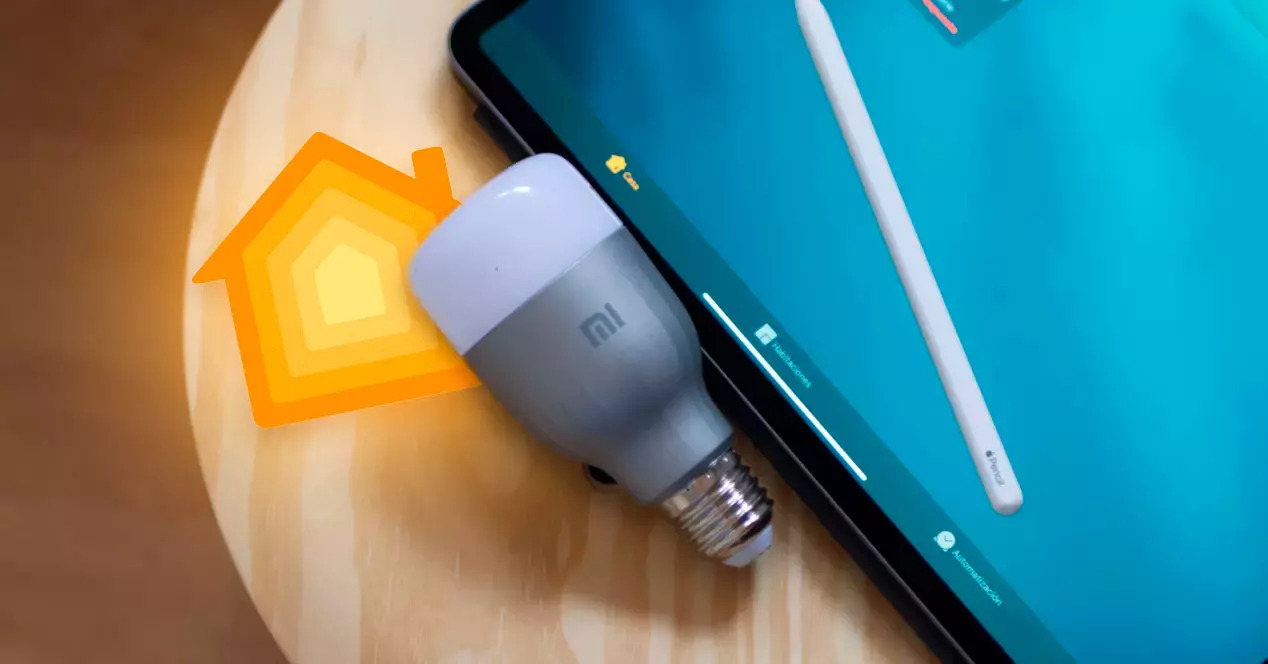 Xiaomi and its benefits for home automation
We do not need to be too savvy to realize that, today, the Chinese manufacturer has already entered millions of homes in one way or another. Whether through a telephone, a rice cooker, a computer or a light bulb, they have managed to expand their empire in such a way that now everyone knows them and wants their products.
As we just told you, the possibility of being able to use these Xiaomi smart luminaires with HomeKit and Siri was not a simple extension of its possibilities, but a change for the market.
If something characterizes the Chinese manufacturer in most of its products, it is that they are cheap , something that we also saw in the first versions of its smart bulbs . However, for those of us who had the Apple ecosystem a few years ago, getting one of these products was being forced to make a significant outlay.
The market for smart HomeKit-compatible products, at that time, was dominated by brands such as Philips or Lifx . And, although the latter was betting on lowering prices a bit, we still had to pay 50 to 70 euros for an RGB LED bulb . On the contrary, the equivalent of these compatible with Alexa or Google Assistant could cost half.
Therefore, although you will already be realizing where the shots are going, that Xiaomi smart bulbs were introduced into Apple's home automation was a blow on the table. It made the rest of the brands be forced to lower their prices and, even today, they should do it even more.
How to configure the Xiaomi light bulb on your iPhone with HomeKit
That said, and now that you understand a little better the benefits of being able to use these bulbs today with HomeKit, let's get to the really important thing: how to configure them on your iPhone, iPad or Mac .
Unfortunately, unlike what happens with other devices compatible with Apple's home automation, 3 years after these products gave the possibility of using them from this service it is still relatively cumbersome. The first step will be to link your Xiaomi smart light bulb through the Mi Home app, the one you have always used. To do this, you just have to follow these steps:
Take the bulb out of the box and place it in the lamp of your choice. Of course, turn it on.
Now download the Mi Home app from the App Store on your Apple device.
Log in with your account and, when you get to the main screen, click on the "+" button to add a new device.
Follow the steps that the application will now give you and, in less than 5 minutes, everything will be ready.
Two little tips or extra that can save you a headache if the bulb has connection problems:
When it comes to synchronizing any of these products, it is better that you do it connected to the 2.4 GHz band of your router. It is the one that gives less problems with home automation, although some more modern equipment already works indistinctly with this or with the 5 GHz one.
If for some reason you can't get to connect the bulb with the app, having checked the previous advice, you just have to restore it . For this you will have to turn off and turn on the current of the lamp a total of 5 times. Once this is done, this equipment will emit a blink type signal or change color to indicate that the restoration is being carried out.
With the Xiaomi lamp already synchronized in the app, now it is time to proceed with the synchronization with HomeKit . Something as simple as:
Hold down the card of the bulb itself until a drop-down menu appears at the bottom of the screen.
Click on the icon with the HomeKit logo.
Now select the house where you want to add the light bulb. It will normally be called "My house" .
In the new window, click on "Add to Home" and then follow the steps indicated by this app. Again, after 2 or 3 minutes you will have everything ready to start using it.
From now on being able to use the Xiaomi bulbs that you have at home with HomeKit is not something that only affects the aesthetics of the app from which you control it. But, although many are unaware of it, it is a service that expands its possibilities.
If, for example, you do not have smart speakers at home and you only have your iPhone or iPad from now on, you will be able to control the Xiaomi bulbs just by saying out loud "Hey Siri, turn off the input bulb".
On the other hand, we will be able to carry out operating patterns with these equipment. A clear example of this may be that when the iPhone detects that we have arrived home, it turns on all the smart bulbs. Or that, on the contrary, if we leave home and we have not turned them off, do it for us. Although the latter can also be done from anywhere in the world thanks to HomeKit.
A series of very interesting benefits that, in addition, we will not need to spend too much money. If you accept a tip when buying these products, our recommendation is this specific model that you can find on Amazon :
It may not be the latest model of the brand's smart lamps but:
It is compatible with HomeKit .
It is an RGB bulb , so you can use it with the normal cold and warm tones or even put it in whatever color you like.
It is incredibly inexpensive .