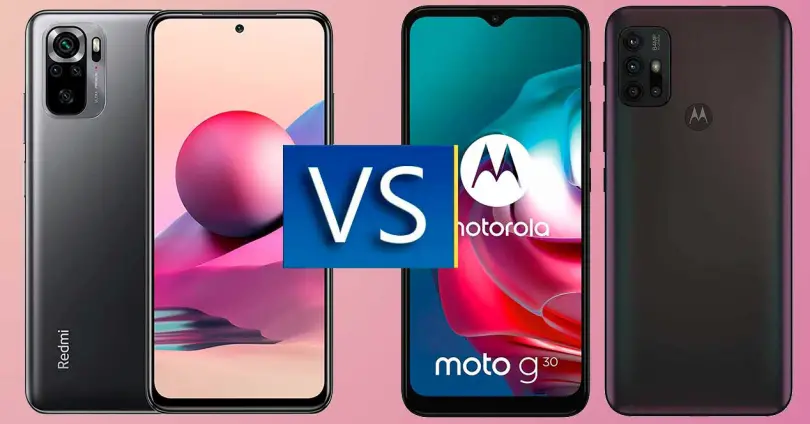 The mid-range continues to provide us with first-rate phones, with features that normally in other terminals would be difficult to find if there were not a large outlay of money ahead. Two good examples are the phones we are comparing today, the Redmi Note 10S and the Motorola Moto G30 , similar terminals for a slightly different price.
If you are looking to get a mid-range phone that does not lack anything, of course one of these two models should be your main candidate. Something that you will be able to verify now, when comparing their characteristics face to face, two excellent mobiles that will only be the best for you if they adapt to your needs.
Screen and dimensions
We are facing two phones with a similar screen size, although with differences in technology and resolution. Since while the Motorola has an LCD screen, with 6.5 inches, HD + resolution and 90Hz refresh rate, the Redmi offers us an AMOLED, 6.43 inches and more resolution, Full HD + , as well as a perforated camera. So they are very different screens, but curiously they stand out for different reasons.
Both also have an ultra-wide 20: 9 aspect ratio, making it perfect for viewing panoramic video content. Regarding the dimensions, the Redmi is more compact, with a size of 160.5 x 74.5 x 8.3 mm, while the Moto measures 165.2 x 75.7 x 9.1 mm. Two phones that offer us a very different weight, the Redmi being also lighter, with 178.8 grams, while Motorola weighs 200 grams.
Performance
We are facing two mid-range mobiles with different processors, and therefore they offer us a different way of managing tasks. The Redmi stands out for a Helio G95 processor, which is one of the most powerful in the mid-range, being 12nm, with a Mali-G76 MC4 GPU and with AnTuTu results of more than 320,000 points.
For its part, Motorola has a Snadpragon 662 with an Adreno 610 GPU, which, although it has amply proven to be a solvent processor, offers us a more modest AnTuTu result, and which remains at 170,000, making it less powerful. The RAM and storage of the Redmi is 6GB and 64GB, while in the Moto G30 it is 4GB of RAM and 128GB of internal storage, in both cases expandable via microSD cards.
Camera
Two phones that in the photographic section offer us practically the same. Because both phones have a 64-megapixel main sensor , as well as an 8-megapixel ultra-wide angle, a 2-megapixel macro and a 2-megapixel depth sensor.
The only difference between the two is that the aperture of the main sensor in the Xiaomi is f / 1.8 and in the Moto it is f / 1.7. In front of both phones have a 13 megapixel camera. In the case of the Xiaomi, it can record video with maximum 4K quality , while the Motorola does it in Full HD. In front, the video recording of both is Full HD.
Battery, connectivity and software
In this section, both phones offer the same capacity, 5000mAh , although not the same fast charge, which is more powerful in the Redmi, being 33W, while in the Motorola it remains at a traditional 20W. Regarding connectivity, both offer Wi-Fi 802.11 a / b / g / n / ac , so they can connect to 5G Wi-Fi networks. They also have Bluetooth 5.1, as well as NFC to be able to make payments in establishments, a USB type C connector, as well as FM Radio.
The Redmi also, as usual, offers us an infrared port to control devices such as a remote control. Regarding the software, both have Android 11, one of them, the Redmi, with MIUI 12.5 , while the Motorola has its UX with a very similar aspect to Android stock, being one of the less invasive layers in this case.
Price and conclusion
We are facing two phones with many different aspects, but that move in also different prices within the mid-range. This should already force us to think about them in a different way and see them from a different prism. Because while the Motorola is now priced at 165 euros, the Redmi Note 10S is priced at 229 euros , so the difference is notable, despite being two mid-range phones. Among the points in favor of the Motorola, we find a screen that is 90Hz, something that is a trend today, as well as double the available storage. And although it does not stand out in other aspects, such as the camera or the battery, the reality is that it does not have worse characteristics in this regard, so it has nothing to envy.
For its part, the Redmi Note 10S offers us other more solvent features , such as its AMOLED screen, with a higher Full HD + resolution. In addition, its processor is faster and more powerful, and it has more RAM memory. As for the battery, it charges faster, which is a point in its favor. And also to favor the aesthetic aspect, the fingerprint reader has it integrated into the side power button. Therefore we can recommend the Motorola if you are looking to make a lower investment, and have Top features such as the 90Hz screen , also enjoying a great camera. While if you are looking for a better mobile in all aspects, it is best to get the Redmi, which stands out in many more sections, and is not much more expensive, slightly exceeding 200 euros.