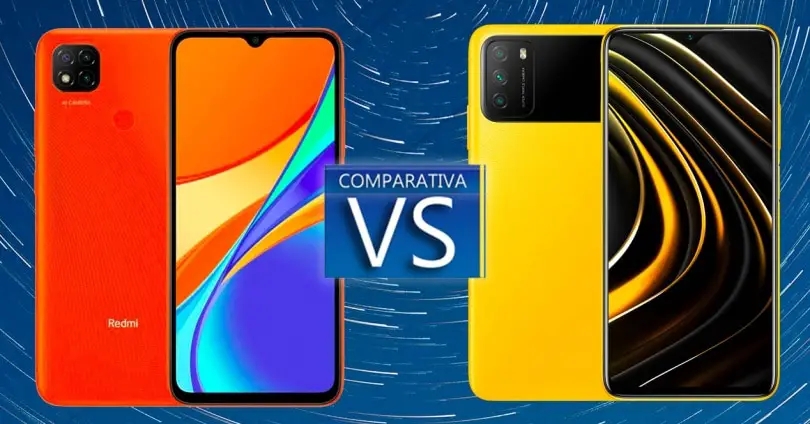 In a mobile market full of high-end terminals with prices that are increasingly higher, it must be recognized that entry-level mobile devices increasingly offer us better features at very affordable and economical prices. This is the case of the Redmi 9C and the Poco M3, which we are going to face to discover which terminal has better specifications.
Two mobiles that can give us a series of quite surprising characteristics if we take into account their price since, in both, the 100 euros is exceeded by very little. So we will analyze every minute detail of these two phones in order to know which will be the best purchase option.
Screen and dimensions
We are facing two phones that offer us a fairly large screen, exceeding six inches in both cases. First, if we look at the Redmi mobile we will have a 6.53-inch panel with HD + resolution . In the case of the Poco we have a screen with the same inches, 6.53 ", but with a Full HD + resolution of 2340 x 1080 px. In addition, in both Xiaomi terminals we can find that they have a notch in the form of a drop of water and have quite thin edges for their category.


Regarding the dimensions of these mobile devices, the Redmi measures 164.9 x 77 x 9 mm and weighs 196 grams, while the Poco has a size of 162.3 x 77.3 x 9.6 mm with a weight of 198 grams. Therefore, we are facing two very similar terminals both in their screens and in their dimensions, so the only difference we can find would be in the resolution they offer us.
Snapdragon vs MediaTek
We are facing two Xiaomi entry-level phones, so we cannot expect spectacular performance, although we do find two phones that do not share a manufacturer for their processor. While the Redmi 9C have a Helio G35, in front and the Snapdragon 662 processor of the Poco, which would be somewhat superior to its rival.
The memories in both cases are LPDDR4X RAM , but the differences begin to appear when we verify that Poco offers us UFS 2.1 storage, while the Redmi is limited to the eMMC 5.1 type that is less fast. The Poco M3 options that we can buy are 3 and 4 GB of RAM along with 64 or 128 GB of memory. On the part of the Redmi, we find that it offers us 2 + 32 GB or 3 + 64 GB. Luckily, the two mobile devices give us the option of expanding their internal storage thanks to the MicroSD slot they incorporate.
Inequality in their chambers
We are facing two very cheap Xiaomi models, but that does not mean that their cameras are really at the height of the mid-range. This is because both terminals offer us great image quality when taking pictures, thanks to their main lenses 48 megapixels in the Poco M3 and 13 megapixels in the Redmi 9C.
However, where we find the biggest difference will be in the final detail after taking a photo. Likewise, the cameras do not change their mind if we look at the rest of the sensors, since both offer us the same possibilities by having a 2 megapixel macro camera and a 2 megapixel depth sensor.
The tie disappears in its front cameras, as the Redmi has a 5-megapixel sensor with f / 2.2 aperture, compared to the 8-megapixel Poco with an f / 2.0 aperture, although both cameras will give similar results in video calls and selfies.
Connectivity and battery
Another of the important points in these smartphones is found in their batteries, where both terminals that we are comparing come to offer us enough capacity to reach the end of each day. In any case, the Poco M3 has 6,000 mAh, surpassing the 5000 mAh of the Redmi 9C , so we will have more autonomy in the first. And we also found a notable difference in terms of charging, since the M3 has 18 W fast charging, compared to the Redmi's 10 W fast charging.
Regarding connectivity, it is no surprise that none of the models has a 5G connection , since we are facing two cheap mobiles, so we will only enjoy 4G. What we do find is NFC for the Redmi 9C, although we will have to look closely as there are models with and without. The noise jack is on both devices and the USB Type-C charging is as well.
Although they are two terminals that were launched on the market with Android 10 , although it is expected that within a few they will be updated to Android 11, since in the beta for these terminals it continues to carry out internal tests. The important thing is that the customization layer is almost identical since Little uses MIUI. The two already have MIUI 12 with all its additions and that means that there are hardly any differences between them, except for the launcher, since there is little difference in this aesthetically. However, in both cases two years of system and security actions are expected for now.
Price and conclusion
Taking a look at the prices of the two phones, we find a small difference. The 4 + 64GB Poco M3 is for a price of 142 euros , while the Redmi 9C in its 3 + 64GB version is found for a price of 119 euros. So this difference of 23 euros could get us out of doubts or even generate more.
Although, we invite you to also think about the 128 GB Poco M3 that will offer us a mobile phone for longer and for very little extra money , since it will give us a greater battery and power if we compare it with the Redmi. However, if what we are interested in is spending a little less and having a good camera and system, 9C will be the ideal option. After taking all these details into account, the decision is on the table with two cheap entry-level mobiles and with a lot to give of themselves.