With the passage of time, each of the establishments we attend is committed to a loyalty system. This means that in the long run we have numerous cards in the wallet making it much heavier, which makes it difficult to carry it in a pocket for example. That is why it is advisable to use an application that allows the digitization of all these cards in a comfortable way to always carry them with you in a preferred format. Here we show you the best applications for it.
The most important thing in these applications
In the App Store you can find many applications that aim to get you to remove all the cards from your wallet. In this sense, special interest should be taken in the design of these applications and also in compatibility. Keep in mind that you can carry many cards in your wallet. From loyalty of food or clothing stores, to the bank's own to make payments on dataphones. The objective of these apps is to keep the portfolio as small as possible and following this objective, you should look for the most beneficial app for you. This is something that we summarize below with these two points:
Design: any application must be attractive so that when using it it is not a real ordeal. That is why you should look for applications that do not have an outdated design that can become a quite relevant problem.
Compatibility: when you have an application of this style installed, we expect it to do everything. That is why a little research should be done on everything you can do with that application. It should be noted that you can find apps focused on loyalty cards exclusively but also general ones that cover many other cards.
Privacy: it is undoubtedly a really important issue in any application where personal data such as bank cards or even identification are going to be entered. That is why you should always look for the option that has the latest privacy measures available.
Price: in many cases you can find applications that are not free in the App Store. This is a factor that should always be taken into account, since you have to prioritize those that are free of charge or that at least offer a trial version of the version before paying. What should always be discouraged is paying for a service before you can try it.
The applications for all your card types
In the App Store you can find a selection of applications that have a wide variety of options to be able to group all the cards that you can carry with you. In this sense, you can find those applications in which boarding passes, bank cards and even official documentation are grouped.
Apple wallet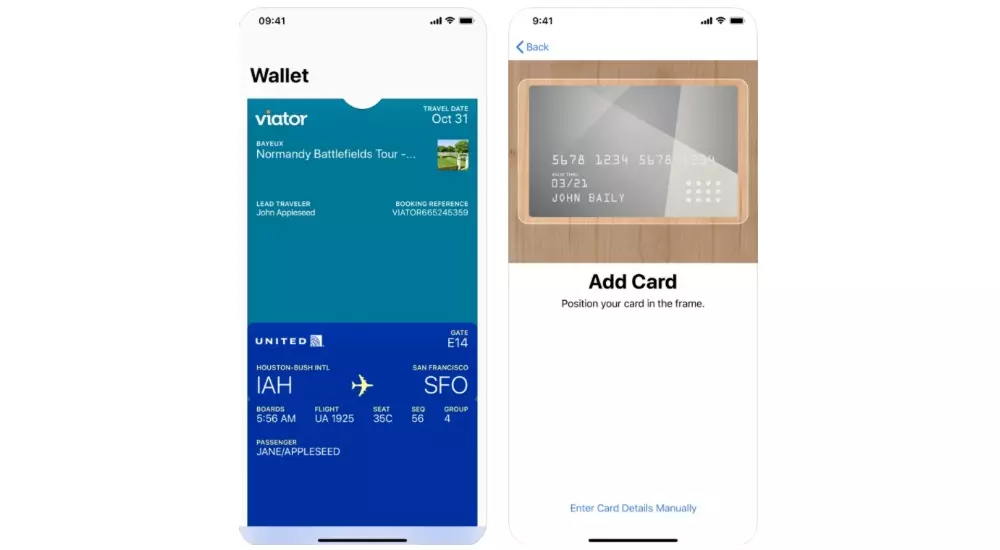 The official version of the Cupertino company that is installed natively on the iPhone. This is an application that integrates perfectly with the operating system, making it very easy to locate all the cards you have inserted. In this case it works really well with boarding passes and also with any type of ticket. To this are also added points or loyalty cards from different brands.
But the highlight of Apple Wallet is undoubtedly the possibility of making use of Apple Pay. In this application you will find all the bank cards that you have configured with Apple Pay. That is why it acts as if it were a real wallet since you can manage all the payments that you are making through the Apple Pay system.
MyCards – Wallet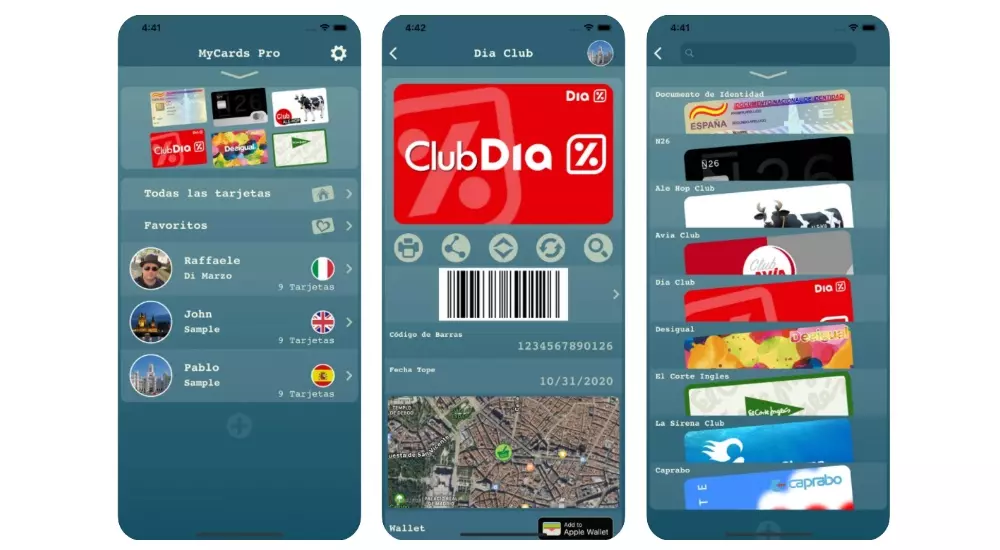 Application that allows you to always have your documents, payment cards, credit cards, loyalty cards, SIM cards or business cards with you. You will have an authentic virtual portfolio where you can quickly consult the information you want. It is also synchronized through the cloud so that you have access from any device where MyCards is installed.
It is ideal because it is compatible with iOS widgets, so in the Today area you can have access to your wallet. It is designed to be able to consult your credit card details when you are going to make an online purchase. In these situations, it should be noted that it has a good encryption system and that sensitive data will always be hidden until your identity is verified.
Pass2U Wallet
It allows you to easily add and manage all the cards you have. Compatible with store, membership, reward cards, movie tickets, boarding passes or gift cards. In short, there is no type of limit for those documents that you must carry normally in physical format, not being limited to the cards as such.
You will be able to attach an event date or location when creating a specific step. This will make that when you are close to where it should be used it appears quickly being much more accessible. You can directly apply the pass templates or design the templates when creating the pass. Also at any time you can synchronize with Apple Wallet.
Pass4Wallet
The developers remember that at no time will any type of currency be stored inside. It simply aims to reduce the plastic you always carry with multiple cards. That is why in a few clicks you can have a new card with all the information on discount cards or coupons.
You can quickly scan all the cards you have in your wallet. You can add entries in a wide variety of formats that will make you have a greater customization. You can also start browsing from the back of the card and even if you have scanned an entry you can share it with anyone.
Loyalty card-centric apps
It may be the case in which you do not want to install applications for all your cards, but for loyalty cards. These are the ones that have a greater quantity due to the large number of stores that we can go to throughout a month. These applications that we show you below are specialized only in this type of business cards.
Stocard
Application that is mainly focused on all the loyalty cards that you have in your wallet. These are the ones that can end up bulging the most in your wallet and in the end the ones that have the least importance. In this way you will be able to have all the necessary barcodes accessible so that you can display them in the stores you go to and begin to accumulate the corresponding points.
You can make the order as you want and it will also be totally personalized. You can also internalize it in the Apple Wallet application that we have discussed previously with a simple QR code. With stocard you can browse the coupons, discounts, brochures and catalogs of any of the establishments with which there is some type of agreement.
Mobile-pocket wallet
One of the best applications that can be found in the App Store to store all the loyalty cards you have physically. These are stored with a simple barcode or QR so that you can display it in any type of store. In this way, it can be recognized in any reading medium, although you also have the option of entering your own customer number that is attached to the virtual card.
In the application you can find some preset cards with the different marks of relevance. You can also add another card by taking a picture on both sides. You also have the possibility of having all the data synchronized by creating an account in the app itself or linked to your services.
Trust me
Application that has a large number of users, who validate its quality on a day-to-day basis. Plastic cards will disappear from your life with this application. Likewise, it also adds the possibility of scanning those paper tickets that they give you by hand. This will make this type of paper disappear from your pocket or your bag in a really easy way, finally having everything digitized.
It has a database that has more than 7,000 different cards from all supermarkets and also clothing or hospitality stores. In this way you will not have any kind of excuse not to introduce those cards that you have in your wallet occupying only space. It also includes a cashback system in selected products and establishments.
Fidall
This application groups all the loyalty cards conveniently and includes many other extra functions. In this sense, you can find cashback offers in the selected establishments. In addition, you will always have the catalogs with the best offers that you can find in your favorite stores.
A total of 20,000 stores can be found with loyalty cards, including Carrefour, Leclerc, Auchan, Intermarché, Decathlon, IKEA, Kiabi, Sephora, FNAC, Marionnaud, SNCF or H&M. It is true that we are facing an application that has been created to use in France but it is totally possible to use in Spain in any type of business.
Which one do we recommend
There are many options that can be found in the App Store but in this case we are left with two of them. The first is the native one that Apple itself develops and that we discussed at the beginning. This is because we are facing an app that has been designed for the iPhone itself, so all its features work perfectly. Both the fact of having the card you are going to use in a specific place quickly available on the lock screen, or even using all your credit cards.
Secondly, if you are a person who has numerous loyalty cards from your favorite stores, Stocad is the application that you must install on your iPhone. It has a large number of businesses that are Spanish in its database so that you can configure your cards in a very simple way. In addition, you will be able to find out about all the offers that exist in the different stores.