One of the games that has the most fans is driving, since they allow users to control all kinds of vehicles and situations (from racing on circuits to those that lead to compete on the streets of a city). One of the ways to get more realistic is to get hold of some of the game steering wheels on the market.
With these accessories, a qualitative leap is made in what has to do with getting the most out of the consoles when using games in which you have to drive constantly and therefore it is possible to optimize the use of the different titles that There are on the market such as Need for Speed or the TOCA saga. In this way, these products become an essential purchase for fans of this type of development to achieve the greatest possible realism .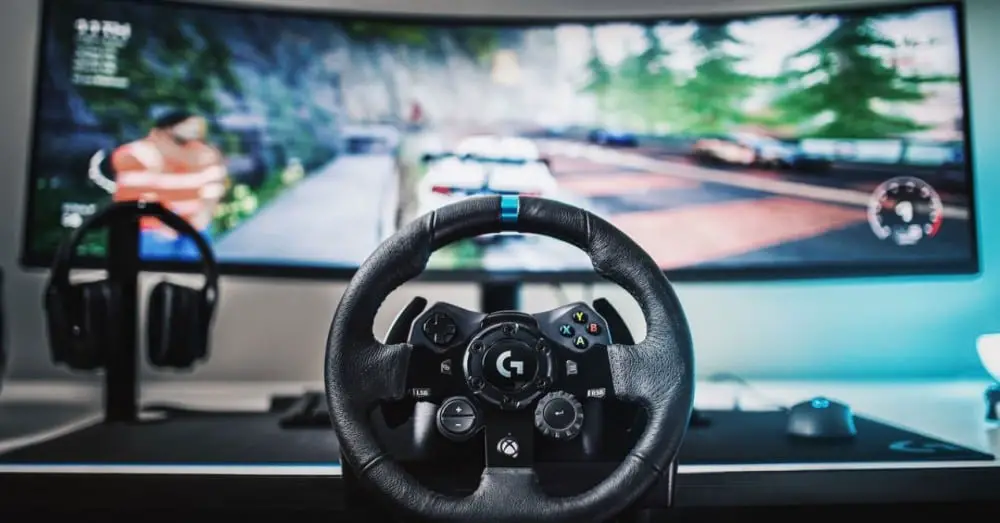 Types of steering wheels for games
There are two, those that include pedals and what this element does not have. We are going to show options of all kinds, so that you always have a suitable option for what you are looking for. The case is that with those that include all the components – even a gear lever. A greater immersion is achieved when driving through a Formula 1 circuit or, having to pass tests on the streets of the most important cities in the world. But, yes, the difficulty with these can be greater when playing, since you have a much greater manual control .
One of the things that has to be checked in this type of accessories is that the compatibility it offers is the greatest possible. This is especially achieved with models that use a USB connection interface, which is the standard today and, therefore, is the basic one that should not be lacking in the gaming wheels we are talking about. The fact is that getting them to be used on the PS4 and Xbox One is completely possible if this is true.
It is also very interesting that the device itself includes a good number of buttons to, with them, be able to represent both the functions that the console itself has and what is included in the most advanced cars that exist in competitions. With this, you can be sure that you never have to let go of the steering wheel and therefore its use is optimized as it is more direct and comfortable.
Some more things about these accessories
Some details that are important in these products is that they offer a good grip so that the stability is the best possible. In addition, the diameter must be large enough so that the turns are comfortable and do not make the arms cross more than they should, which reduces playability. It is also a good detail that the vibration is present in the steering wheels for games, since this way you have a feeling of greater realism when, for example, having an impact or going through a pothole.
Purchase options we recommend
We leave a list in which you can find different models that combine good quality with a price that is not unreasonable … but they are not the cheapest on the market either to ensure that everything we have mentioned is fulfilled.
Logitech G29 Driving Force
This is a model that can be used with both PlayStation consoles and computers, and has pedals to increase realism. Access to the buttons is quite comfortable and with manufacturing materials that ensure a very long durability.
Thrustmaster T150 Ferrari Edition
What is most striking about this accessory is that it has the official Ferrari license, so it has a design in which red is present. With the Force Feeedback system, the realism is very high since the driving sensations allow it. It is compatible with Sony consoles and PCs.
Logitech G920 Driving Force
If what you are looking for is one of the steering wheels for games that is compatible with the Microsoft Xbox console, this is one of the models that you should not miss. With all the built-in buttons you may need, a sure, firm grip is one of the great virtues of this complete accessory.
Thrustmaster FERRARI 458 SPIDER
It is another of the models that is officially licensed by the well-known Italian brand Ferrari. With a good grip and very comfortable design (the lever system to change gears is very curious, this is an accessory that has pedals so that everything is very realistic and that you have a complete setting.
Accessories compatible with various consoles
FR-TEC Suzuka Elite
It is one of the steering wheels for games that can be used with both PlayStation and Xbox consoles. A good detail is that a manual gear lever is included, which gives it a differential element since with this component the feeling of really driving is transferred.
Cestbon 270
A very attractive model that offers a very wide backward compatibility, so it is possible to use it with consoles from generations that are not the last on the market. Finished in plastic and with a control to change gears, it does not lack a pair of pedals to enjoy playing.
Numskull Universal
With a diameter of 23 centimeters, which ensures high comfort when using this device, which on the other hand offers high compatibility with consoles and this makes it attractive. There is no shortage of action buttons that allow you not to have to use the usual controls to play.
HALASHAO Racing
Includes one of the strongest suction cup systems of all the gaming wheels we have chosen. A good design is present, and it does not lack a specific grip element that allows you to get the most out of enjoying the driving titles. Their compatibility is excellent.
Krom K-WHEEL
Pedals, action buttons, and wide compatibility. This is a model that is quite well valued by buyers, so it is a success if what you are looking for is to be able to use it with all the consoles that you usually have. His grip is pretty good and this is important.
Subsonic Volant Racing
A 180 degree turn is one of the best things this model offers, which has no restrictions with the PS4 and Xbox One consoles (it is even possible to use it with PCs). Well designed and with no lack of pedals for great realism, it is one of the most economical options of all chosen gaming wheels.