Many people need external hard drives simply to be able to move data easily from one PC to another without depending on an Internet connection, but many others need their external hard drives (or SSDs) to be as resistant as possible, so They can get them around without fear that their valuable information will be harmed. In this article we are going to tell you which are, from our point of view, the best resistant hard drives and external SSDs (with USB connection) that you can buy.
These hard drives that we are going to talk about today would be a safe bet for users who travel a lot, who need to carry their information in a backpack or suitcase and who, perhaps, need to use a laptop in the middle of the field to pass your photos or videos and work with them. In any case, these hard drives are resistant to shocks and drops, as well as high and low temperatures and even water and dust.
What are considered tough hard drives?
Mechanical hard drives have moving parts, and therefore are very sensitive to any kind of shock or vibration. Therefore, when we talk about resistant hard drives we cannot only talk about those that are covered by a metallic "armor" that protects them, but also that they have a rubber cover that absorbs much of the shocks, shocks and vibrations.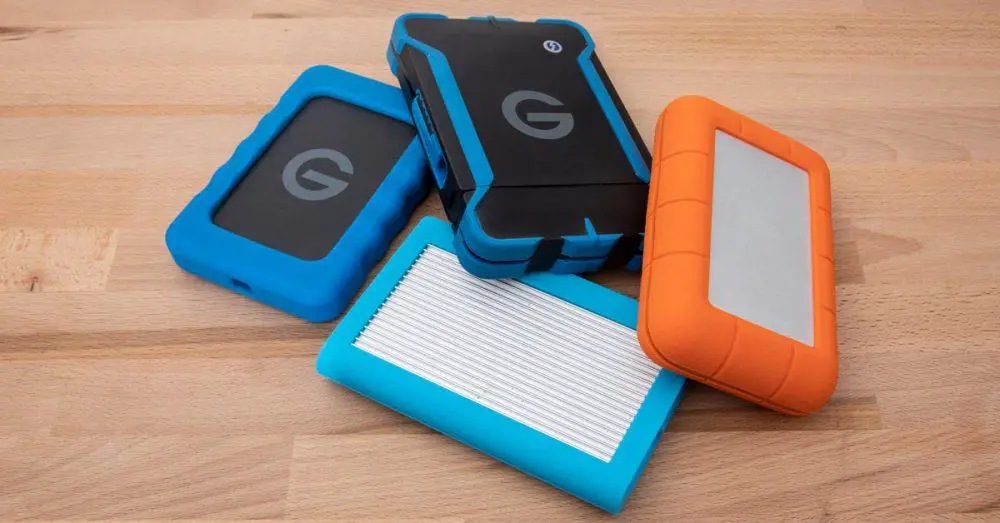 If it also has IPXX certification against dust and splashes of water, better than better, and in fact, as you will see in this list, you will even find some devices that are, literally, submersible.
Why would you want hard drives this tough?
Obviously, as we have mentioned before, if you are a user who simply wants to be able to easily carry data from one place to another without having to worry about having an Internet connection or if you simply want to have expanded external storage on your console or PC, it is worth it. any external hard drive. However, these resistant hard drives are designed for people who travel and carry the drives in a suitcase or backpack, who have to use them in humid, very cold or hot environments, etc.
In short, you should know that these hard drives are not invulnerable but they will provide you with extra durability, or at least resistance to these circumstances of which we have spoken.
The best rugged hard drives you can buy
Next, as we told you at the beginning, we are going to show you which are the best resistant hard drives that you can buy today, including some SSD model that, in itself, is already more resistant as it does not have moving parts.
LaCie Rugged Mini
This is surely the best known rugged external hard drive, as LaCie is Seagate's premium brand, and in fact these drives are generally related to Apple Macs. The fact is that they are extremely resistant thanks to their huge orange rubber cover that protects them from bumps and falls, in addition to their aluminum armor that makes them resistant to other types of damage as well.
They are available in capacities from 1 to 4 TB, with USB 3.0 connection and Type-A and Type-C connectors. They offer a throughput of up to 130MB / s.
G-Technology ArmorATD
This hard drive is a slightly more demure version of the previous one, since the rubber layer is less and instead of aluminum, the housing is made of plastic. However, it is resistant to shocks, water and dust, and also has a USB-C and Thunderbolt 3 connection. It offers up to 136 MB / s of speed.
Silicon Power Rugged Armor A65
This hard drive has the particularity of being covered with a complete rubber casing that covers even the connection ports, so while it is not being used it is even waterproof. It offers IP67 certification against dust and water, it is very easy to transport because it is small and light, and it offers similar performance to the previous ones with its USB 3.0 interface.
ADATA H710 Pro
This off-road hard drive carries an IP68 certification against water and dust, and its plastic and rubber armor makes it resistant to shocks and drops. It has a USB 3.0 interface with up to 100 MB / s of performance, with the addition that we can store the cable in the same case.
Silicon Power A60
This other hard drive has a sturdy plastic casing covered on its perimeter by a rubber insert that protects it from shocks. It's small, lightweight, has space to store the cable, and with its USB 3.0 interface it offers up to 125MB / s of performance, all in a modern and eye-catching design.
G-Technology G-Drive ev RAW
We are facing another of those external hard drives that combines an aluminum casing and a rubber protection, but this has the peculiarity that it can be removed to use it for other purposes if you want. It supports, according to the manufacturer, drops from a height of up to 1.5 meters, offers transfer speeds of up to 136 MB / s, and has a USB 3.0 interface with capacities of up to 4 TB.
WD MyPassport Go
We are already entering the landscape of SSDs, and this model is very simple, and that makes it light and easy to transport. It simply stands out for its aluminum casing with rubber edges, but is otherwise unremarkable. Delivers up to 400MB / s of performance with USB 3.0 interface.
SanDisk Extreme SSD
An old acquaintance: this external SSD has neither aluminum armor nor rubber edges, but since it has no moving parts and comes in a sturdy plastic cover, it is also ideal for taking it from one place to another without damage. In this case, it offers up to 550 MB / s (its Extreme version is the same but with up to 1050 MB / s) through USB 3.1 Type-C.