If you are a person who identifies as a lover of mystery and logic puzzles, puzzle games are undoubtedly designed especially for you. Although the Mac is not conceived as a gaming computer to be able to enjoy games, the truth is that there are many options that are compatible with macOS. In this article we tell you the most recommended options that exist for Mac.
What a puzzle game should have
When facing a challenge in the form of a game on the Mac, there are several factors to consider. The first thing is the difficulty of the game itself and the last thing to look for is to get frustrated. This means that you always have to play games that are adapted to your previous experience. If this is the first time you have faced these types of challenges or it has been a long time since you have enjoyed a puzzle, you may have to start with something simple. Or even opt for those options that offer a learning curve and offer challenges that are simple at first and then it becomes more difficult for you to get used to it.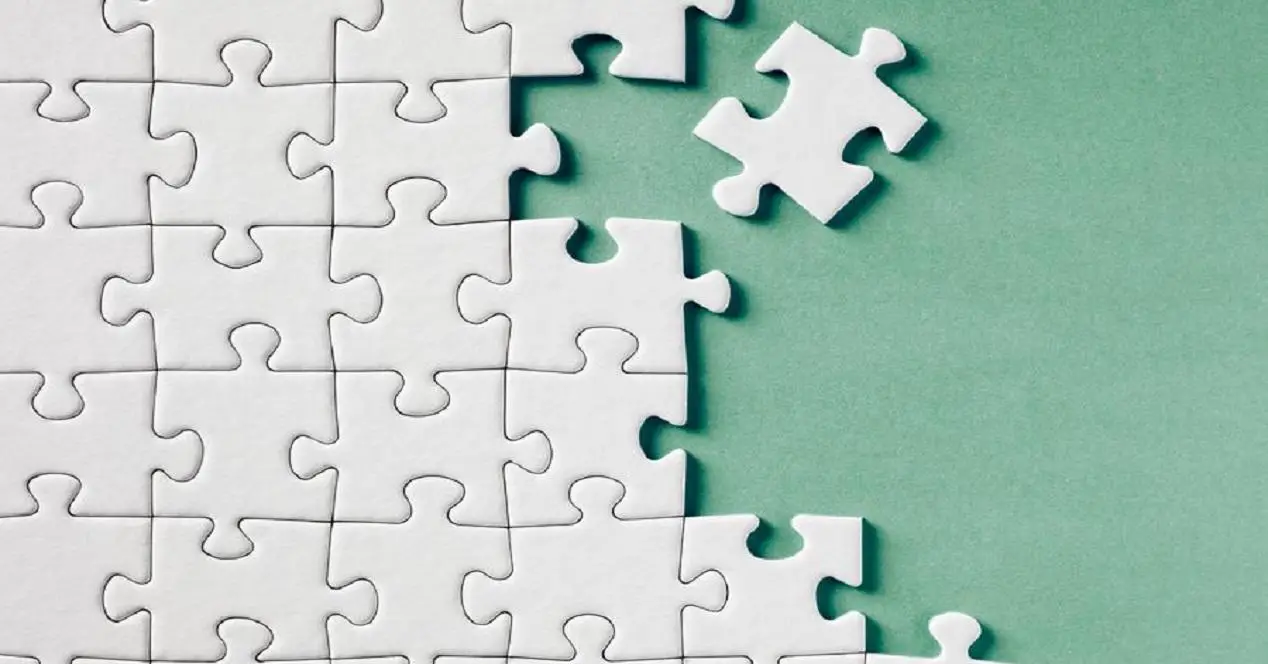 With regard to the graphic section, you will undoubtedly find yourself in front of a wide variety of options. From bets that are much more realistic to others that are more abstract. This is something that can become irrelevant but in the end you must get as comfortable as possible while you are playing and gain maximum concentration. This is something that can be clearly seen in the different trailers or in the gameplays that are uploaded to the network. It is important to always take a look at them so as not to spend money on something that you may not like. This is also in addition to the need for proper mechanics and the need for puzzles not to be repeated too often.
The best free options
Today you don't need a lot of money to spend hours of fun in front of your Mac through games. Both in the App Store and in Steam you can find free options that we show you below.
Cube Scape: Paradox
After waking up in an eerie room with no recollection of his past, it won't take long for the infamous detective Dale Vandermeer to realize that he is part of a strange game orchestrated by an ancient enemy. In order to leave the room and regain his memory, Dale must solve increasingly difficult puzzles. This is the story that arises in this game to be able to start an incredible adventure to escape from the room.
It is really interesting what the developers propose here since there is a unique mix between a game and a movie. The gameplay that arises is absorbing having some really interesting puzzles that will make you reflect on numerous occasions. The art is incredible to be handcrafted and the soundtrack offers an ideal atmospheric experience with top voice actors providing a highly immersive story.
Puzzle Pirates: Dark Seas
In this game, the mix of two genres such as puzzles and the MMO is proposed. At the beginning you will have to create your pirate character and start your journey in a game that has an aesthetic that at first appears really old although this does not mean that it is fun. Each of the challenges that you have ahead of you is a new reward that you must end up fulfilling as a good pirate that you are in order to have more and more gold.
There is a great variety of puzzles ahead and some you may end up knowing. These include navigation, shooting, or treasure transport puzzles . Without a doubt, because it is free, it deserves that you give this interesting game a try that dares to combine these two very different genres. This does not mean that there are also paid add-ons to be able to access new content.
Developer: Gray Havens, LLC
---
Coloring Pixels
The name of this game already makes you think about the objective you will have to pursue. The pixels will play a fundamental role and it will simply be necessary to paint them but in an orderly and clear way. Each of the pixels in front of you will be numbered and each of these has a different color in the available palette. This is something that can be found in physical mode and in many books, being an ideal entertainment for the little ones in the house.
Following the entire pattern of colors, you can complete the entire drawing that the game asks you to create an authentic work of art. All this without having any idea of drawing and training your mind to be more agile. The game includes more than 300 levels, 90 of which are totally free. This leaves many hours of fun and entertainment ahead of you.
Picross Touch
This game combines different puzzle phases that are really fun and addictive. The objective is to complete them using personal logic since it mainly uses numbers and only has one possible solution. We can observe different puzzles such as sudokus, make drawings following a specific pattern among many others.
This is a game that is based mainly on the work of all the users through the Workshop. That is, anyone is capable of creating a new phase within this game by following the tools offered by the developers. This makes it a good free option without any ads. In addition, you can also make a connection with the Steam cloud to store all your game data.
Other payment alternatives
The only problem with free games is that they do not offer much entertainment or it simply requires making different payments in order to have more content. This means that payment options that offer a really important experience must also be considered.
Portal 2
Valve's Portal saga is undoubtedly one of the most reputable when it comes to puzzles and puzzles. To be able to advance in all the maps it is necessary to squeeze your brain to be able to go through the different levels through different portals. These will be generated thanks to the gun that you will have in hand as a result of the technological development of the company where you are. Through these portals you can pass yourself but also different objects.
The latter is really important that you will not have to simply launch a portal to pass the platforms but you will have to activate mechanisms. This is achieved by placing the portals strategically so that gigantic cubes pass through that allow the passage and you will also have to fight against incredible creatures through the portals. Without a doubt, it is an experience that should be recommended to everyone who is a fan of puzzles.
Untitled Goose Game
Have you ever thought what life should be like for a goose? Now you can experience them in this game in which you control a goose through different adventures through a curious town. The objective that you have in front of you is to get a series of objects from the town and take them from as many people as possible. But it will not be easy and this is where the true puzzle style comes in. You will have to make the opportune distractions and take out your wits to be able to achieve all the possible challenges.
And if you just don't want to have fun, this game also includes the possibility of playing cooperatively with another person who will also be a goose. This will make all the pranks you can make as well as the items you have to collect much easier. It will obviously require a cooperation between the two people to prevent the townspeople from going after you with the aim of capturing you.
INSIDE
Without eating or drinking it, a child finds himself in the middle of a secret project with an extremely dark aesthetic. But the truth is that it is not only limited to moving forward to get out of wherever it is but it is also combined with a series of puzzles. These are tests that start out being simple but then get complicated, to the point that at some points you must explore the entire level you are at in order to find a way to continue advancing in your story to find the reasons why you are there.
This is a game that has been recognized by numerous video game magazines thanks to the history it poses, as well as the 2D puzzles that are integrated. Without a doubt, the developers have gone a step beyond the concept of games that are based on escaping from a specific environment with this new installment that is so peculiar. It is certainly a recommendation to play for anyone who loves video games and also puzzles and the mysterious.
The Pedestrian
The Pedestrian is a 2.5D side-scrolling puzzle platformer. In this you pose as if you were a pedestrian who goes down the street fixing everything that is found. Specifically, the puzzles will be in the form of public signs that must be solved in order to explore and advance through each environment posed by the game. It certainly offers many hours of entertainment ahead of it and the puzzles are really ingenious.
The fact of combining two genres such as platforms and puzzles is really ingenious. It has been recognized by many media in this regard, making this an experience more than worth playing. The graphics are quite good and the movement system makes you want to keep playing non-stop. On some occasions it has been considered to win the award for best puzzle game.
Which one do we recommend?
It has been seen that there are many options available when it comes to puzzle games for the Mac. But in this case we recommend two of them. In the case of free games, we have to recommend Cube Scape to be able to rescue an old system to be able to escape from a room. Although it is presented as something simple, you certainly have to think well how to do it to find what you need to end up escaping.
In the case of paid games, it is mandatory to recommend Portal 2 . This is a great game in many of its characteristics, making it highly recommended to try it thanks to the experience that it ends up offering for a really cheap price. Making portals through which the subject can end up passing can be easy but as it progresses, everything becomes more and more complicated and the experience improves without a doubt.