There are many programs that we use every day on our Windows computers . Depending on the type of work that we are going to carry out, we opt for one type or another, but today, almost nobody ignores those known as Internet browsers.
These are proposals that have evolved greatly over the years, so there is no doubt that they are now one of the most widely used types of applications . This is something that can be extended to both desktop computers and mobile devices, as most have their own Internet browser installed.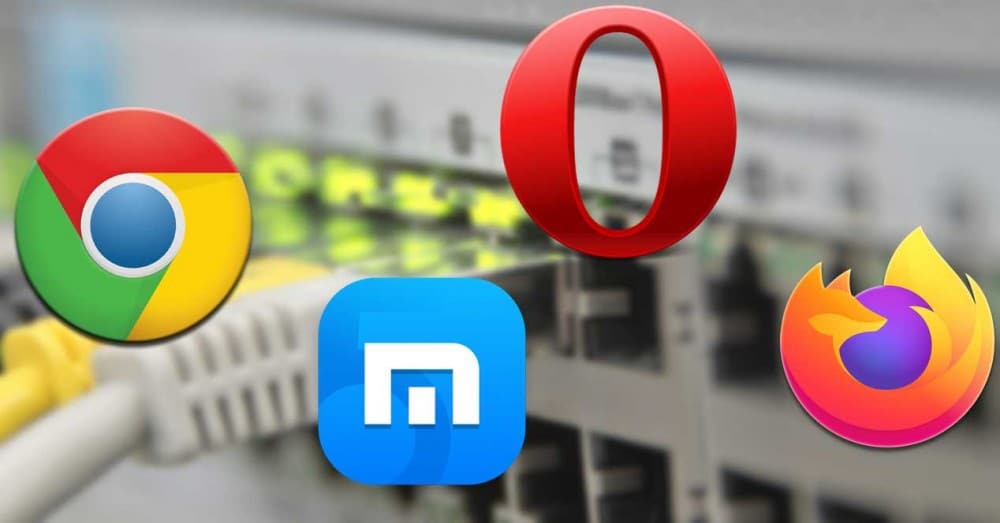 Of course, there are many options that we can draw on at the moment, so users tend to choose the option that best suits their needs. Also, there is no doubt that the alternative proposed by Google is, for a long time, the most used in the world, we are talking about Chrome . With close to 60% market penetration, it is the most popular and widely used program of its kind, by far. But that does not mean that it is the best, since each one has its peculiarities to try to attract more customers.
Advantages of using portable browsers
Well, we tell you all this because in these same lines we are going to show you the best portable web browsers that you can find and use. And we tell you in its portable version because this can be very helpful at certain times. On the one hand, we must bear in mind that we can carry this version with us at all times. This allows us to use it on any other computer in a totally safe and reliable way to surf the Internet .
Thus, it will not be necessary for us to install any software on the PC on which we are going to work at that moment, nor to configure our own account, since we carry all this on the USB memory. They are also light versions and just as functional in most cases as the installable versions of the programs. This, to a large extent, will also allow us to safeguard our personal browsing data.
And it is that these programs increasingly store a greater amount of user data, as you will surely know. Thus, by carrying our portable program on a USB, no one else will have access to all of this once we have finished the session with it. Therefore, once we know all this, next we are going to offer you some of the most interesting portable applications of this type. Thus you will have the opportunity to test them without any installation to choose the one that interests you the most.
Portable web browsers to carry around at all times
Google Chrome portable
How could it be otherwise, we are going to start this selection with the most used proposal in the world in this software sector, Chrome. But as we have mentioned, from this link you can get your portable version . And it is that despite the complaints that many have regarding this proposal due to issues of privacy and RAM memory consumption, the majority opts for its use.
That is why Google does not stop improving it with new functions and tries to make it safer and consume less resources from the team. In addition to being able to use our account of the search giant, that makes working with the rest of the firm's platforms easier.
Mozilla Firefox portable
This is one of the most popular alternatives from which to try to shade the aforementioned Google Chrome. If something characterizes Firefox is security and privacy, aspects that its developers have always wanted to prioritize in their project. This is a program that we can download from this link and that also presents some interesting additional functions.
It should be noted that many of these focus on the aforementioned sections related to security. Thus, now the browser notifies us if our passwords have been violated on any website, or allows us to store them here securely. In addition, and how could it be otherwise, we can synchronize our account with other teams .
Maxthon Portable
This is a somewhat less well-known proposal, but one that also has its followers. We can download it from this link and it is a browser that makes use of an internal dual-core design that uses both Webkit and Trident rendering engines. With this, what its developers are trying to achieve is to offer us a software that loads the websites faster than the rest.
This is also something that is even extensible to older pages . It also presents us with the possibility of personalizing the home page with our favorite websites to have quick access to them.
Opera portable
Here we tell you about another of the best known proposals of this type, Opera Portable and that competes with Firefox and Chrome. It is a portable browser that you can download from this link and is characterized, among other things, by its Home page . This is completely customizable so that we can access our favorite websites much faster. It also shows a really attractive and striking appearance and integrates its own VPN .
It also has a sidebar that gives us direct access to some of the most popular online platforms.
Opera GX Portable
While we have just told you about Opera, all the advantages that this browser offers us are also found here. But that's not all, but in the case of Opera GX, we find a portable browser designed especially for gamers . You can download it from this link and it includes the GX control that allows you to set limits in terms of the amount of RAM, CPU and network usage that the program will use. As you can imagine, this will be very helpful when adapting the software when we go to play from here.
Private Browsing portable
As its own name lets us glimpse, this is a browser that wants to focus on the privacy it proposes when we use it. We can download it from this link and want to compete directly with Mozilla Firefox.
Now we are going to talk about an additional application to the original Firefox that focuses on the security and privacy of its users, although all based on Mozilla software. To say that it makes available to us a series of functions focused on blocking flash elements, as well as trackers and other accessories that can undermine privacy on the Internet.
Falkon portable
In this specific case, with Falkon we find a KDE web browser that uses the QtWebEngine rendering engine . The objective of all this is to be a light software as well as functional. In the beginning, this project was aimed at environments related to education, but little by little it has evolved.
It offers us a good number of additional functions and an original and original user interface. At the same time, it integrates some interesting measures to take care of the privacy and security of its users. To finish we will tell you that you can download it from here .
K-Meleon portable
If there is something that characterizes this portable proposal to move around the Internet , it is that it is a very light browser. This is something that directly affects its smooth operation, making it fast and customizable. It is worth mentioning that it is based on the Mozilla Gecko rendering engine and you can download it from this link .