Twitter is no longer just a social network where text-based publications prevail. Images have been gaining more prominence for some time, especially since they offer support for high-resolution files. That is why many photographers and lovers of photography in general have found an ideal platform to share work, tricks and many other things. So if you like all that world, these are the Twitter accounts on photography that you should follow.
Twitter and high resolution image support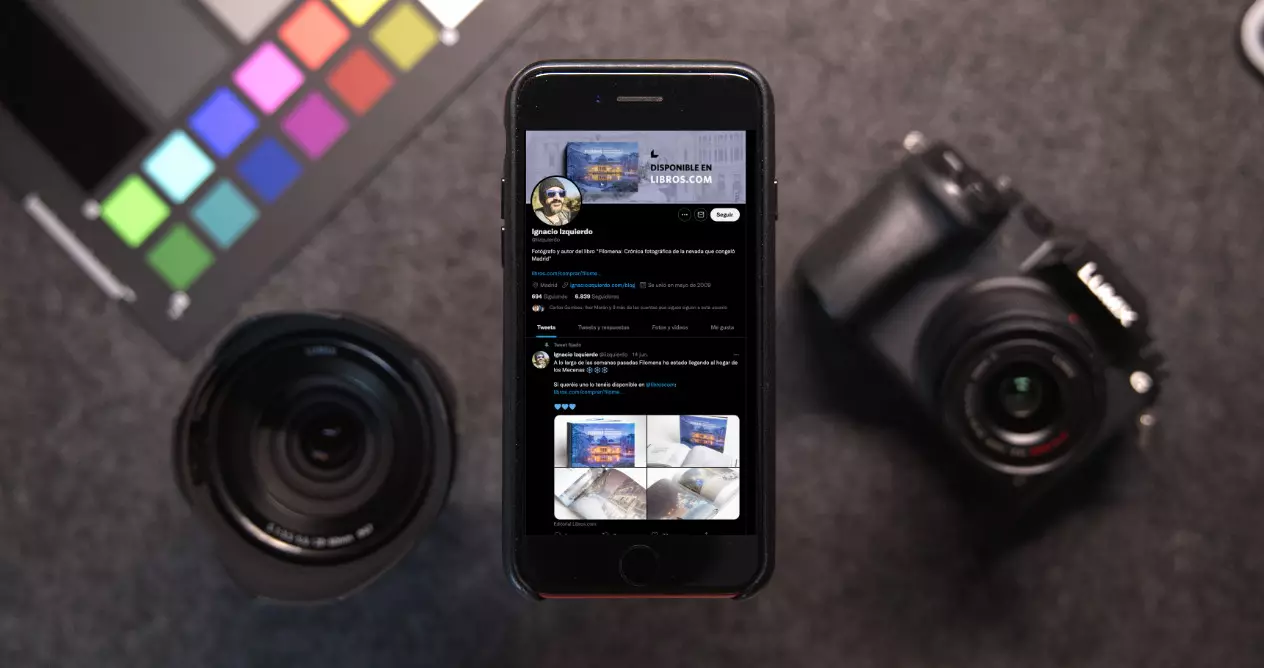 Currently, most platforms that allow sharing images use different compression algorithms to optimize their use. Thus not only they save space on the server, but also bandwidth when showing it to other users. This implies that depending on the level of "aggressiveness" applied to these images they look better or worse.
Twitter, considering when it was launched and the ability to upload images was included, did not improve this feature until not long ago. It was between late 2020 and early 2021 when it allowed the use of high resolution images and compression on both iOS and Android.
With that movement that allowed uploading photos in 4K , as well as downloading and viewing them, the experience improved significantly. Because now all that material was gaining in sharpness. Hence, it began to be seen that more and more users who loved photography or professionals were using Twitter to share their work instead of linking to other services where these photos were hosted.
This option is very easy to activate and in case you don't know how to do it, basically you just have to do the following:
Open your Twitter application, both on iOS and Android
Go to Settings
Within Settings and Privacy select Data usage
Now in Uploading high-quality images, activate the WiFi, mobile data or both options as you see fit
Ready
As you can see, it is simple, but now let's go to what possibly interests you the most, which in our opinion are some of the accounts about photography that you should follow if you are a Twitter user.
The best Twitter accounts about photography
The reasons why you might be interested in following certain Twitter accounts are as varied as practically the types of users the platform has. Even so, there are reasons that usually coincide with what you could have in other more visual platforms and focused more on the subject of sharing images: inspiration, use of composition, processing, etc.
Matty Vogel is a high-level photographer who rubs shoulders with today's best artists. Thus, figures like Billie Eilish, Finneas or Hoodie Allen have been portrayed by his camera. Of course, they are not the only type of photos he shares, also of the concerts themselves and the odd one that will catch your attention due to their original composition.
Tessi's work is striking and today you may be especially attracted to that particular edition and use of sparkles. In addition, he not only takes incredible photos where the protagonist is the scene itself, but also portraits that are sure to attract you.
Along with a very careful and accurate composition, the best thing about Robyn Walsh may be that use of backlights and the way in which she does the editing to, normally, use the same color as the dominant of the entire image. They are very striking photographs
In the same way as the atenrior, Austin Prendergast makes a very striking use of color in each of his images. In addition, he tends to play very well with elements that help him give an original touch to some of his photos. With great force, with so many levels of saturation and contrast, they are photos that are pleasant to see.
If you like the double exposure technique and that aggressive touch that high contrast photos offer, then you will like the work of David Sark. His images not only have strength, but also that different point when combining two captures through double exposure. What gives them dynamism an extra information that sometimes catches.
Street photography of the west coast of the United States. That in itself will attract many lovers of that territory, but it is its particular style, with retro Kodak film airs, that really captures. In addition to scenes that convey that special something that makes it difficult to stop looking even those that seem more normal.
There are photographs of Kelby Reck that will look like frames taken from a movie. Both for the work in editing, with very striking colors, and for the use of techniques such as double exposure make their work motivate you to go out with your camera to try to capture similar images.
Jake Wangner ( @insvin )
Jake Wangner is another one of the photographers who, through the use of double exposure, lights and leftovers, and a very marked editing style make his images seem also taken from a movie or musical video clip.
So far all these Twitter accounts about photography offer you high quality material, but they are not the only ones. There are many more and they do not have to always be professional users. Some of them are mere amateurs and that does not mean that their images are impressive. In addition, we have seen profiles of users from outside Spain, but if you want to meet users from here, pay attention.
If you like New York, it is very likely that at some point you have seen some of Carlos Sánchez's photos. Especially those of the full moon over the Empire State Building are the most popular, although it has many more that may seem just as good or even better.
Imanol is a professional geographer and photographer, both disciplines allow him to take some really spectacular photos. The images of storms, with their lightning and skies about to "fall" on us are some examples that you should see.
Miguel Moranatti is a source of inspiration for any photographer. It does not matter if they are your photos in the middle of nature or those taken in hospitals related to COVIC-19. The work he does is brutal and his photos touch you, something really difficult to achieve.
David is another talented photographer with whom you can discover charming corners that are within the country, you do not need to go outside of Spain to find landscapes that you would dream of visiting just to be on the other side of the pond.
If you haven't seen any of Ignacio Izquierdo's photos in 2021, you don't live in Spain or you don't use Twitter. Even so, it would be difficult if you have not done it either, because of their images of the Filomena snowfall that covered Madrid as it had never been seen, they gave much to talk about. So much so that later he took out a book that is a delight too.
Fill your Twitter timeline with inspiration
Each and every one of these Twitter users is going to get your Twitter timeline filled with inspiration. Even so, there are many more profiles that share their best work or those that most attract their attention for something in particular. We have located them and seeing them if you like photography will be interesting, because surely you learn and save many ideas for your next photographic sessions.
Likewise, if you think that there is one that should also be in said selection for any reason, you only have to comment on it. Because we all want the same thing, make the most of social networks with all those users who can contribute something positive. And be careful , don't forget accounts like @DPMagazine or @NYFA that help you with links on editing techniques and other guides that also help you get better results.